Greece has well over 200 islands spread across the Aegean and Ionian seas. The country, as a whole, is one of the most visited vacation destinations in Europe. These are the best Greek islands to visit. They encapsulate the history, culture and natural beauty of Greece, and retain their own unique character.
With so many islands, how do you choose which one to visit? Whether you are planning a short vacation, a resort holiday or an island-hopping adventure, these are the top 10 Greek islands you must visit.
1. Kefalonia
Kefalonia is the biggest of the Ionian islands, with a unique green and diverse landscape. It has some of the most impressive beaches in Greece. It's waters and seas, typical of the Ionian group of islands, contain shades of deep cyan blue. Set against the green mountains and white beaches, the natural colours of Kefalonia give it a distinct character and appeal. People may recognise that the movie "Captain Corelli's Mandolin" was set on Kefalonia.
The island is filled with picturesque seaside villages, fishing towns (such as Asos and Fiskardo) and a lively capital, Argostoli. Kefalonia has something for every type of traveller, as well as a host of things to explore. It easily makes the list of the Greek islands to visit!
2. Milos
The coastline of Milos is 120km long and has a unique horseshoe shape. It has one of the most beautiful coastlines in the Cyclades. One of the most popular things to do on Milos is to go on one of the boat trips that sail around the island. You will have the chance to swim at jaw-droppingly beautiful beaches that are otherwise inaccessible or hard to get to, such as Kleftiko and Sarakiniko.
Milos is still relatively low key relative to its neighbouring and more renowned Cycladic islands. It is easily a top choice – especially if you are looking to avoid some of the more crowded places. If you're wondering about where to potentially stay on Milos, then make sure you check out this post on the best areas to stay in Milos to help you plan your vacation.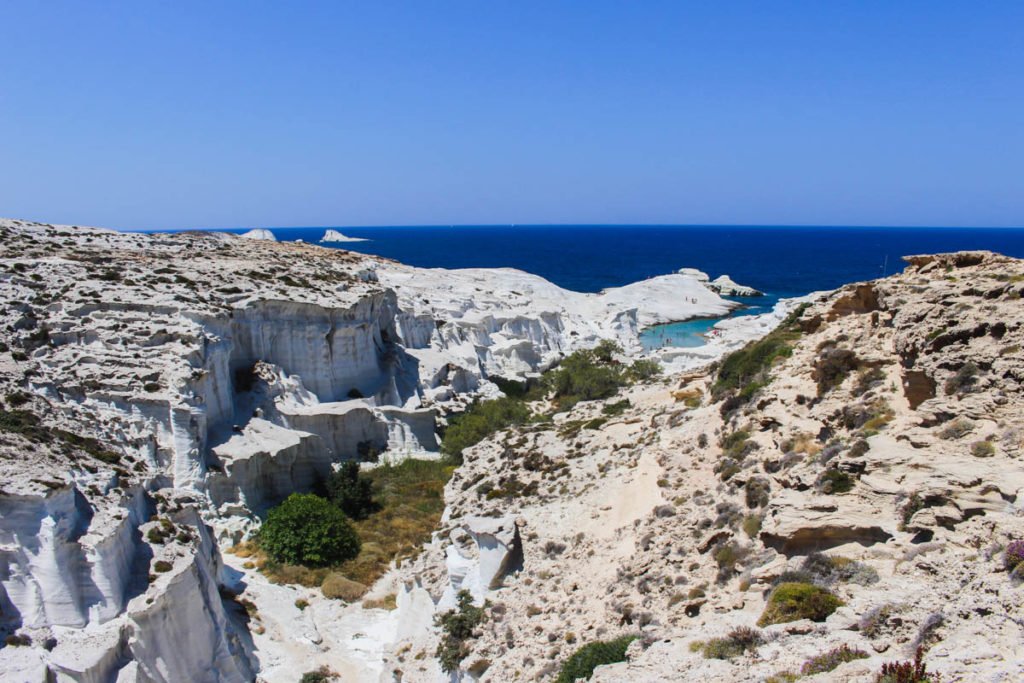 3. Paros
Paros is my favourite island and has a perfect combination of beauty, tradition and entertainment. It has amazing beaches, seafront tavernas, pretty mountain villages and a lively Chora. Though not on the same level as Mykonos, it does have a reputation for being a bit of a party island, with many beach bars, trendy restaurants and international DJ's playing at its clubs.
If you'd prefer to avoid the crowds of Santorini and Mykonos but still want to experience the beauty of the white-washed Cycladic architecture, then Paros is a great choice. Naoussa is one of the prettiest and most charming towns in the whole of the Cyclades and is a great place to stay, eat and enjoy the island life.
4. Rhodes
A popular tourist destination with long stretches of beaches, buzzing holiday resorts, and a one-of-a-kind Medieval town. Explore the old town with its bustling cobbled alleyways, 13th century palaces, museums or the town of Lindos with its own acropolis looking out onto the open ocean. Sunbathe at one of Rhodes many and beautiful sandy beaches, including the picturesque St. Paul's bay and Tsambika.
Due to its location, Rhodes is blessed with plenty of sunshine hours and perfect sea temperatures for a considerable portion of the holiday season. Check out what Rhodes is like in October if you are looking for a late summer getaway to Greece.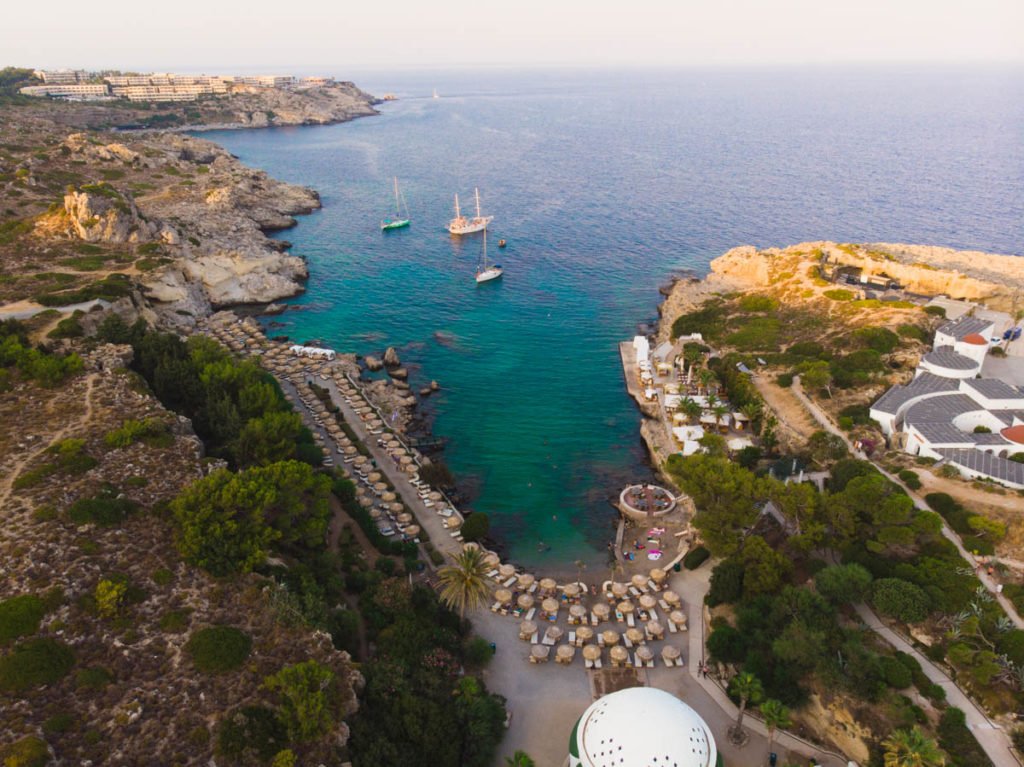 5. Santorini
Santorini is the iconic Greek island – the one everyone automatically thinks of when it comes to the white and blue of Greece. Great for couples and honeymooners as well as first-timers to Greece and an indefinite staple of any island-hopping vacation.
The white-washed houses and bright blue-domed church roofs are the epitome of the Cyclades. The towns of Oia and Fira, which are built on the sides of Santorini's steep hills offer immense views across the caldera. It's difficult not to admire the beauty of this island and it's unique volcanic formation. No wonder why Santorini is one of those bucket-list destinations and one of the most pictured landscapes in the world. It makes the list of best Greek islands to visit from many guides. If you only have the chance to visit one island in Greece, choose Santorini – you will not regret it!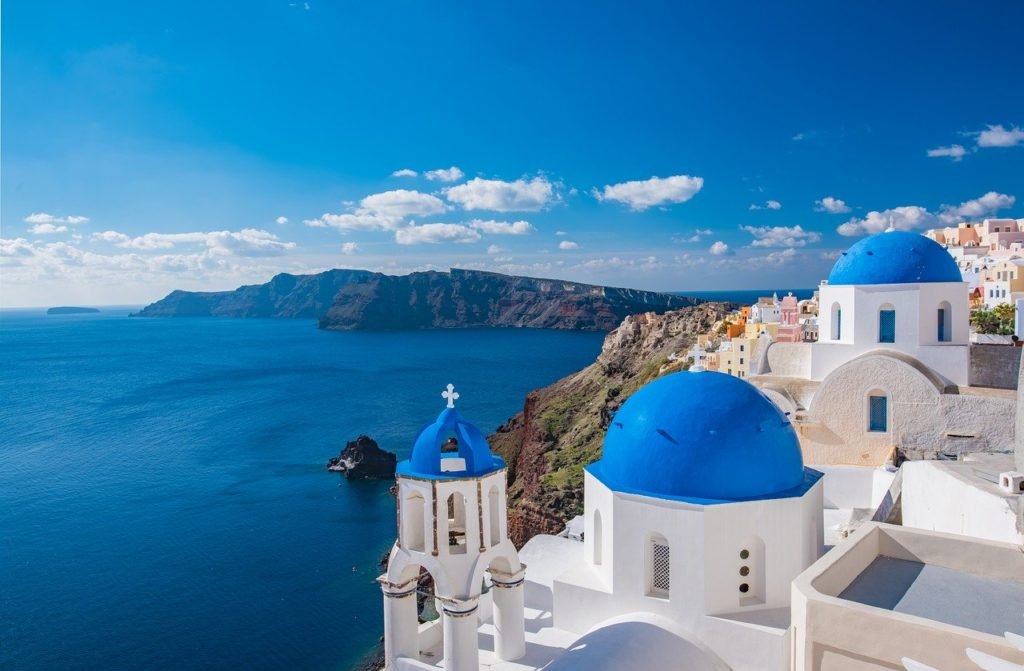 6. Ios
As picturesque as any of the Cyclades, including Santorini in my opinion, affording similarly stunning views across the main Chora town and Aegean Sea. Ios is often overlooked as a young person's party playground. However, not to be missed as there is much more to this island than that label. Add to the fact that you can find accommodation significantly more affordable, compared to the likes of Santorini and Mykonos. Places to eat, entertainment options, stunning sunsets and luxury hotels There would be no problem choosing Ios if these are what you are after.
Mylopotas beach is one of the best in Greece – clear turquoise waters and clean fine sand. Lining the back of the beach there is a plethora of bars and restaurants serving food and drink day and night. The main Chora is buzzing in the evenings with smart and modern bars and restaurants as well as traditional tavernas. Far Out beach club and Pathos for the younger crowd.
7. Zakynthos
On the western side of Greece in the Ionian sea, lined with pine trees and a natural green landscape, with aquamarine seas. There are none more famous or pictured beaches than that of Navagio, with its shipwrecked vessel making it unique.
It's seaside resorts and buzzing towns provides another reason for it being a popular tourist destination. The formerly quiet villages of Alykanas and Laganas are now famed party areas for tourists, with many bars, restaurants and nightcubs. A hotspot for 18-30 year olds. The island is the third biggest in the Ionian and provides much more than just an all-night party.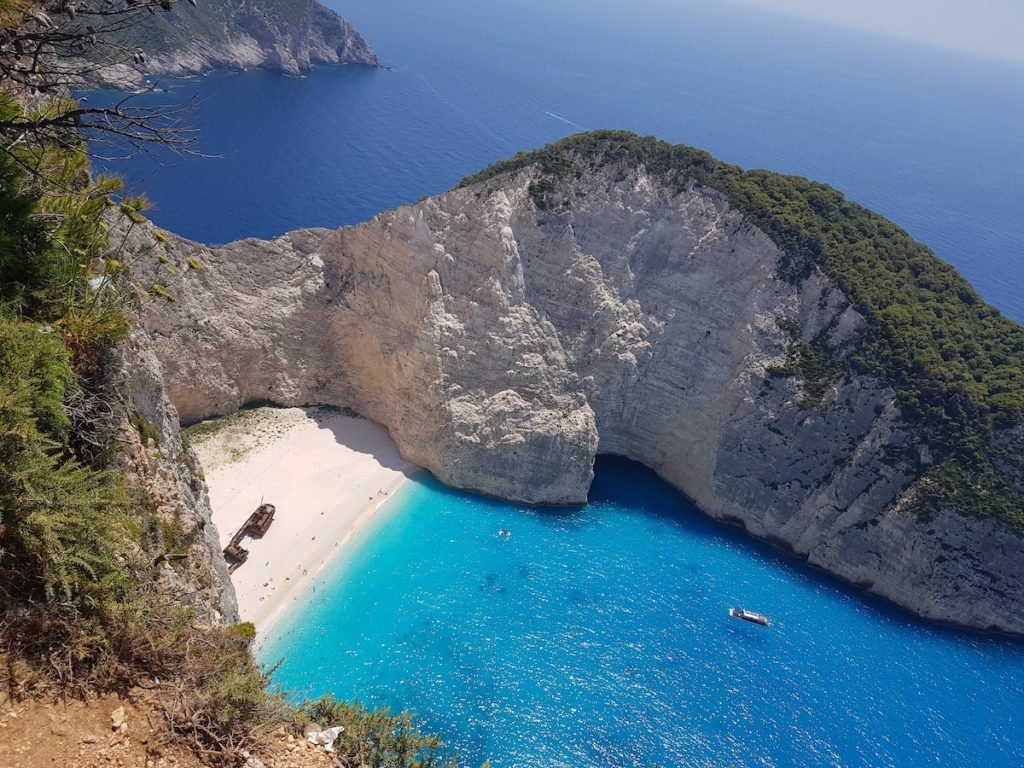 8. Naxos
Naxos is the biggest of the Cycladic island group and sits right at the heart of the Aegean Sea. It is an island which, along with having typically nice beaches and Greek flair, has a list of things to do that will more than keep you from ever getting bored.
Naxos has impressive ancient history, well preserved historic sites – including a Venetian old town – a number of traditional villages and great local produce. The monumental Portara gate is a unique welcome to visitors sailing into the port of Naxos. A huge marble gate, still standing, as if untouched as the rest of the temple of Apollo in ruins. The wide array of things to see, its long sandy beaches and resorts and Venetian Kastro draws visitors from all over looking to explore more than views and beaches.
9. Crete
The largest and most populous of the islands with over a thousand kilometres of coastline and a rich history and culture. The archaeological site of Knossos is thought to be the centre of Europe's first advanced civilisation.
Easily spend your days exploring the main cities of Chania, Rethymno and Heraklion or relaxing on the best beaches in Crete – some of the most famous in the world – such as; Elafonissi, Balos and Falassarna.
Crete is a must visit island for those looking for the most magnificent and picture worthy natural landscapes and also the striking charm of the historic old towns. For foodies, not to be overlooked, Cretan cuisine is some of the best in Greece. Lastly, add the hospitality and Raki, and you can't go wrong.
10. Mykonos
Where famous faces go to get seen on their holidays. Mykonos is by far the most cosmopolitan of the islands. Most well known for its vibrant nightlife, epic beach parties and VIP hotels and villas.
You'll find an abundance of boutique hotels, sleek bars and trendy restaurants to keep those A-listers and fancy yacht owners happy. And as expected, the prices that come with entertaining that type of crowd, means that the island is expensive. And especially so when you compare to the rest of Greece and most of the Greek islands. However, the old iconic windmills, picturesque and colourful streets and alleys of the Chora and beautiful beaches are only some of the reasons why you'd want to visit this incredibly popular island – one of the best Greek islands to visit.