Crete is the largest of all the Greek islands, with a coastline stretching over 1000km. It has a rich history going back to the beginnings of modern society and a culture full of warmth and hospitality. Cretan cuisine is nothing short of delicious, beaten only by the beauty of its many stunning and varied beaches, widely considered to be some of the best in the whole of Greece. If you're ever wondering which islands to visit in Greece, Crete should not be overlooked. Here is a list of what I consider to be the best beaches in Crete.
Here we go…
1. Elafonisi
Tucked away to the South West of the island, Elafonisi deserves its praise as being one of the most beautiful and best beaches in Crete. You won't be able to avoid marvelling at its glistening pink sand forms or dipping in its clear shallow warm waters stretching for what seems to be miles out into the sea. Unavoidably, during the high season it does get busy as tourists are drawn to this famous beach. Relax on the sunbeds that line the beach, or venture a little further out through the lagoon to the quieter bays for a little more peace and serenity.
How to get there
Crete is the biggest island in Greece, and it will take you about 90 minutes by car from Chania, the closest main city. Just over 2 hours from Rethymno and just over 3 hours from Heraklion. You'll need to take it slow on the last stretch bumpy dirt road. There is a free car park. If you don't fancy driving, you can also take a boat from Paleochora
Features
Elafonisi is organised, sandy, shallow and family-friendly
2. Balos
Balos is truly a unique landscape worthy of being one of the most pictured beaches in Crete. The NorthWestern peninsula is separated by white sands and vivid cyan shallow water making this a gorgeous sight as you descend the sand dune path to the lagoon. If you don't fancy walking, the boats from Kissamos will also get you to this Caribbean-like paradise, but I'd always recommend the hike to take in the best vista in all of Crete. Undoubtedly one of the best beaches in Crete.
How to get there
Either by car or boat. Making your way from Chania will take you an hour and a half. Once you reach the free car park there is a steep footpath to take down to the lagoon. If you don't fancy driving, there are boats that set sail from Kissamos.
Features
Balos is semi-organised, sandy and shallow. There are decent places to snorkel in the deeper waters away from the lagoon. It has few umbrellas and sunbeds with food and water nearby.
3. Falassarna
On the West coast of Crete, Falassarna is one of my favourite beaches on the island. On a calm day it is unbeatable as the water is crystal clear and the sandy beach stretches over a kilometre making it less crowded than the two above. As it faces directly West, you are able to catch the sunset over the horizon which is quiet spectacular.
How to get there
It will take you just over an hour to get to Falassarna by car from Chania. There is a free car park and the roads are fine. The bus network in Crete is extensive with all major tourist attractions and popular beaches served by the operator, KTEL. Check the timetables here.
Features
Falassarna is organised, sandy, good for snorkelling and has water sports
4. Seitan Limani
A gorgeous bay and one of my favourite spots in Crete. Go at sunrise if possible for the most amazing views and beat the crowds. Although not the most famous, as it is a narrow bay with amazingly clear turquoise water, it can inevitably fee a little crowded. Or stay a little after the sun sets past the mountains behind for a bit more tranquillity.
How to get there
Drive to the beach in 45 minutes from Chania, where there is a free car park and a steep sandy walk down to the bay. Bring trainers if you don't feel too steady in your flip flops.
Features
Seitan Limani is an unorganised and pebbly beach leading out into a deep bay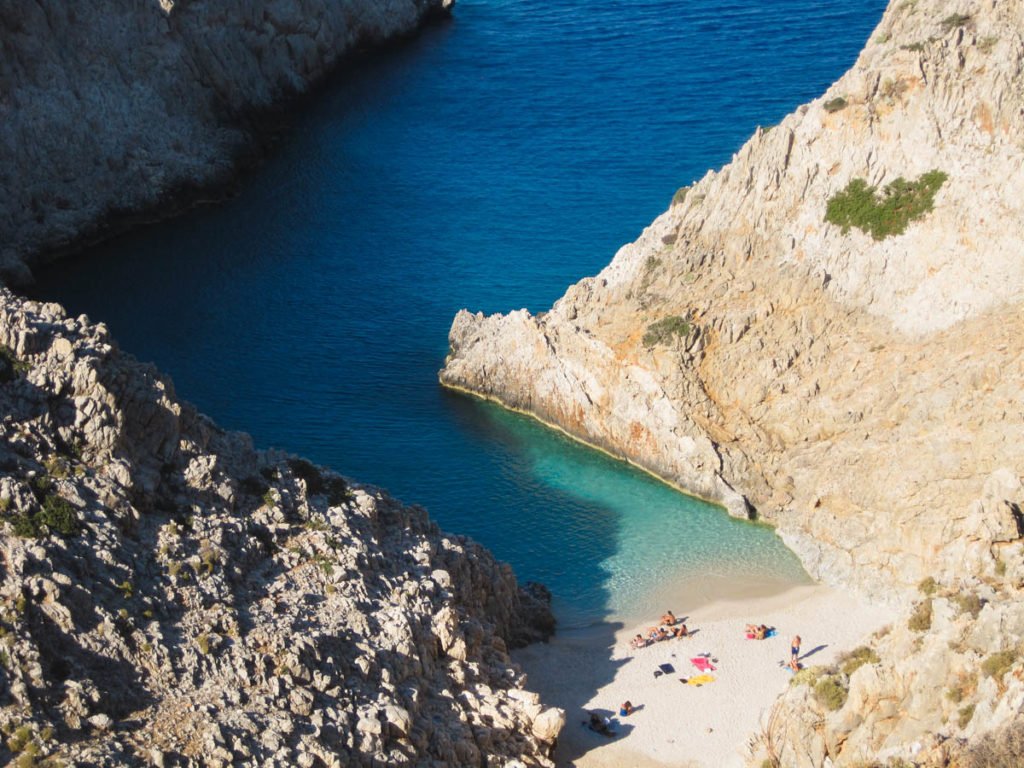 5. Matala
Matala beach is set within a small seaside tourist town on the South coast of the island. It is a nice little stretch of golden sand beach, flanked on both sides by huge distinct jagged cliffs and facing West into the sunset. The caves within the cliffs on the right were at some point in the 70's occupied by hippies and now make a good place to explore. There are plenty of amenities in short distance with tavernas and bars to keep you occupied.
How to get there
Matala is just over a one hour drive from the city of Heraklion. There is a car park nearby the beach. As Crete is the such a comparatively big island to the rest of the Greek isles, check out my guide on how to get around and where to stay here.
Features
Matala is a sandy beach, organised with umbrellas and sunbeds and plenty of tavernas and bars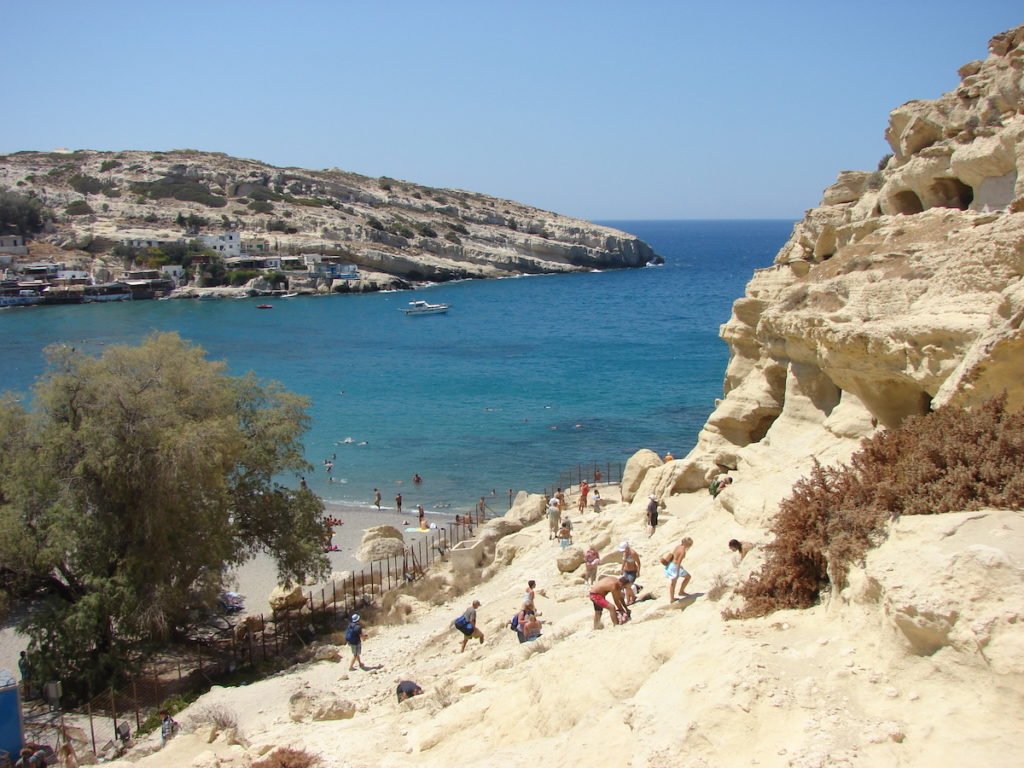 6. Kedrodasos
Kedrasos is still relatively unknown to the masses and hence it has maintained a pristine and idyllic ambiance. Located only 2km away from Elafonisi on the SouthWest of the island and enjoying the same crystal clear waters and crushed pink sands, it is a great alternative if you would rather get away from the crowds. The landscape is truly beautiful, providing pristine sand along with larger flat rocks extending into the turquoise waters.
How to get there
It will take you about 90 minutes by car from Chania with a free car park a short walk away from the beach
Features
Kedrodasos is a sandy beach with good spots for snorkelling. It is unorganised so does not have any umbrellas or beds and is nudism friendly
7. Preveli
Set on the South side of the island, the beach is located on the delta of the grand river Kourtaliotis, where it meets the Libyan sea. A really unique, seemingly tropical paradise, providing an unusual setting from the rest of the island, with lush green palm groves on the beach, stretching inland following either side of the river up the winding gorge, as far as the eye can see. Certainly one of the finest beaches in Crete
How to get there
Drive to Preveli beach from Rethymno in 45 minutes. After leaving your car in the parking lot, there is a 20 minute walk down a steep footpath to the beach. From the path you will get a good view of the delta and its unique setting.
Features
Preveli is a sandy beach, not organised with any umbrellas. It is ideal for snorkelling. A good spot up the gorge for those willing to explore a little further than the beach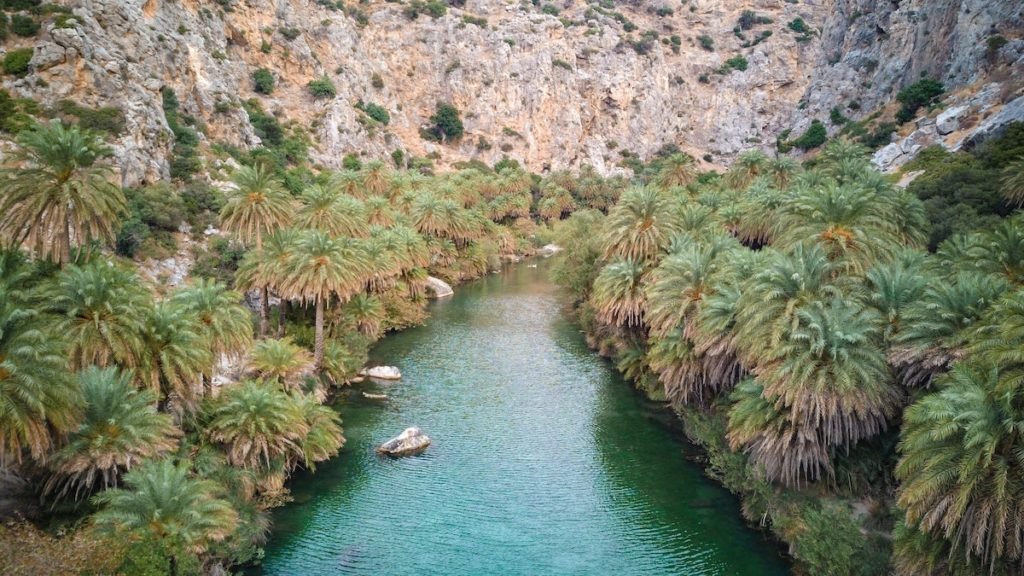 8. Triopetra
A large beach with plenty of space making it feel calm and quiet. The crystal clear waters are enticing and the geologically distinct "three stones" – where the name comes from – separate the two beaches and are very unique in their shape and provide the beach with character as well as something to explore and dive around. There are a few small tavernas serving food and drinks as well as umbrellas and beds. This beach can get quite wavy on a windy day, otherwise it feels immensely peaceful
How to get there
Tripetra can be reached by car from Rethymnoin just over an hour. There is a car park right by the beach meaning minimal walking on foot.
Features
The beach is sandy and pebbly, organised with sunbeds and umbrellas. The water gets quite deep and can get wavy at times. Some nice tavernas open all day.
9. Vai
Vai beach is situated on the North-eastern tip of Crete. Further away from the major cities than most other beaches on the island, it is very much tucked away far from civilisation. It boasts a luscious tropical landscape with one of the largest palmgroves in all of Europe providing an abundance of places to explore and seek shade, away from the umbrellas on the beach.
How to get there
Driving by car is a two and a half hour drive from Heraklion. There is paid parking right by the beach. As it is remote, most things come with a premium charge, i.e. umbrellas, parking, food. There are buses that run from the nearby town of Sitia
Features
Vai is a sandy beach organised with umbrellas, beds and a café serving food and drinks. It is good for snorkelling and has water sports with equipment to rent.