Thinking about getting away in October? Wondering where you can go to catch the last remnants of the summer? A vacation to the Greek Islands could be a good option. Some Greek Islands are better than others during the Autumn, and picking the hottest Greek Island in October will mean that you'll still be able to do activities such as swimming, hiking and eating/drinking outside.
The hottest Greek island in October is Rhodes and it is a great time to visit. Not only will the crowds be much smaller and hotels cheaper, but the average daily temperature is still 21℃. The first half of the month is undeniably better to visit as the days are still very sunny and warm, with around 8 hours of sunshine a day and a pleasant sea temperature of 22℃ – still fine for swimming and sunbathing. As fall is on its way in, from mid-October you'll notice a gradual change not just in temperature but also cloud cover and rain.
Weather in Rhodes – The hottest Greek island in October
Temperature
The weather in Rhodes in October is still very warm with plenty of sunshine. This is particularly true during the first half of the month, with average daily highs of 24℃ and often above. The average daily lows will start creeping down towards 18℃ in the latter half of the month.
This type of weather is still great for going to the beach, swimming, hiking and generally spending time outside. Hence this is why I personally recommend visiting Rhodes and other Greek islands in October. You won't find this weather in Northern or Western Europe at this time.
The October temperatures are more comfortable than the sweltering heat of the peak of summer, which makes sight-seeing on an island with plenty of interesting sites, noticeably more pleasant. During the summer, with the sun beating down, it can be way too tiring to stay out on in the sun for long periods.
October 2019 in Rhodes was particularly warm. Holidayweather.com is a good website that provides average historical temperatures as well as daily records from recent years.
This page by Tripsavvy has some average temperatures expected for Greece in general over the different months. This page from SantoriniDave has some general information month by month for the mainland and the Greek islands as a whole.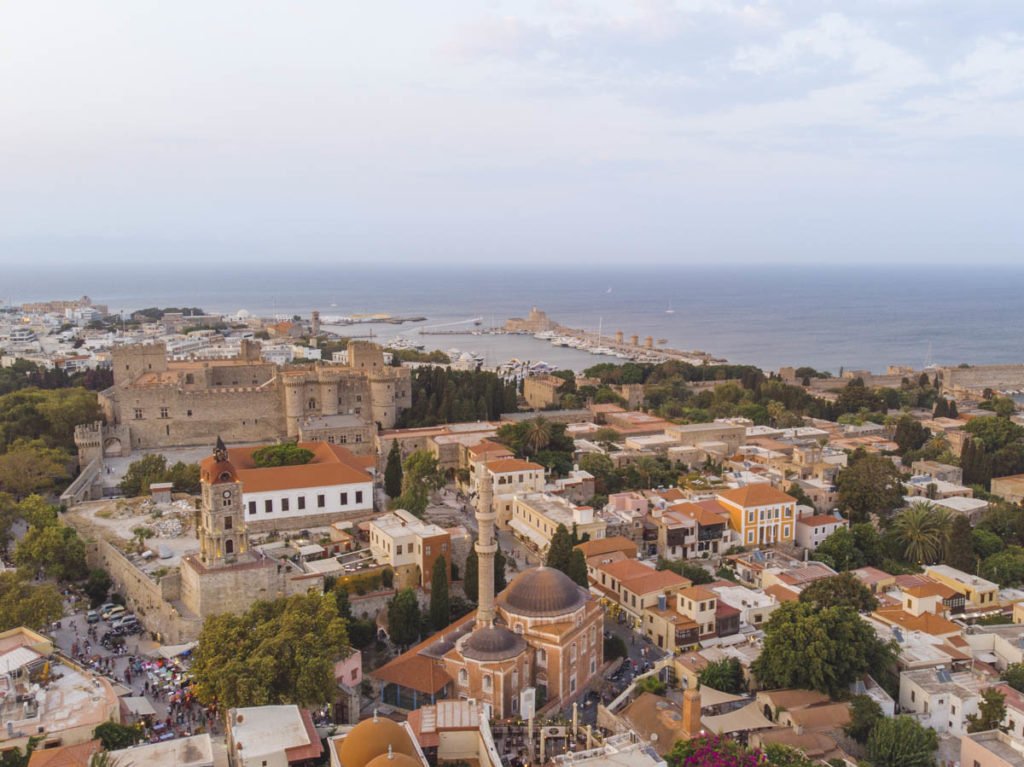 Rain and wind
You can expect some rain on the island of Rhodes in October, generally in the latter half of the month. There are on average, five days of rain during October, bringing a total of 68mm of rain. Wind tends to remain low to moderate, considerably less breezy than the Cycladic islands within the Aegean corridor.
What to wear
You should bring light clothes during the day including short sleeved shirts and shorts. Pack a long sleeve sweater or a light jacket that you can easily take with you for the milder evenings.
Rhodes (and Greece in general) is casual, comfortable and unpretentious. Hence, people dress in what they feel comfortable in. You won't ever really feel "underdressed" in the evening, whether going to a taverna, restaurant or bar.
Pack casual clothes for comfort and a dress or collared shirt if you feel like dressing up a bit. Leave the heels at home, opting for flats instead for the cobbled and sloped streets.
Things to do in Rhodes – the hottest Greek island in October
Beaches
Rhodes has a big selection of really good beaches, as is to be expected for one of the most popular islands in Greece. They're easily comparable to the famous beaches of Crete and the best of Mykonos. It's coastline creates some really interesting landscapes, with some of the most picturesque beaches on the East coast and some more windy and active ones on the West coast. Check out the best sandy beaches in Rhodes here, good to visit in October as well as summer.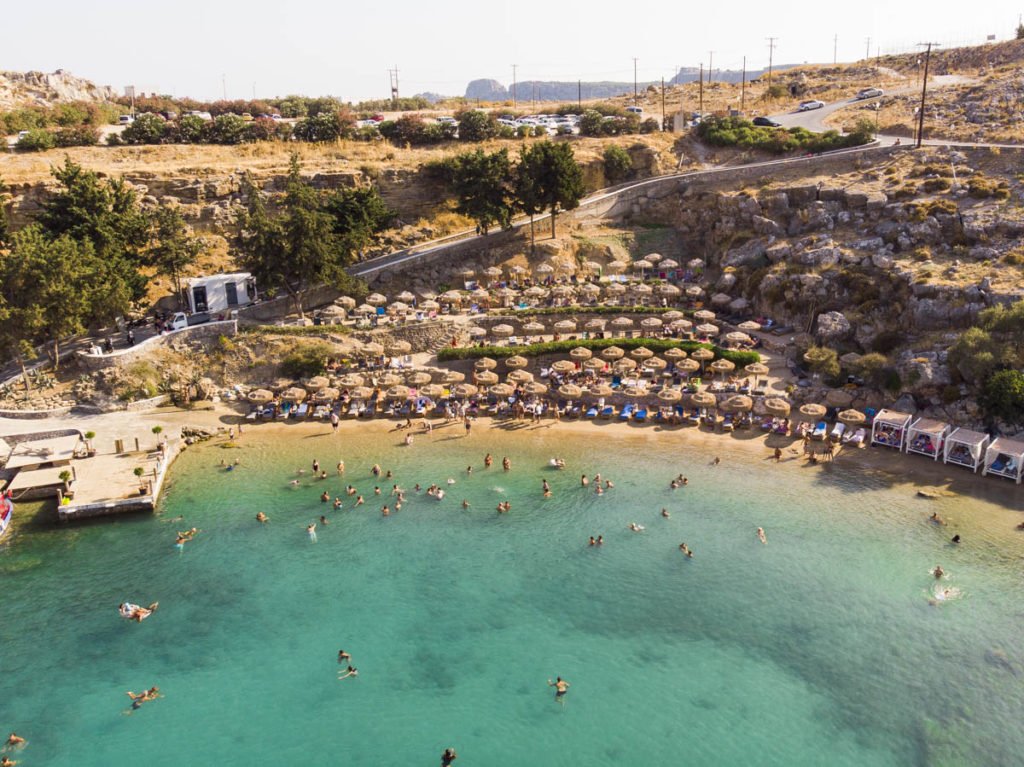 Rhodes old town
Rhodes old town has some gems to visit such as the Palace of the Grand Master of the Knights and the Street of the Knights. It is the oldest inhabited medieval town in Europe, filled with narrow lanes, cobbled streets, shops, restaurants and cafes, enclosed by a towering perimeter wall.
Getting lost among this 600 year old town is an activity in itself and doing so in October is all the more enjoyable than trying to explore its ancient winding streets in the summer.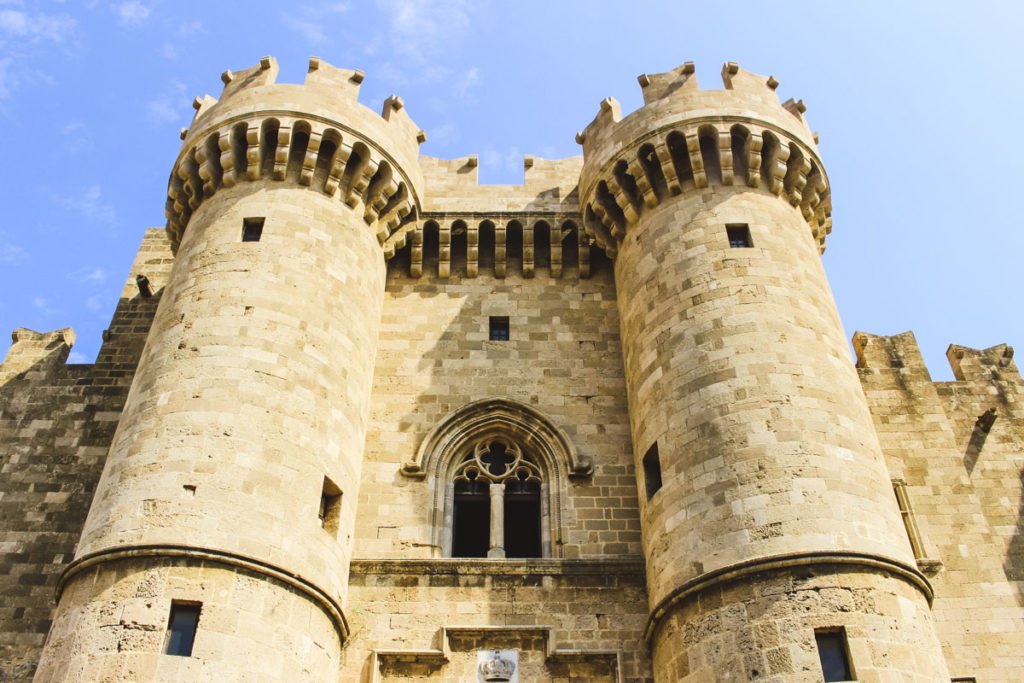 Ancient Rhodes
There are ancient sites in Rhodes dating back way further than the medieval period as far back as the 15th century BC. These sites, outside of course, are way more pleasant to visit in the the cooler months of October and Septembet. Well worth a visit are the remains of the ancient Minoan settlements such as Ancient Ialyssos.
The ancient city of Kamiros from the 5th century BC with its ruins intact is certainly worth visiting. So too the Acropolis of Rhodes and Lindos both of which are very popular sites, sit high atop hills offering amazing views across the seas.
Lastly, there are a number of medieval castles located on fortified rocks such as Monolithos and Feraclos, prosiding the old armies with look out points and visitors with great views.
Hikes
Rhodes has plenty of nature, sanctuaries, hills and landscapes to explore. Try hiking this route which starts at the village Salakos and ends at the Monastery of Prophet Elias.
This area is a protected wildlife sanctuary. During your hike, you will be able to spot deer, trek through rare vegetation and towering pine trees, past monasteries and the open woods. You will finally arrive at Hotel Ealfos, an intriguing italian style building and named after the native deer of the surrounding sanctuary. Enjoy a well deserved drink at the peak of this peaceful mountain and look out across the stretching views.
Other options – hottest Greek islands in October
Although Rhodes is officially the hottest Greek island in October, there are other top islands worth considering this month, including; Santorini, Crete, Zakynthos and Corfu. All are close behind, with average temperatures above 19℃, but varying levels of sunshine and rainfall. Take a look at the table below for the October averages.
These islands tend to get very busy during the peak of summer and can end up charging a lot for flights and accommodation. So again, it's well worth visiting these in October, especially early to mid if you can.
| Island | Ave temp (℃) | Sea temp (℃) | Sunshine (Hrs) | Rainfall (mm) |
| --- | --- | --- | --- | --- |
| Rhodes | 21 | 22 | 8 | 68 |
| Santorini | 20.5 | 23 | 9 | 38 |
| Crete | 20 | 23 | 6 | 40 |
| Zakynthos | 20 | 23 | 7 | 147 |
| Corfu | 19 | 22 | 7 | 120 |
Athens is also a great city to visit during the fall. Check out this post for why you should visit Athens in October.
Travel tips for October
Book flights well in advance for the best prices. Although you'll be getting them at a significant discount to the summer peak, it's always worth booking early for further discounts
Either fly direct or via Athens to get to Rhodes. Try not to take the ferry as it can take upwards of 8 hours and sometimes 13 hours to get to this Dodecanesean island to the far South East of the mainland. The price difference is not all that significant.
Book hotels in advance with free cancellation in case of further price drops within a couple of weeks of you leaving
Rent a car to maximise your exploration of the island.