Evia (or Euboea) is one of the most overlooked Greek islands when it comes to foreign visitors. Often overshadowed by its sexier but more distant neighbours in the Cyclades and Sporades. It may not have the world renowned beaches or five star resorts, but nonetheless it is a great island to visit. These are the best things to do and see in Evia.
Simple and unshowy, Evia has everything from stunning beaches, pretty villages and waterfalls to thermal springs and medieval castles. Unsurpringly, it's also very hospitable, with endless seafront cafes and restaurants. Somewhat reminiscent of Crete in terms of its never-ending rolling hills and mountains. So do what the Greeks do and head to Evia for a trip…
Here we go..
1. Visit the coastal town of Karystos
Karystos is a small coastal town on the South of Evia island. Easily accessible from the mainland, either by road bridge or ferry from Athens' Rafina port and a short car ride.
Every evening, Karystos is alive with activity; it's delicious tavernas, restaurants and water-front bars and cafes brimming with people. Popular with mainlanders and Athenians, so you're bound to get an authentic taste of a Greek vacation.
Take a walk down the promenade, explore the town's alleys and soak up the seriously laid back vibes day or night.
If you are looking to stay, check out the unpretentious Karystion hotel (which has a nice restaurant) or the unshowy Apollon suites.
2. Fill your stomach at Cavo D'Oro
Whilst in the town of Karystos, make sure you stop off at the traditional taverna Cavo D'oro. Tables are set out in street in one of the alleyways perpendicular to the main seafront promenade. This restaurant oozes Greek character.
Here you'll find home cooked authentic Greek classics such as yemista (stuffed peppers and tomatoes) and katsikaki sto fourno (lamb cooked in the oven). The hard part will be choosing from the great variety of traditional cooked dishes. No problem over ordering here!
3. Hike along Dimosari Gorge
Trekking this gorge in the Ochi mountain range, the most well known in Evia and one of the most beautiful trails in Greece is a great way to spend a morning. Get there early with a tour group, and you will start at the top of the gorge, pass through the village of Lenoseoi, past impressive megalithic slate dragon houses and a diverse range of flora.
Ending up at Kallianou beach swimming in the cool and deep blue Aegean sea. The trail is 10km in total, with great views and interesting all along the way.
4. Swim at Limnionas beach
A world-class beach, easily comparable to some of the best beaches in Crete and still relatively unknown by foreign travellers. Popular with free campers and for good reason – this spot is truly a little piece of paradise. Waters so clean and clear, you can easily see down to the sea bed even when wavy.
Large enough to never feel crowded even with sunbeds and umbrellas – and two tavernas set back. Great for swimming and snorkelling with rocks to explore and climb and a variety of marine life. The beach is pebbly, with small and rounded stones. Much better than the troublesome sandy beaches in my opinion. Check out the best beaches in Greece here.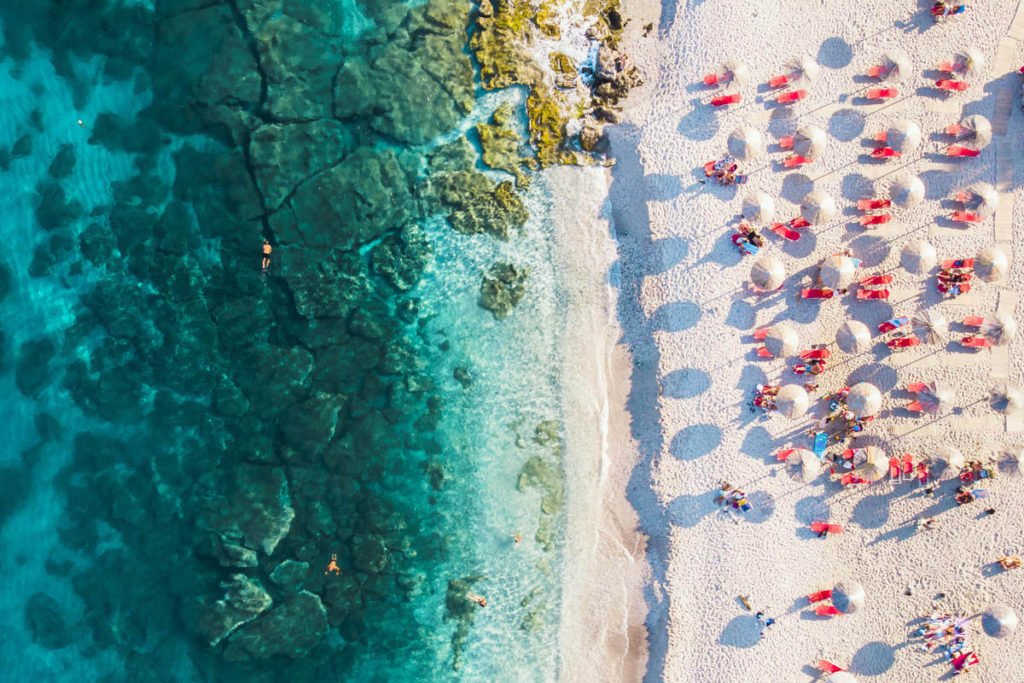 5. Visit the town of Chalkida
Chalkida is Evia's main town and the so-called gateway to the island, being connected to the mainland by two bridges, one old and one new. It's mainly Greek holiday makers that visit this town, especially being within close proximity and easy driving distance from Athens. That being said, the town is super accommodating to foreign travellers too.
Stroll along the main seafront promenade and try any of the many great meze restaurants serving delicious plates of seafood with your ouzo. Take a few days to explore and enjoy the town if you can.
6. Take a dip in Edipsos springs
These hot thermal springs are said to have healing properties. People have been bathing here since the ancient times, going back to the days of Aristotle. Take a dip here, relax and rejuvenate, as did Hercules, as told in Greek mythology.
Situated in the North of Evia, the town also has a spa hotel which was built on the turn of the 19th century and visited by a list of famous characters in times gone by, including Aristotle Onassis and Winston Churchill.
7. Vriniotis Winery
After a bit of relaxation in the natural springs, you can rejuvenate your mind by visiting the Vriniotis family winery in the village of Gialtra. You can see a mix of old traditional grape mills next to new modern wine presses, as the tour takes you round the vineyards and winery.
The unique region, near the thermal springs and inactive volcano Lichadas, produces a variety or grape only found in Northern Evia, hence giving the wine its own character.
8. Take a boat to Lihadonisia
Dubbed the Seychelles of Greece, this hidden paradise exists at the very Northwest tip of Evia. Landscapes and islets unlike anything else, Lihadonisia was a result of a volcanic eruption 5 millennia ago and is now home to one-day excursions and boat rides.
Daily boats leave the port of Agios Georgios and take only 15 minutes to reach this cluster of uninhabited "Carribean" islands. There are organised beaches on both Strogili and Manolia offering food and drink, perfect accompaniment to taking in the stunning landscapes. The surrounding waters and are laden with old shipwrecks, making for some interesting snorkelling
9. Visit Eretria and its archaeological museum
There are a number of archaeological museums in Evia. The most significant being Eretria which is located right next to the archaeological site. Artefacts found at this ancient site are displayed at both the Louvre and National Archaeological museum in Athens. However some pieces have remained at Eretria, notably the terracotta centaur from Lefkandi, dating back to the 10th century BC.
One of Greece's many amphitheatres lies on the site of Eretria. Furthermore, this one is one of the oldest, dating back to 5th century BC. Check this post out for some more information from Matt Barrett about Central Evia's Eretria.
10. Explore Evia's Venetian castles
Both the 13th-century castle of Bourtzi and 11th century Castello Rosso are Venetian fortresses. Both are located on the South of the island. The former is within Karystos town, hugging the sea front. The latter sits imposingly at the start of the Ochi mountain range. If you want to explore further, be sure to visit the small archaeological museum in Karystos opposite the Bourtzi castle.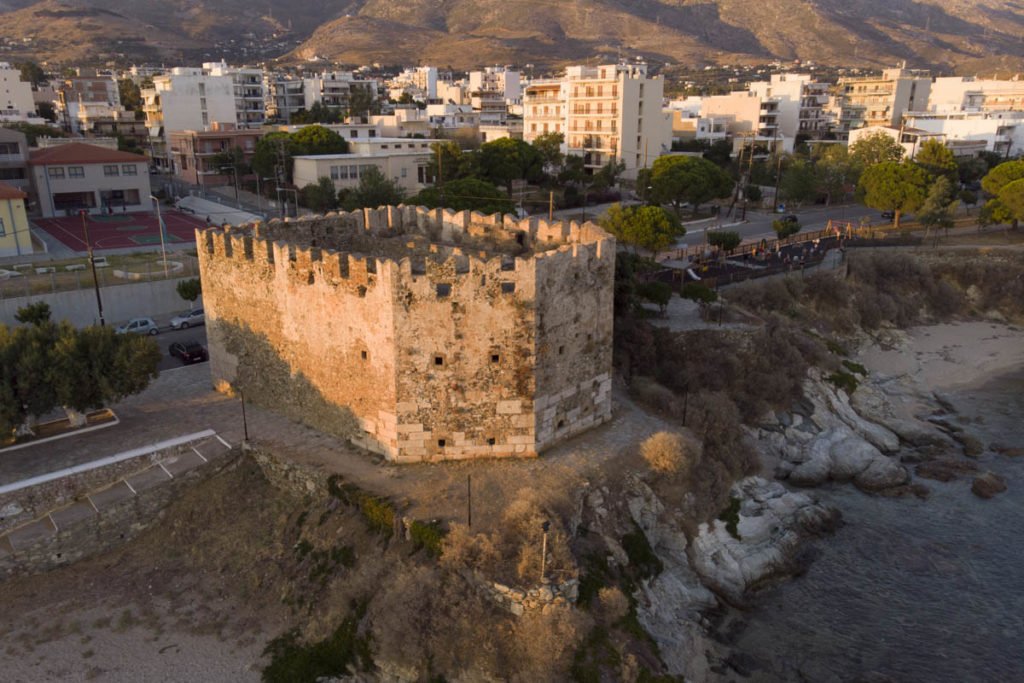 11. Sunbathe at Klimaki beach
Make your way to this East coast beach looking out into the Aegean sea. The sand is soft and golden, waters are calm, the steep hills behind offering protection from the characteristic Evian wind.
As you climb down the hill, you'll realise that this beach is a hidden gem, much like most of the beaches in Evia. Bring an umbrella or find a space in the small organised section which plays laid back beach tunes all day.
If you feel hungry, walk up to the taverna to enjoy some great panoramas and partake in some fresh seafood.
12. Karababa castle
Though not technically on the island of Evia, it is right opposite the town of Chalkida across the old bridge and hence makes a spot on this list. An Ottoman castle, built in the 17th century, to serve as protection for Chalkis from the Venetians. It sits on top of a hill, once a strategic location, now providing nice views of the straits of Euripos and Chalkis town itself.
Though built by the Turks, its architecture is European owing to the designer being a Venetian. Ironic, as it fell to its venetian captors in 1688. Explore the old walls and its various bastions and towers.