When it comes to luxury and extravagance, no island does it better than Mykonos. Packed coast to coast with high end hotels. Brimming with chic and stylish hideaways. Mykonos lives up to its reputation as a playground for the rich, young and playful. It stands up to its reputation as one of the best Greek islands. A must visit for anyone looking to experience Greece in all its opulence.These are the best hotels in Mykonos, from the island's ultra exclusive retreats, to the best value boutique hotels.
The best luxury hotels in Mykonos
The Wild Hotel by Interni
About as far away from Mykonos town as one might like to venture, on the other side of the island. Tucked away in a quiet bay on the southeast coast facing the fabulous beach of Agia Anna lies this super luxurious hotel. Expect the vibes here at The Wild to be very much stipped back and at one with nature. Elegant room decor with a heavy touch of natural finishes and tones. The infinity pool extends the length of the property. Whilst the rooms are cleverly positioned to maximise those ocean views.
Kensho Ornos
Nestled in a prime spot set back overlooking the ever-popular Ornos beach is one of the most luxurious boutique hotels on the island, Kensho Ornos. Expect top notch service, exquisite dining choices and a selection of suites and rooms each with their own plunge pool or hot tub. Rooms are individual and bespoke with clean white stone walls, soft luxurious touches and ultra chic statement furniture pieces. The order of the day is very much rest and relaxation. The cave spa and its unique interior design will fully immerse you into an underground lair, away from the gentle thud of Ornos' beach bars. Emerge revitalised and spend your day poolside in the smart sun loungers overlooking the most famous Bay in Mykonos.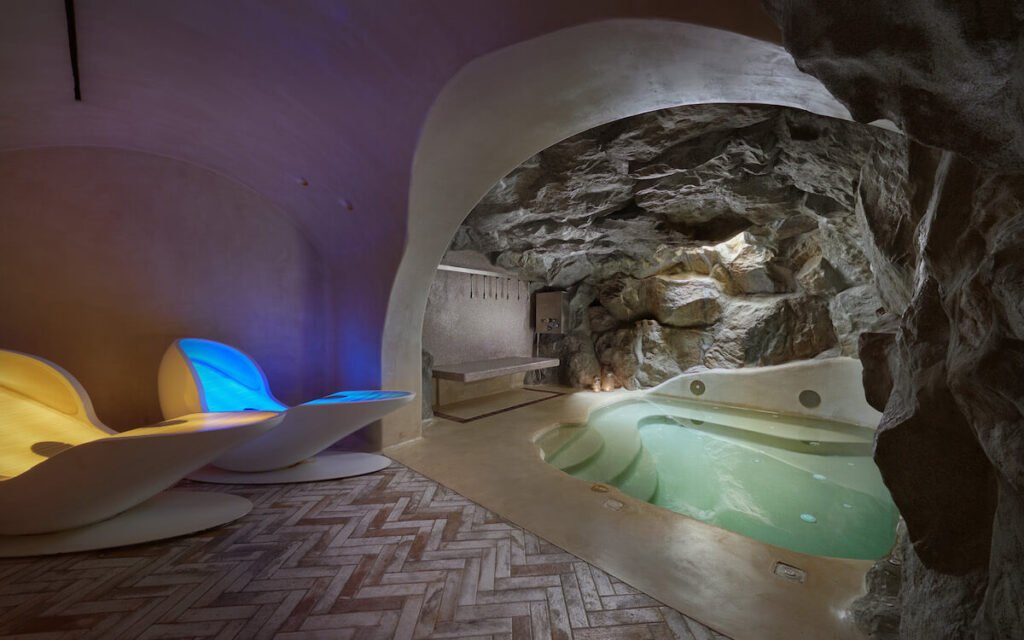 Katikies Mykonos
The Katikies group of hotels are renowned for their unrivalled beauty, hospitality and design. Tucked away in the southwest peninsula of the island, you will find this simple whitewashed luxury spa hotel. A short car journey from Mykonos town, through the bay of Ornos, you arrive at this minimalist and open-air sanctuary, perched on the hill side a stone's throw from Agios Ioannis beach. Views look out over the Aegean and out to the archaeological island of Delos.
Bill and Coo Suites
One of the outstanding luxury hotels in Mykonos, consistently highly rated by respected travel publications. The most striking of infinity pools is the centrepiece to Bill & Coo Suites, where surrounding lounge and restaurant spaces cleverly merge into one. Never denying guests those gorgeous daytime and sunset views across the bay. A short walk from Mykonos town, the epicentre of Mykonos' vibrant nightlife and must-see landmarks.
Nomad Mykonos
Relax in this minimalist haven located on one of Mykonos famed beaches, Kalo Livadi beach, in the middle of Mykonos' south coast. The well thought out design and chic decor will blow you away. From its bohemian rustic teak furniture to the sleek centre-piece pool cut out from the outside world. This peaceful oasis is secluded from the heavy buzz around town. Nomad Mykonos is the the place to go to escape the crowds and enjoy the island of Mykonos in all its natural glory.
The best mid range hotels in Mykonos
If you can look beyond the honeymoon suites and infinity pools. You will discover that Mykonos also has an abundance of budget and mid-range hotels that capture the essence of the island.
Tropicana Hotel, Suites & Villas Mykonos
Only steps away from Paradise beach where the notorious beach parties carry long into the night. This isn't just a hotel reserved for the party-conscious. Actually this collection of clean and modern villas and suites is a great choice to experience Mykonos to its fullest. Come for the atmosphere, stay for those beautiful poolside sea views.
Bellou Suites
Bellou Suites is a very nicely run collection of well decorated and comfortable suites located a short drive away from Mykonos town. Perched on the hill above the famous chora, off the winding roads that lead down to sea level, the rooms here have perfect views of the whitewashed town and old port. The rooms here are nicely laid out, with modern finishes throughout. Each have their own private terrace or balcony area to relax, which is exactly what you'll want to do when you're not out exploring the island.
Aeolos resort
Aeolos resort is a great mid range option for those wanting a relaxed stay with modern Cycladic whitewashed charm. Offering all the amenities you would come to expect from a luxury resort. Service is friendly, the decor is cool and the mood is very chilled out. Its worth renting a car or scooter whilst you're here. Although the sea views from the pool are great, getting around is not the easiest. You'll have to rent a car or catch a bus to catch the highlights of Mykonos.
The best budget hotels in Mykonos
Anna Maria Mykonos Hotel
You don't have to spend a small fortune on a hotel in Mykonos to enjoy a clean and modern living space with great service. And this hotel is proof. Located equal distance from Ornos, Psarou and Mykonos Town, Anna Maria is a superbly run hotel that makes for a great base when exploring Mykonos. However, when you're not roaming the island the swimming pool and sun lounging space will keep you more than happy. You'll struggle to find better value for money in Mykonos.
Esperides apartments
Located a stone's throw away from one of the liveliest beaches in Mykonos, Platis Yialos, is Esperides apartments and suites. Not only super convenient for beach lovers, but also affordable and as comfortable as you could wish. This collection of suites come well equipped, with all the amenities you could ask for. As well as close vicinity to shops and restaurants, you'll also find good transport links to the main town for those evenings out!
Tagoo Studios
Located by the new port, these studios are well furnished and elegantly finished. Tagoo studios comes at a very fair price but certainly won't feel budget. With comfortable and aesthetically pleasing rooms set in the typical white block Mykonian fashion. The slight sacrifice is its location, close ot the new port where not much is happening and few dining/drinking options. The highlights of the island, the best beaches and the town are a bus journey or long walk away.
If you're looking to upgrade your hotel stay, why not visit Mykonos in the shoulder seasons when rooms are much cheaper. Check out my other post on visiting Mykonos in May to avoid the summer crowds and peak prices.