Few other places in the Mediterranean can compete with the glamour and glitz of Mykonos. The Greek island is known the world over for its epic parties and stunning landscapes. The island of Mykonos with its white houses and colourful accents, is a seriously photogenic destination, popping up on people's Instagram feeds regularly during the summer holidays. So if you've just booked your flights and keen to start planning out your itinerary. Or if you've just landed on the island and looking where best to go and spend your hard earned money. Look no further, this is my round up of the best things to do in Mykonos island.
Explore Mykonos Town (Chora)
One of the things that makes Mykonos so cool is its iconic chora. Large enough to get lost time and time again, but pretty enough to not mind one bit. Perfectly whitewashed buildings flank the winding cobbled streets. Accents of bright colours pepper the town giving it it's well-known quirky character. Hidden courtyards and decorated squares are there to be explored. Designer shops, art galleries, restaurants and bars are found every corner. The place comes alive in the evening, buzzing with activity and excitement. Whether sitting down to enjoy a meal, people watching in one of the squares or just wandering around aimlessly. The chora is a great way to soak in the vibe and atmosphere of beautiful Mykonos.
Catch the sunset at the 180° sunset bar
Make sure to visit 180° sunset bar, impressively overlooking the town of Mykonos. Though able to view the sunset from many places on the island, this is maybe the bar with the best view of the town and the sunset. Therefore, popular as it is, it is so for a reason. If you don't fancy shelling out on a table, make sure to turn up at least an hour before sunset. You'll pay 20 euros per person (includes one cocktail). Take in the gorgeous views as the bar fills up for the dramatic sunset.
Enjoy a cocktail in little venice
This charming stretch of bars and restaurants is nestled on the water's edge in the heart of Mykonos town. It is one of Mykonos' most famous and popular spots. As such it gets extremely busy. However it does make for a great place to people-watch, to enjoy a drink at one of the many bars tightly packed along the perimeter. This once quaint and quiet fishing community, with it's coulourful facades is surely the most iconic part of the Chora. Relax with a coffee during the day, or for a cocktail and a dance at night. Little Venice is made more beautiful with the sight of the famous Mykonos windmills across the water.
Day trip to Delos
If you can afford a day trip within your tightly packed schedule then a short boat trip to Delos is certainly worth doing. Escape the pretentiousness of Mykonos for a day and explore the holy sanctuary of this protected island. One of the most significant archaeological sites in Greece, with artefacts dating back millenia, some displayed on the island's archaeological museum and some in Athens. Walk among the ancient houses and temples, statues, theatres and mosaic floors. About as opposed from the developed and cosmopolitan island of Mykonos, but just as remarkable, if not more.
Spend a day at the beach
If you're visiting Mykonos, chances are you'll have packed a bathing suit or two. The most popular and best beaches in Mykonos are on the South side of the island. Clustered together and protected from the strong Aegean winds. You'll find all types and varieties; from partying and watersports to family and luxury beaches. Long stretches of fine golden sand and pristine turquoise waters makes relaxing at the beach unmissable. Spend at least one of the days living up the VIP lifestyle and splash out a small fortune on a super luxurious sunbed and umbrella. Try Nammos or Kensho at Psarrou or Principote at Panormos. Arrive early to maximise your time and enjoy all day beach vibes. After all you are in Mykonos, you made it this far.
A lot of luxury hotels have their own private beach space. And Mykonos has got to have one of the highest number of 5* hotels anywhere in the world. For whatever your budget, check out my list of the best hotels in Mykonos.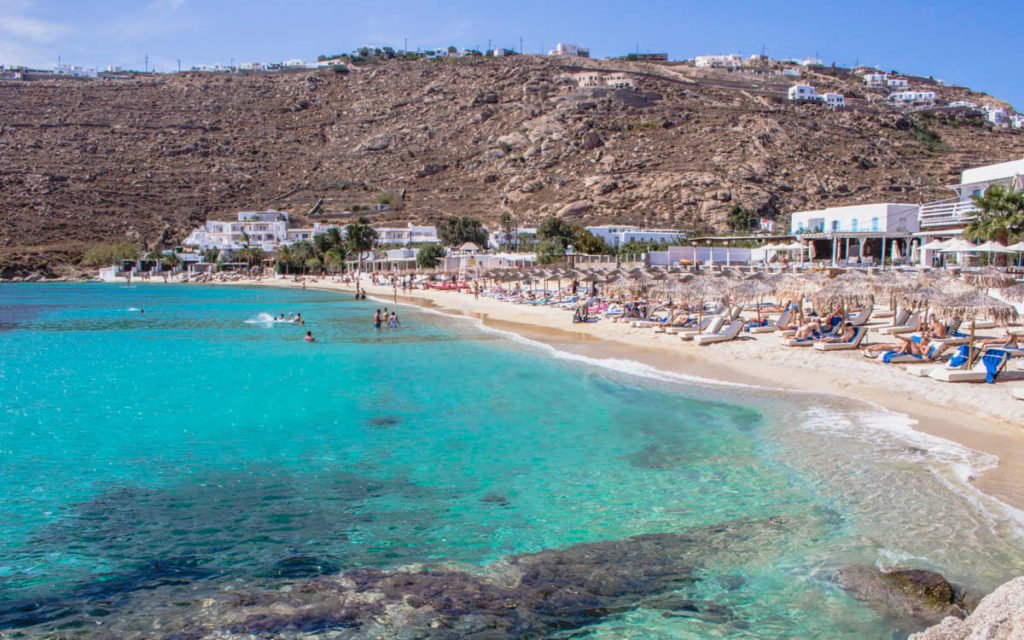 The best free sunset – Mykonos lookout point on Epar. Od. Mikonou
Forget the long queues and entrance fees of the establishments! This look-out point has the best view of the lot. If you're not fussy about sitting in a lounger, cocktail in hand, then this is the place to go. Located halfway up the windy road between Mykonos town and the main road. There are places to sit all the way up this length of road leading up to the official look out point. You'll be sure to find some space to take in the marvelous sunset with Mykonos town sprawling out in all its glory in the foreground. Stop here on your way back or to the Chora – it's well worth the visit.
Get a close up of the windmills
The Mykonos windmills are an iconic feature of the island, located on a hill on the most western point of the Chora. They are easily reached, minutes from little venice, and visible from anywhere in and around the town. Though no longer in use, they are maintained in pristine condition and serve as a reminder of the island's past wheat milling activities. If you're lucky, the island's mascot, Petros the pelican, might even decide to turn up.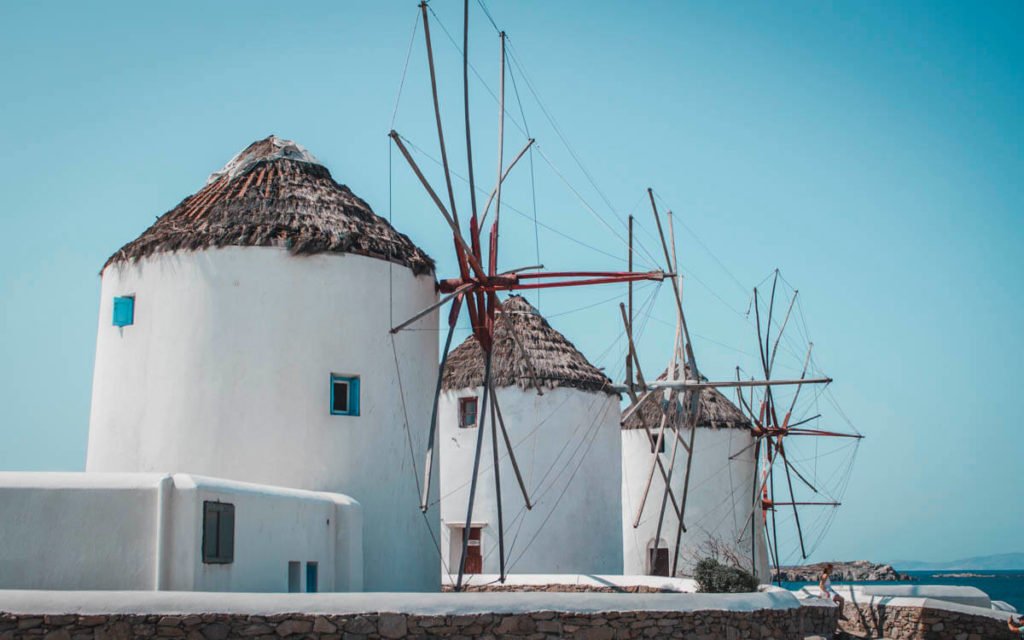 Archaeological museum
The archaeological museum of Mykonos was built in 1902 and has since exhibited a range of prehistoric and hellenistic artefacts. Many of the contents of the museum were discovered on the nearby island of Rheneia. As well as occasional exhibitions, there a large number of vases, statues and clay figurines on display.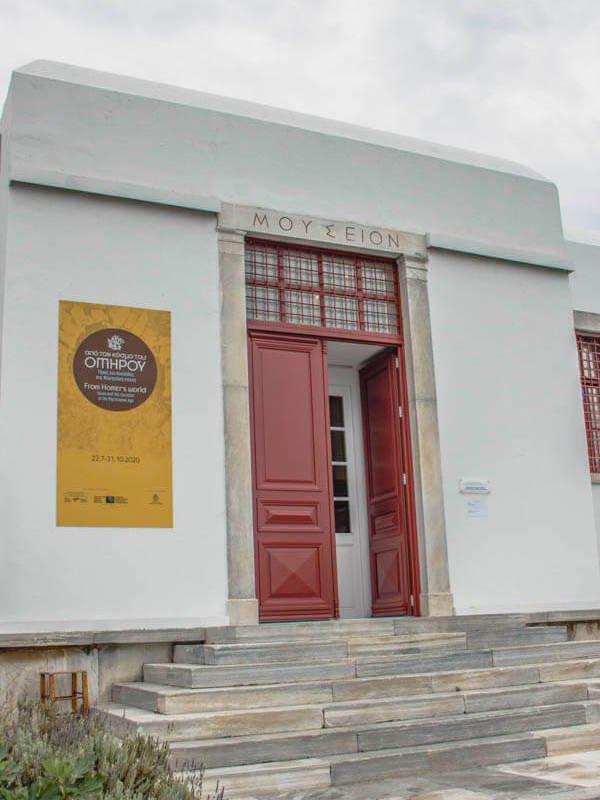 Party at Skorpios Mykonos
Skorpios is the ultimate beach club and synonymous with the party scene at Mykonos. A place where people gather in droves, spread out across it's private beach, restaurant and terraces. This is where you can expect to catch the biggest musicians and most renowned DJ's the island has to attract. Located on the southern tip of the island with unspoilt views across the Aegean. Above all, the daily sunset ritual is worth the visit alone and will likely transport you into party mode. Check their website for reservations and prices ahead of time.
Hop on a water taxi
A really fun way to get around the beaches scattered in the south of Mykonos is by water taxi. These small refurbished fishing boats are a rather unique transport method. Although you might want to pick a calm day to catch a ride. Choose between one round trip to one beach or pay for an all day pass. The all day pass will serve you well particularly if you want to visit a few beaches – a good option if you are short on time. Start at Platis Gialos, moving on to Paraga and Paradise/Super Paradise. Be sure to make a mental note of your favourite places to plan your return!
Indulge in the food
Whether it be a fancy three course meal with a bottle of wine, a souvlaki pita wrap with an ice cold beer or a traditional clay pot Moussaka. Mykonos has the best food! Hence, make sure you do not miss out. Savour the moments and look into restaurant reviews and menus. It doesn't always have to be the fanciest nor the most expensive, you will find exceptional food everywhere in Mykonos. Try M-Eating for an immensely rich and satisfying gourmet dinner and Pepper restaurant for a great gyros plate. Apaggio in Ornos has, by far, the best Moussaka on the island. Aglio e Olio and D'Angelo are both great Italians.
Tips and advice
Mykonos gets busy all through summer. To enjoy the highlights in a little more peace, consider visiting in the shoulder seasons. Mykonos is one of a few islands I recommend people visit in the shoulder seasons. Mykonos in May and October are extremely pleasant times to visit.