Looking to visit the Greek islands this year? Maybe Easter has just passed and you're eager to start your summer ASAP. You might think May is a bit too early to visit the Greek islands. But this could not be further from the truth. In fact, Mykonos in May is arguably the best time to visit. Technically well within shoulder season, the mad crowds will not yet have descended onto the island. And yet the weather will be superb, with beaches, bars and towns opening up for business, some already being satisfyingly lively.
Yes Mykonos in May will be a little unrecognisable compared to the peak of July, August and September. I can reassure you that this is not a bad thing. Many Greeks actually choose to visit over the Easter period in April/May. Steering clear of the summer highs and the droves of tourists. Travelling to Mykonos during this time is somewhat more relaxed. And much better value when staying at some of Mykonos' best hotels.
Weather in Mykonos in May
Temperature
Average temperatures in Mykonos in May are very pleasant. You can typically expect it to range from 18℃ to 22℃. This is in comparison to the summer average of 25℃ and highs of 29℃. Days are steadily getting longer. Not only that, the evenings are pleasant enough to wander around with light clothing. Summer is well on the way. Beaches are gearing up and getting ready for the season yet far from being overcrowded. Sunscreen is always recommended even as early as May, with ample opportunity to sunbathe, with an average of 12 hours of sunshine a day. The sea temperature is a few degrees cooler in May and certainly noticeably crisp. This doesn't stop me from swimming but it might for some.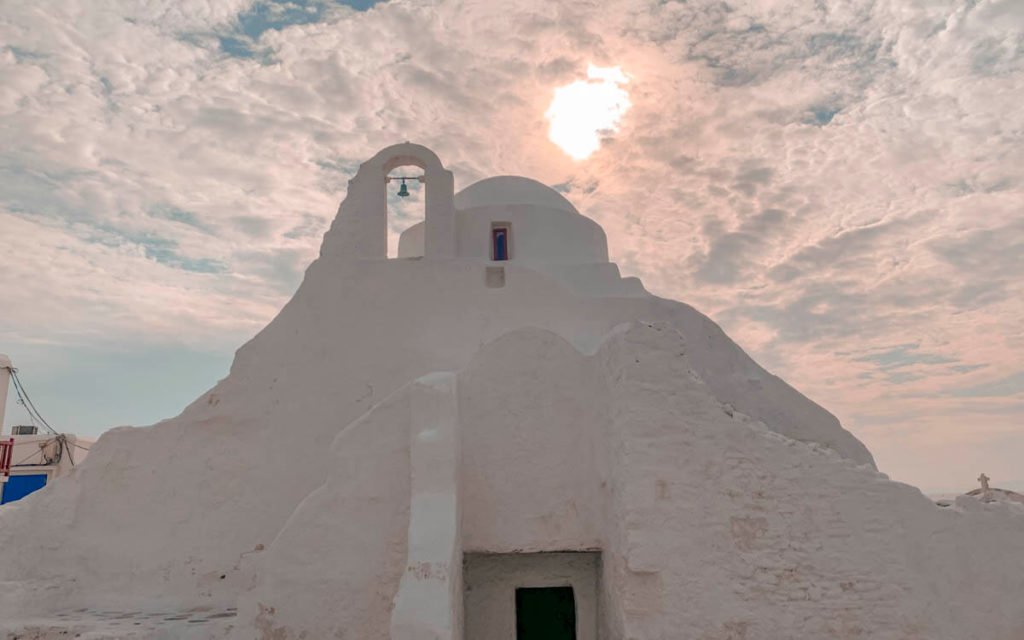 Rain and wind
The glorious Greek summer is nearing and as expected the days are mainly bright and clear. So much so that you would only expect 3 days of rainfall on the island in the month of May. All in all, one of the best times to visit Greece in general, not just it's liveliest island.
Mykonos is, however, often referred to as the island of the winds. The same being whether you visit in summer, spring or autumn. The strong Meltemi winds blow from the North and are commonplace, usually coming for days at a time. They can be annoying during the summer, but maintain temperatures at a comfortable level. Equally annoying in May and can bring even cooler temperatures. Hence it is a good idea to bring a light long sleeved jacket just in case it gets a bit too chilly in the evening.
What to Wear in Mykonos in May
It will be completely down to luck as to whether you avoid the wind during your visit. Any which way, Mykonos is more than enjoyable. That being said make sure you bring a long sleeved top or light jacket in case you get cold easily. Apart from that, short sleeved tops, cropped trousers, skirts and shorts are the norm. This being particularly true during mid and late-May. Don't bother with packing an umbrella or waterproofs. Even in the off chance of rain, it will pass relatively quickly.
Things to do in Mykonos in May
People visit Mykonos for different reasons. Some go for the romance, some for the wild parties. Arguably all are drawn by the beauty and vibrance of this hugely popular Greek island. Along with Santorini, easily the most visited and one of the best Greek islands to stay on.
There is a noticeable difference between the start of May and the end of May. Towards the beginning of the month, shops, venues, bars and restaurants begin to open up. The chora is, of course, the earliest to open up its shutters in readiness for the incoming flux of tourists. Beach bars and clubs will also begin to assemble their vast quantities of sunbeds and loungers. The middle of the month sees an increasing number of establishments transitioning into activity. And, by the end of the month, all but a few places will be open for business.
Beaches
The beaches on the south side of the island are some of the best beaches in Mykonos. The likes of Paradise beach, Psarrou and Platis Gialos, will begin to unfurl their loungers in late April and early May. The atmosphere is relaxed, with sunbeds available without prior reservation.
Don't expect the beach bars and beach clubs to resemble the scenes you might typically associate with Mykonos. The mega beach parties, thumping house music and mass of partygoers don't arrive until the peak high season in July and August. That being said, you will find some beach bars busier than others and plenty of music to keep you entertained.
The weather is great for sunbathing in May. Relaxing on the sunloungers or your own towel on the sandy beach is a great way to spend some time. The sea can be tempting, just bear in mind it will be a few degrees cooler than what you might expect. You'll find people taking a dip, particularly the younger/braver souls on vacation.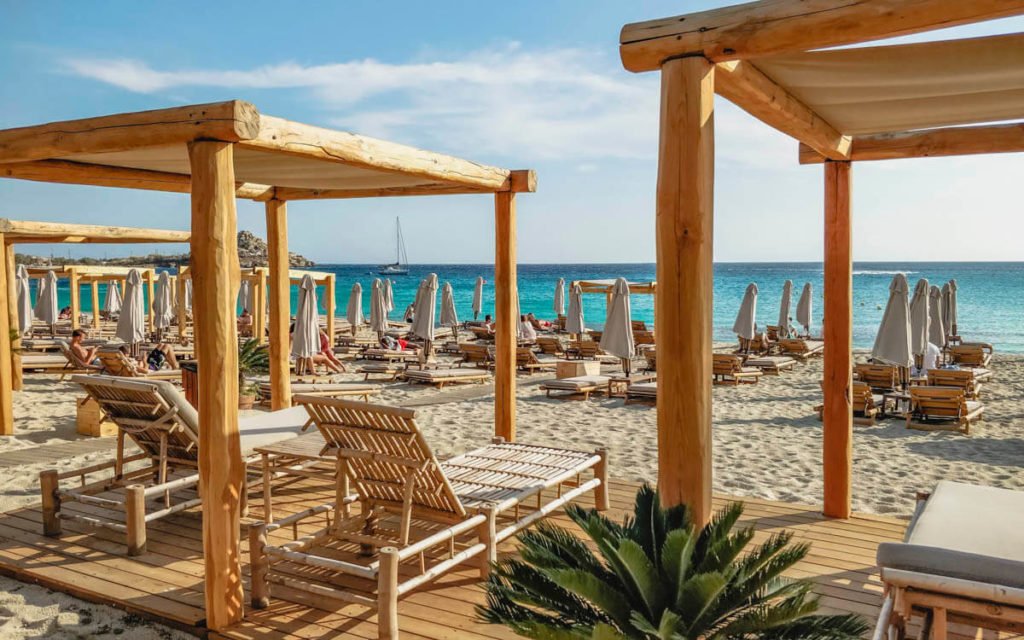 Bars and clubs
Similar to the beach clubs, the wild parties associated with Mykonos don't come into full swing until July and August. You won't find clubs packed to the rafters and Ibiza-style DJ sets just yet. If those wild parties are what you are after then best to plan for the summer. That being said, the opening parties of some of Mykonos most famous clubs; Cavo Paradiso, Scorpios and others, have their opening nights around the 20th of May. Others, such as Tropicana and Super Paradise opening nights may be in June, but that doesn't stop them opening the beach section and playing music in May.
The more vibrant nightlife in May will be in Mykonos town, particularly in Little Venice. Go in mid to late May, and the place will be far from dead, bustling with people after sunset, particularly the likes of Caprice and Scarpa.
Where to go and what to do
All the highlights of Mykonos are very do-able in May. Mykonos town is becoming livelier by the day, yet nowhere near the point of hectic. Exploring the chora, enjoying a drink, some window shopping and a general wander is easy and relaxing. All in all, Mykonos is transitioning and by mid to late May, fully up and running.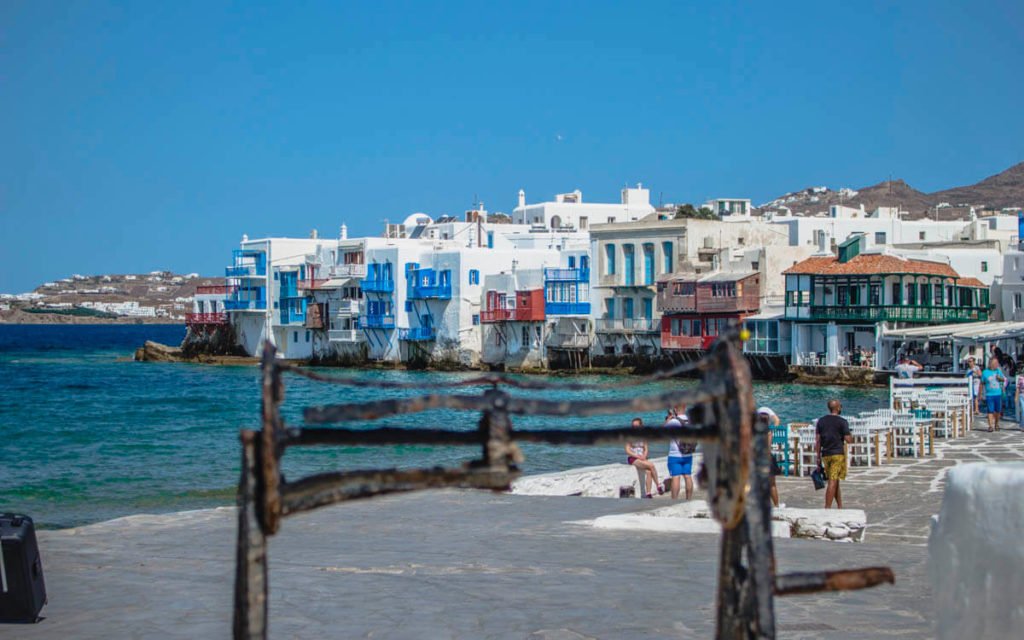 Travel tips for Mykonos in May
Getting around Mykonos
Getting around Mykonos during this time is a whole lot easier due to the fewer number of people and cars. Hence, you have the option of taking public transport with the added benefit of more space and seats (Mykonos has a good amount of well connected bus routes). Or you can decide on taking taxis, although fares still tend to be on the pricey side. I tend to only recommend this if you are travelling with a small group and only plan on making one or two trips – as costs can rack up quickly. Lastly, you could rent a car from one of the many rental companies at the airport or in town. Prices will be relatively low, the roads will be clear, without congestion. Importantly, parking will be available at the popular places on the outskirts of Mykonos town, including by the windmills.
Book early
Visiting the Greek islands in May, Early June, late September and October is the best way to travel Greece on a budget. Prices at hotels and flights are not at their peak and you are bound to find some great deals if you search the typical booking websites as early as possible. Especially beneficial considering how costly Mykonos is.
Timing your trip
In conclusion, the best time to visit Mykonos in my opinion is May. Furthermore (if you can) try to plan it towards the middle and end of the month. That is when you will get the best of everything. Sunshine and great weather, a buzz of activity, excitement and entertainment yet still avoiding the crazy crowds that set upon the island every year.