Crete is the largest of all the Greek islands and the 12th biggest island in Europe. In terms of area, it's about one third the size of Sicily – the biggest island in the Mediterranean sea. To drive from one side of Crete to the other, from one of its famous beaches, Balos, to another, Vai, takes roughly 5 hours – about 340km. This owes to its shape as the island is elongated from East to West. Crete effectively separates the Aegean from the Libyan Sea.
Crete is easily the most populous of the Greek islands with a population of over 600,000. It's capital city, Heraklion, is quite centrally located on the North coast. It is about an hour away from Rethymno, which is another hour away from Chania. All of the three major cities are located on the North coast, 60km separating them.
In general, 80% of all the most popular places to go in Crete are all west of Heraklion. This means that, wherever you decide to stay, you wont need to ever travel for more than 3 hours one way, absolute worst case. If you were to decide on a base with the intention of travelling around the island, then Chania and Rethymno would be the best cities to stay.
How to get around Crete – the biggest Greek island
Renting a car
Renting a car is by far the most convenient way to explore Crete. The most popular sites, towns and beaches are dotted around the island. Renting a car allows you to venture to the likes of Elafonnissi, tucked away on the Southwest and Balos lagoon on the Northwest tip. I prefer the convenience and the ability to create my own schedule. If you'd prefer not to rent a car for the whole trip, then doing so for a few days could also be an option.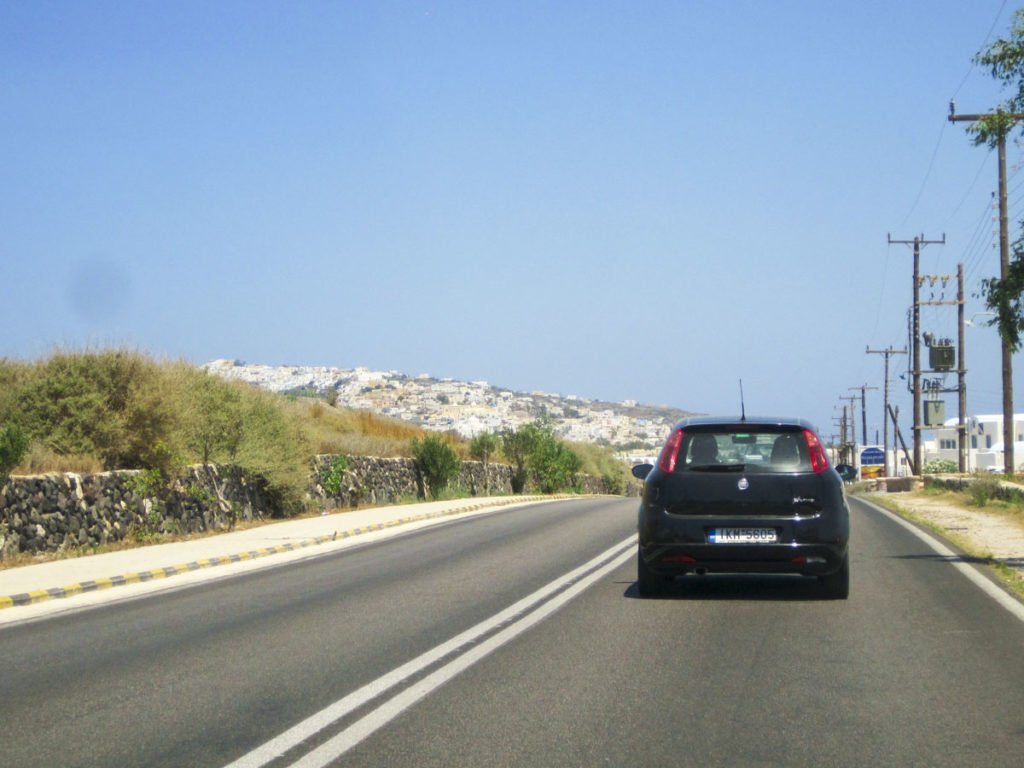 The venetian harbours and old towns of Rethymno and Chania are great to visit and stay in. Driving in between to visit for half a day to a day is more than do-able.
Scooters and ATVs are available to rent as well. Though for the length of some journeys, I'd go for something more convenient and protected from the sun. These types are good for short rides and small islands (such as Santorini) but Crete is not one of them.
Check out my tips for renting a car in Greece here.
Taxis
Taxis are available on the island, but like with almost everywhere, sneaky taxi drivers are out in abundance trying to make a quick buck from unassuming travellers. That's not to say you shouldn't take taxis, they can be quick and offer cheap, short rides. Just make sure you agree prices up front and get a feel for prices from establishments such as airports and hotels.
As an indication, you can expect a taxi ride from Heraklion to Rethymno to cost about €80. Further on, Heraklion to Chania, will cost roughly €140. Hence, I tend to avoid long distance taxi rides and opt for rentals instead
Taking the bus
The bus operator, KTEL, is found all over Greece and the islands. They run a service in Crete too – a regular and extensive one at that. All the popular routes along the North coast are covered and run daily and at least hourly. These include airports, ferry ports, main cities and prefectures.
Smaller towns and villages are also served as are all the popular beaches like Elafonisi, Fallasarna and Balos (via Kissamos port) and significant sites. These buses, again, run daily though less frequently than the services in between main cities.
The less popular sites or beaches may have a more infrequent service departing from the main cities. All in all, Crete is a busy economy, and well served by an extensive bus system. Find timetables, booking options and information from KTEL here.
Other transport options
Aside from driving or taking the bus, you could consider private transfers or hiring taxis for the day. There is also the option of ferry hopping from place to place around Crete's inviting coastline. There are plenty of pretty seaside towns and well known beaches to explore this way. For example, the ferry from Kissamos will take you to Balos lagoon. This way you can avoid the bumpy dirt road that leads there and instead the lagoon will be unveiled from as you sail around the peninsula.
Where should you stay in Crete – the largest Greek island
There are three main cities in Crete, all of which are located on the North coast. Heraklion is the capital and is sat centrally on the island. The main ferry port is here, with boats sailing to the Dodecanese to its northeast and to the Cyclades to its north. Heraklion would be a good base if you plan to visit more than one island and do some island hopping. One of Crete's two international airports is also located here.
Chania is the second largest city in Crete, also with an international airport. It is located on the West side of the island on the northern coast. Many people choose to stay here due to its pretty venetian harbour, the charming old town and its proximity to three of Crete's most well known beaches, Elafonissi, Fallasarna and Balos.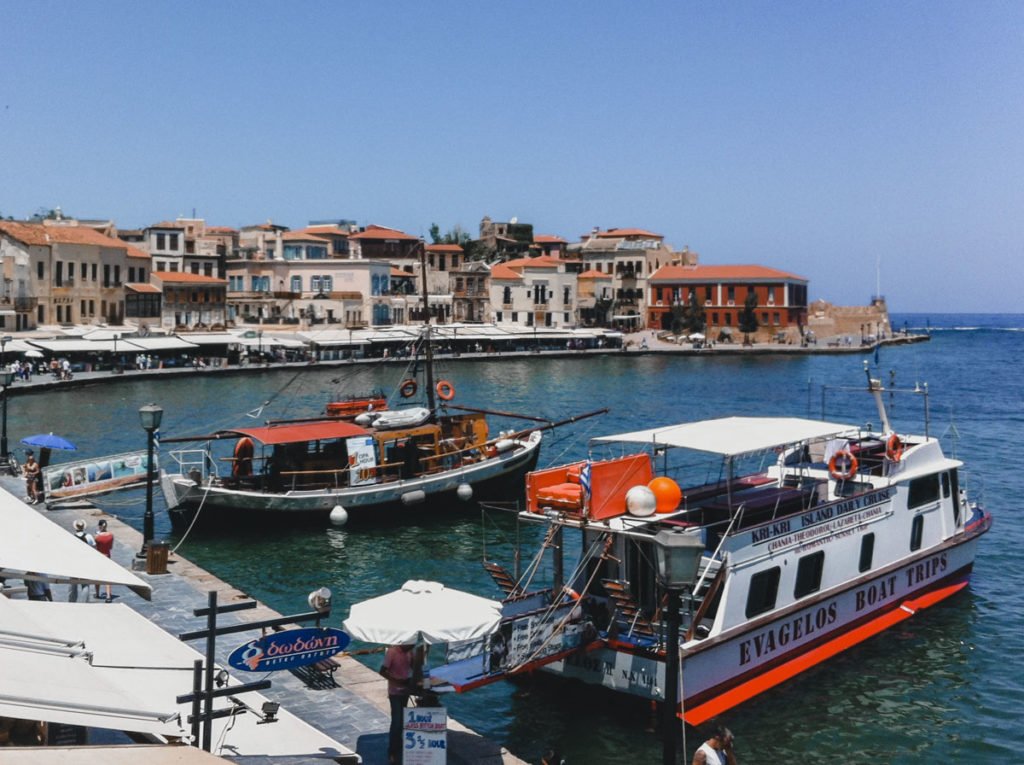 The third major city within Crete is Rethymno, located halfway between Heraklion and Chania. It too has a venetian harbour and is one of the best preserved old towns in Crete. The impressive Fortezza castle, built in the 16th century, imposes itself on the city. From its estate, you have nice views of the city and port.
If the buzz of the urban cities, old and modern, aren't to your taste, then Crete has an abundance of seaside villages and resorts that cater to travellers. The likes of Matala, Paleochora, Agios Nikolaos and Sitia are all popular with holidaymakers from across Europe and the world. All have a leisurely vibe, some more suited to families and some to site seeing. Check out the best resorts and seaside towns to stay
What to do in Crete – the biggest Greek island
Sites and Cities
Europe's first advanced civilisation, the Minoans, settled in Crete back in 2700BC. Hence, Crete has a long and rich history stretching back millenia, with ancient sites, ruins and rebuilt medieval and venetian cities and towns to show for it. The various structures and fortifications from the different ages and rulers scatter the island.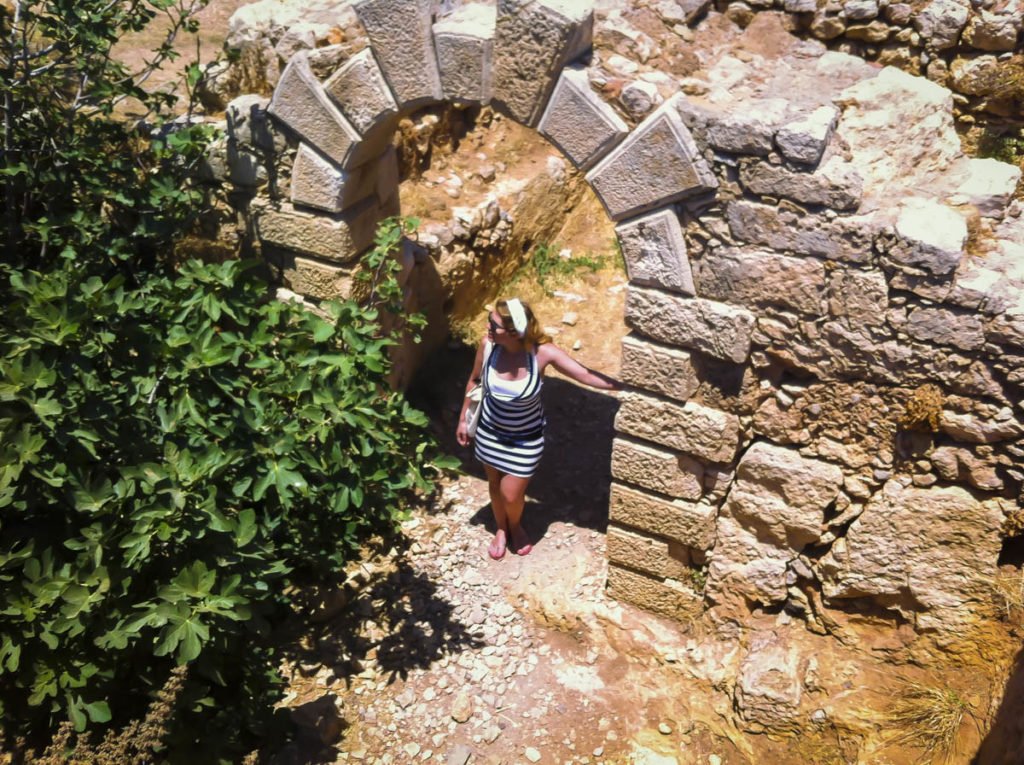 Just taking an afternoon to wander the old towns of Chania and Rethymno, you'll get to see and feel the true character and history of Crete. That has now translated into its traditions and culture today. Be sure, not only to stroll through its venetian harbours, but also the Agora market in Chania. Stop for lunch or dinner in one of the many traditional tavernas, serving up exquisite Cretan cuisine and finishing off with a glass of Raki (or two).
For those wanting to explore its more monumental site, it's certainly worth visiting the ancient Bronze age city of Knossos, dubbed Europe's oldest city. Also trekking up to the Fortezza castle and surrounding grounds is well worth the effort, for the views alone.
Beaches
Crete has some of the most famous and beautiful beaches in Greece and across the planet. My personal favourites are Elafonissi and Seitan Limani. Take time to visit and relax on these stunning seaside landscapes. They get pretty busy during the peak season of July and August, so I'd recommend either going early in the morning, or if you can, planning your holiday slightly more into the shoulder seasons.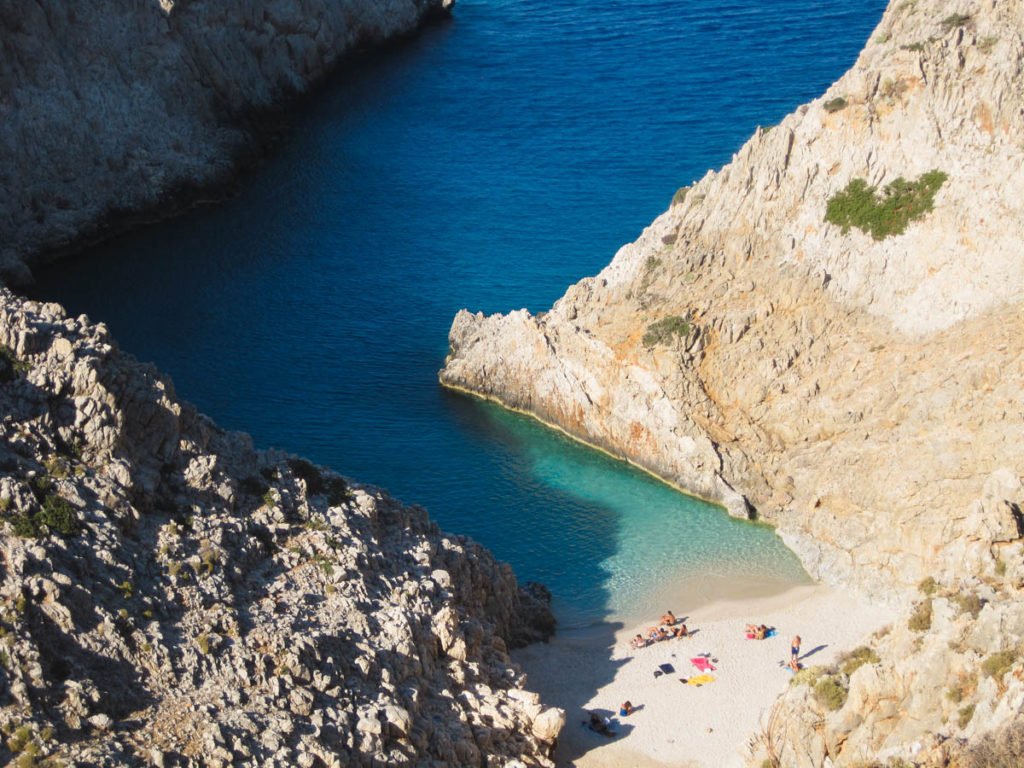 Nature
As well as the environmentally protected beaches of Elafonissi and Vai, there is also the Samaria Gorge national park that is well worth visiting. Crete is a mountainous island, and you'll be able to see it in all its wild and natural glory in this world biosphere reserve, with all its native fauna and flora on display.