Kefalonia is one of the largest of the Greek islands and the biggest within the Ionian. It's home to some great beaches, picturesque fishing villages and dramatic landscapes including an impressive underground cave. There's a lot to explore. So as well as researching prior to my trip, I also visited the main areas to figure the best place to stay in Kefalonia.
There are 4 main areas, each with their positives and negatives. Depending on what kind of traveller you are, the best place to stay in Kefalonia is: 1) Argostoli – the island's lively capital, 2) Fiskardo – a pretty fishing village to the North, 3) Sami – a popular harbour town and 4) Asos – a quiet and idyllic fishing village to the West. Each of these areas are a fair distance apart from each other so choose well!
Getting to Kefalonia
How should you decide where to stay in Kefalonia? Before diving in, you should firstly consider how you get there.
Kefalonia has an international airport, so there are direct flights from the UK and many other European countries. If you are unable to go direct, then by flying into Athens, you can take a connecting flight with Aegean or Olympic airlines. There are a number of ways to get to the Ionian islands, including Kefalonia, from Athens. If you re flying in and don't intend to rent a car, then Argostoli is the most convenient place to stay.
Otherwise, you have the option of taking a ferry from Kyllini or Patras in the Western Peloponnese into the port towns of Sami or Poros. Staying in Sami would be the most convenient if sailing in to the island.
Argostoli – The best place to stay in Kefalonia for nightlife
Argostoli is the lively town centre. Larger than the typical main towns on most of the other Greek islands, such is the size of Kefalonia. It has a large central square buzzing with activity. The atmosphere around the restaurants, cafes and bars dotted around the perimeter make it great to eat, drink and people-watch. The city has all the amenities and accommodation you might wish for during a city stay.
Argostoli has various alleys and streets lined with shops, bars and clubs. It has a trendy and cosmopolitan vibe. Added to that, there is also the strip next to the harbour where it feels more relaxed, with traditional tavernas. Easily catch a ferry from here to the neighbouring peninsula of Lixouri and its many beaches. The beach of Lassi is also close by, making Argostoli a great all round area and a great place to stay in Kefalonia.
Who should stay here
If you are looking for entertainment in the evenings, then this is certainly the place to stay. The other towns and villages on the island just do not compare to Argostoli in terms of the variety it offers. Argostoli is great for families and younger travellers looking for good nightlife.
Fiskardo – the best place to stay in Kefalonia for couples
This is a very pretty fishing village tucked away on the extreme northern tip of Kefalonia. It attracts fancy sailing boats, yachts and catamarans, whose owners drop anchor and enjoy the evening here. Fiskardo is a charming and romantic village, certainly considered more high-end compared to the rest of Kefalonia and it really does have a more luxurious feel to it.
The village also has a small pebbly beach which is within walking distance, and Emplisi beach is a stunning rocky beach with clear waters, about a ten minute drive away. Overlooking Emplisi beach is Emelisse nature resort – one of the best resorts in the Ionian.
Who should stay here
This is definitely the place to stay if you are looking to escape the main city bustle and are looking to indulge yourself or looking for a romantic stay with your partner. Fiskardo is a great place to stay in Kefalonia for couples.
Asos – the best place to stay in Kefalonia for tranquility
Asos is the smallest of the villages here and is where we decided to stay. It is set at the bottom of a hill, reached by a steep and windy road from the cliff top. Everything runs a little slower here, such is the pace of life, and it is certainly not without its charm. The main part of the village is right by the sea, where you'll find some fishing boats and a handful of quality restaurants and tavernas and maybe two or three bars for an evening drink. One of Greece's most stunning beaches, Myrtos, is a 15-minute drive away.
Who should stay here
Asos is one of the best places to stay in Kefalonia to properly escape the crowds. Whether you are looking to just switch off or enjoy romantic evenings in an ultimately serene setting. Asos is a great place to stay for couples, where the main noise you hear are the waves lapping onto the small pebble beach. If you are the type who prefers entertainment and lively bars, then you might go a bit stir crazy here.
Sami – the best place to stay in Kefalonia without a car
Sami is one of two port towns on the East coast of Kefalonia where ferries arrive and depart. Hence if you arrive via ferry and don't intend to hire a car, this is the most convenient place to stay.
It is a fairly busy town with locals and tourists alike and a good distance to a few key highlights in Kefalonia. Antisamos beach is one of my favourites beaches in Greece. Melissani cave is nearby – an underground lake with crystal clear water and illuminated through a circular opening above. These sights are not to be missed and make Kefalonia easily one of the best islands to visit in Greece.
It's not as pretty as Asos or Fiskardo, but at the same time has a really good selection of quality seafood restaurants and tavernas, which line the strip by the sea.
Who should stay here
Sami is a good choice for those looking for something away from the main city but retaining an emphasis on good food. It isn't as cosmopolitan as Argostoli, nor as quaint or charming as the fishing villages of Fiskardo or Asos. It is, however, good for those wanting to explore their surroundings. A convenient base to get to see the highlights and those looking to visit the neighbouring island of Ithaca.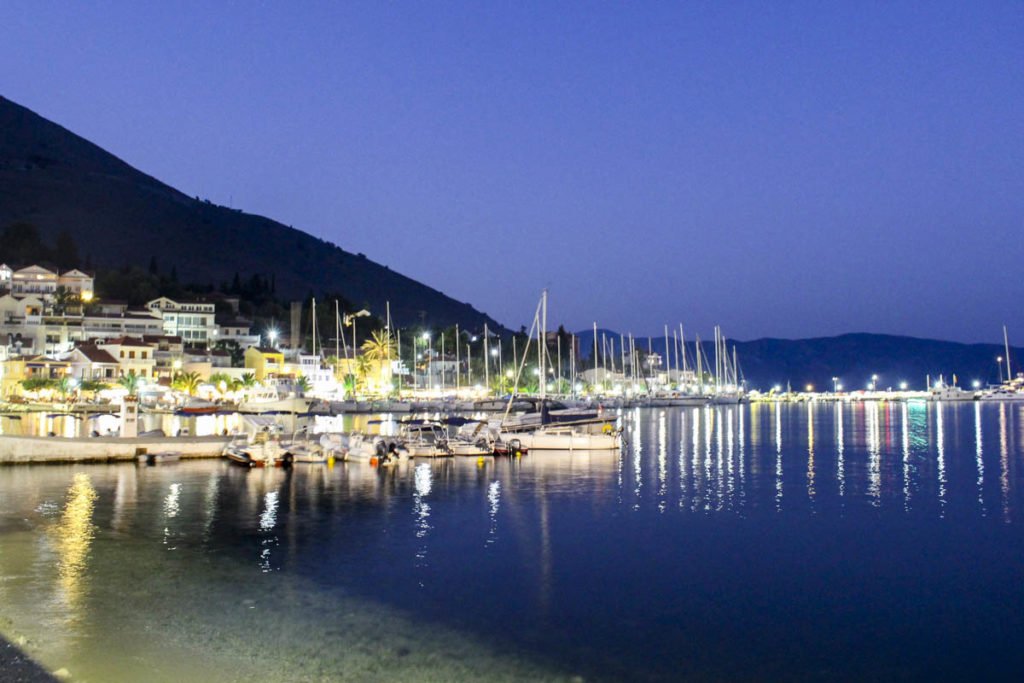 Do you need a car in Kefalonia?
We rented a car from Green Motion at the airport when we landed. This made our stay more convenient and allowed us to visit Fiskardo, at the Northern tip of the island, Myrtos beach on the Northwest and a bunch of other beaches and towns. I'd recommend renting a car if you want to explore the island but that is just personal preference. You can find out some tips for renting car in Greece here. If you prefer public transport, then there is a good bus service running on the island. Check out the timetable here.
Iit can take over two hours to drive from one side of the island to the other. Hence it is not something you want to be doing too often. If you plan on exploring, I would suggest basing yourself in Asos or Sami. If you prefer generally staying put, only occasionally venturing further afield, then Argostoli and Fiskardo are good options