Often when I feel the travel itch coming, whether I'm at home or, more likely, sitting at my desk at work, I try to figure out which islands I could fly to instantly. I love going back to see family and friends but occasionally it makes sense for me to fly directly to the islands, especially if I'm trying to maximise a short vacation or a long weekend. I always end up searching exactly which Greek islands have direct flights from London or Manchester.
After countless forgotten searches, I've written it down this time. Here is the list of the Greek islands that have direct flights from all the airports in London, Manchester and, for good measure, Birmingham as well;
Direct flights from London (all):
Chania, Crete
Corfu
Heraklion, Crete

Gatwick
Heathrow
Luton
Stansted

Kefalonia
Kos
Mykonos
Rhodes

Gatwick
Heathrow
Luton
Stansted

Santorini
Skiathos
Zakynthos

Gatwick
Heathrow
Luton
Stansted
Direct flights from Manchester:
Chania, Crete
Corfu
Heraklion, Crete
Kefalonia
Kos
Mykonos
Rhodes
Santorini
Skiathos
Zakynthos
Direct flights from Birmingham:
Chania, Crete
Corfu
Heraklion, Crete
Kefalonia
Kos
Rhodes
Skiathos
Zakynthos
Map of all Greek islands with international airports
How long does it take – Greek islands with direct flights from London and Manchester
Flights generally take around 3.5 to 4 hours from the UK to the majority of Greece. Geographically, Corfu and Rhodes are the nearest and furthest Greek islands from London, with 800km separating them.
This means that at the extremities, you can get to Corfu in the quickest time, in 3 hours and 10 minutes, and Rhodes, the longest, at 4 hours and 10 minutes. Add to that an additional 10 minutes or so if you are flying from the North of England.
The difference in flight time is minor when you consider getting to the airport, checking in a couple of hours early and getting out at the other side (although the latter is pretty quick). Hence, the island you decide to visit will more be based on where you want to go. Check out the top Greek islands to visit here.
The biggest benefit of flying direct is not having to transfer. This saves you hours. But what if you have no choice? I'll explore the other options later on.
How often are they – Greek islands with direct flights from London and Manchester
Due to the 4 airports in London (excluding City), you invariably have a larger variety of days and times to choose from. Taking London as a whole, there are multiple daily flights to all of the islands with direct routes. The exception being Skiathos, which has three flights a week from Stansted.
In Manchester and Birmingham, though flights might not be daily to each island – the exception being popular ones such as Corfu and Rhodes – airlines do operate multiple flights a week.
As you can expect, the frequency of flights depends on whether it being high season or shoulder season, with flights not operating over the winter. You'll find that flights ramp up going into mid-June and start to tail off from mid September onwards.
Transfers by plane
A direct flight might often be the preference when travelling, particularly if the trip is short and you plan on staying on one island. However, why restrict yourself to a handful of islands?
From Athens, there are regular services operated by domestic and international airlines to all the Greek islands with airports – both domestic and international. Pretty much all will take 45 minutes to an hour to get to. Considering a connection might be two hours after you land, then the total time to transfer by plane might only cost you an additional 3-4 hours in each direction.
Hence, if you are unable to get to Greek islands with direct flights from London or Manchester, then a transfer by plane via Athens is easily done. It will require a bit more time and maybe cost slightly more but it's certainly worth the effort. Getting to Paros, for example is easy from the UK via Athens.
Transfers by ferry
The other option is transferring through Athens' ferry ports of Piraeus or Rafina. This may inherently appeal to visitors looking for the island hopping experience, arriving into the harbour by sea, at the same time presenting impressive views of the islands. But this comes with significantly additional time, not well suited to a short getaway.
From Athens international airport, you'll need to transport yourself to Piraeus which is a 45-minute taxi journey or Rafina which is 30-minutes. From there your best options are then to travel to the Cyclades island group, with regular slow and fast ferries to islands such as Tinos, Naxos, Paros, Mykonos and Santorini. A ferry to these islands will take between 2 hours and 8 hours.
Hence, when transferring by ferry, and time is very much of the essence, the geography of the islands is a big deciding factor. You may be able to find cheaper fares overall but getting to the port and then the ferry journey itself is not insignificant. Ferryscanner is a great comparison website to find and book ferries, and one I use regularly.
Lastly, when considering ferry transfers from Athens, you are restricted to which island groups you can easily reach. Travelling to the Ionian islands is not possible from the Athens ports, with the exception of Kythira. You actually need to get to ports on the West coast of Greece if you are planning on taking a ferry. I've detailed the best methods of getting to the beautiful Ionian islands of Lefkada, Zakythos, Kefalonia and Corfu from Athens in a previous post.
Getting to the Dodecanese, Crete and Northern Aegean islands is possible from Athens' ports but the journey times are generally considerable – upwards of 8 hours and some more than 13 hours. It can also be the same price or cheaper to travel by air, added to the benefit of not having to endure half a day at sea.
What other options are there?
So, if you have the Greece bug, and are looking for a short or a quick trip to get some mediteranneran sun, sea and food, there are some great alternatives.
I regularly fly into Athens and visit the coastal areas where many Athenians escape to their summer houses during vacation time. It's a great option if you want to avoid the hugely popular islands, if you fancy a change from your frequent trips to Greece or are just looking for something easy to maximise your vacation time.
The seaside towns of Lagonissi, Vouliagmeni and Porto Rafti all have many of the characteristics of a Greek getaway, including; great beaches, crystal clear waters, rafts of tavernas, cafes and bars and hotels or apartments with views out into the sunsets. In fact, you're likely to get more of an authentic Greek experience in these seaside towns than you would on the islands, with fairer prices and less touristy eateries.
Lefkada and Evia can also be easily reached after flying into Preveza and Athens respectively.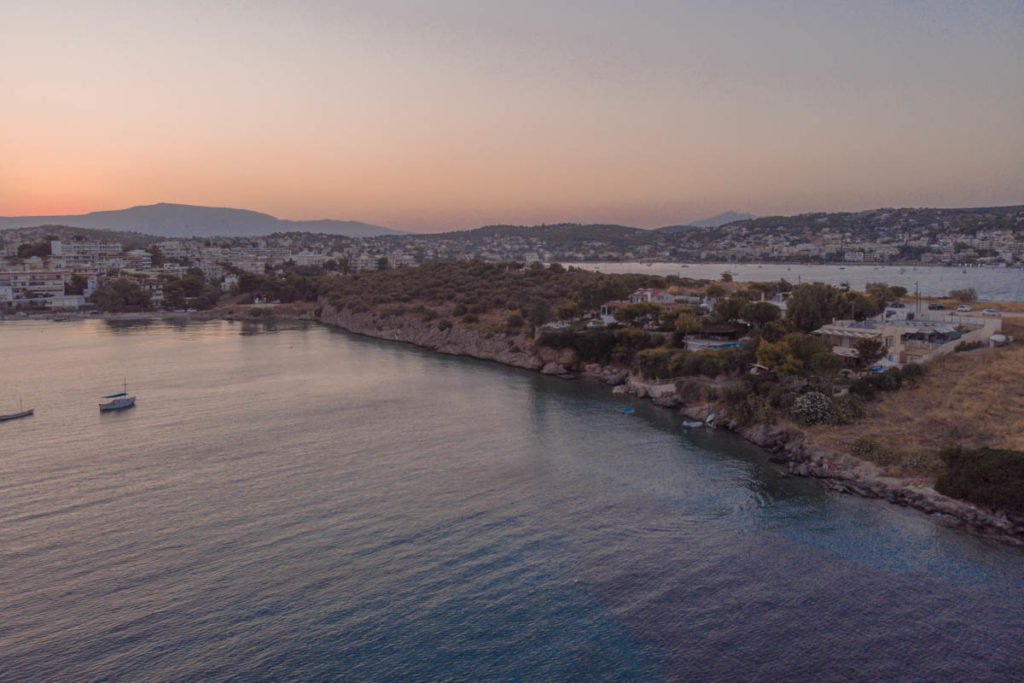 With this in mind, then all you have to do is fly into Athens, of which there are frequent flights from just about anywhere. Not having to worry about connecting planes and ferries means less stress and more time to relax. It's certainly worth renting a car from near the airport to make things more convenient, allowing you to do some exploring also. You can usually bag good prices by booking way in advance. Check out some tips for renting a car in Greece here.
Lastly, there are a number of resorts near Athens which will cater to the majority of people. It can be the best option if you want zero hassle, everything taken care of, and organised transfers to and from the airport.