Greece is an extremely popular destination. Both for those wanting to backpack and explore its ancient history, and also those looking to spend lavishly on its flagship islands. Its most popular ones, Santorini and Mykonos, are also its most exclusive. Prices can be eye-watering. And with VIPs arriving on their superyachts, and honeymooners seeking fairy-tale luxuries, one can easily understand why. But that isn't the only way. This is a complete guide to visiting Greece on a budget.
So how can you travel Greece, and particularly the Greek islands, without breaking the bank? I've laid out some key tips and advice to help plan your vacation, experiencing the best Greece has to offer, whilst on a budget.
When to visit Greece on a budget
First thing's first. Timing your visit makes a big difference. Greece's vacation season runs from mid-April to late October. Hence, choosing to travel during the shoulder seasons, either side of the peak July and August months, means more reasonable prices and lesser crowds. In fact as long as you visit before early to mid June and after 15th September, you should be able to grab a discount.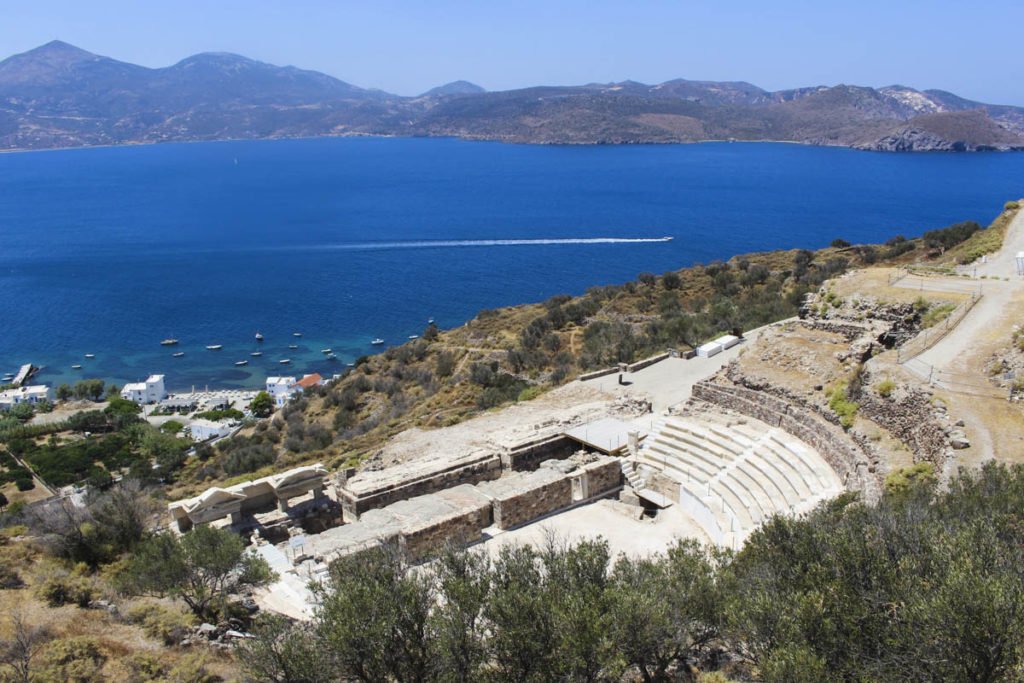 The further to the extremes of these shoulder seasons you go the further your budget will stretch. However there is a trade off to be made with a few things, notably; 1) weather, 2) sea temperature and 3) general availability of restaurants, bars, and entertainment.
Overall, I would recommend travelling in June and mid-September into October. The weather will still be great and the sea temperatures still perfect for swimming. In June, the waters will be slightly crisper than the height of summer. And if you are looking for warmer seas, then late September would be better.
Here are relative hotel and flight prices you might expect when planning and visiting Greece on a budget:
Month
Hotel Prices
Flight Prices
Avg. Temp
(℃)
Avg. Sea Temp
(℃)
April
-30%
-35%
16
16
May
-10%
-10%
21
19
June
-5%
-5%
26
22
July
Peak
Peak
29
24
August
Peak
Peak
29
25
September
-10%
-20%
24
24
October
-40%
-30%
20
22
The low season runs from November to March and the hospitality sector all but shuts down on the islands (exceptions will be on bigger islands such as Crete/Rhodes). You might find a small number of establishments open but, in general, the island is relatively empty. If you are looking to visit Greece during this time and don't mind a little more unpredictable weather, then city breaks to Athens or Thessaloniki are good options. Check out this article on visiting Athens in October. These cities are in full swing, tourist numbers are way down, and all the sights are open.
Flying to Greece and the Greek islands on a budget
Greece has a large number of expats working abroad, including myself, that are eager to return home for the holidays. This means that over Xmas, Easter, and all through the summer, flights are additionally burdened with returning natives as well as tourists.
Hence, along with trying to avoid peak season and instead going during shoulder seasons, booking flights well in advance is also a must. If you try booking a month or two before, you are bound to get stuck with expensive tickets. Carriers don't tend to drop their prices as the demand to Greece is always there during the peak periods. Hence flights are always filled.
Generally speaking, the earlier you book the cheaper the tickets. Fare trackers such as Google Flights and the app, Hopper, are very useful in monitoring prices. However there is a limit as to how early you should try to reserve your tickets.
As a general rule of thumb, it's best to book in the 1 or 2 months before the previous festival/season. Meaning that summer flights to Greece are best booked 1 or 2 months before Easter. And Easter flights to Greece are best booked 1 or 2 months before Xmas. People naturally look towards their next vacation after the last one passes.
This article on fare comparisons goes into detail on how to save money on flights. The last thing that will influence prices is what day and time you book and what day and time to fly. Avoiding weekends for both will net you some further savings when travelling Greece on a budget.
Greek islands to visit on a budget
Santorini and Mykonos are the islands that have become synonymous with Greece. Naturally beautiful, picturesque, very trendy and chic but of course, expensive. They are, without doubt, worth visiting – you will not regret it. But at the same time, there are some great alternative budget Greek islands to visit as well. Accommodation, eating and drinking out and general expenses make these Greek islands much cheaper overall.
Here are a few alternative Greek islands to visit on a budget;
Ios
Ios is as picturesque as any of the Cyclades and affords similarly stunning views across the Aegean Sea and neighbouring islands. The island is known for its nightlife, with international DJ's, lively beach bars and clubs – a good alternative to Mykonos. Mylopotas beach is one of the best in Greece and there is a great choice of hostels, resorts and luxury suites. Ios has very reasonable prices when it comes to accommodation and entertainment. Check out this complete Ios travel guide for more information.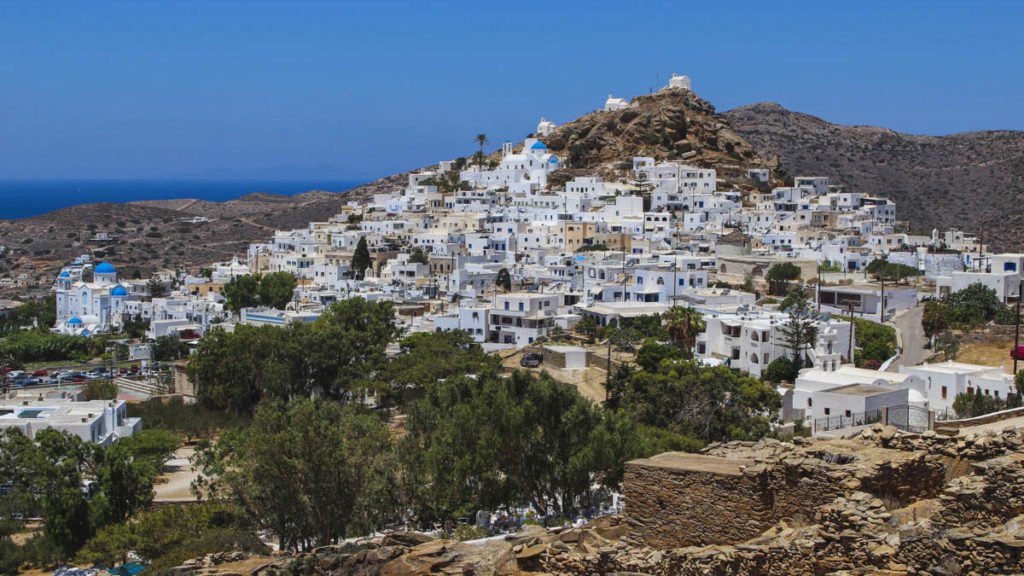 Skiathos
Part of the Sporades group of islands and popular with young people and families. It's fine, soft sandy beaches and clear turquoise waters give the island a seriously relaxed vibe. It has a vibrant nightlife though, mainly in Skiathos town, where you'll find trendy cocktail bars, smart restaurants as well as authentic fish tavernas on the waterfront.
Lefkada
Lefkada is part of the Ionian group of islands and is connected to the mainland by bridge meaning you can actually reach the island by driving. Its beaches are some of the best in the country, with steep-cliffed back drops and sheltered coves to explore around its coastline. One of the least touristy islands there is and generally very good value. You'll easily be able to find resorts, hotels and apartments for most budgets.
Halkidiki
Halkidiki is not really an island. It's a three tiered peninsula with an enormous coastline, a popular destination for those living in Northern Greece. I used to regularly visit t when I was studying in Thessaloniki. Hence this is a good choice, particularly as there are regular international flights to the airport of Greece's second largest city.
These are a few stand-out examples if looking at budget islands and alternatives. However, check out my top 10 Greek islands to visit, as you can find good great places to stay and things to do on all of them.
Where to stay
There are a number of options when it comes to accommodation for those visiting Greece and the Greek islands on a budget. Resorts, hotels, hostels, apartments, rooms to let and camping means travellers of all types and budgets are well served.
Booking.com, Airbnb and Hostel World are all great websites to search and book accommodation.
Many people in Greece will choose to free-camp to spend their holidays in Greece on a budget. Although it might be true for those on a strict budget, it is also a great way to get closer to nature. And Greece has some beautiful nature let's face it. However, be aware that this is prohibited by law, unless in specifically designated areas. Nisyros and Evia are two islands that have some good organised areas for camping.
Like most destinations, it always benefits to book accommodation as early as you can. It's worth booking somewhere with free cancellation and then checking prices again a week or two before you leave. This might not pay off in July or August but it might during mid to low seasons. When occupancy is a little lower, hotels tend to reduce their rates. Whether this a cheaper price at the same hotel or a discount somewhere nicer.
Things to do when visiting the Greek islands on a budget
One of the easiest and best things to do when visiting any Greek island on a budget is wander around the main town. The Chora is usually bustling with activity and represents the character and form of the island. One of my favourite things to do is explore the maze of alleyways, through the squares and past the churches, shops and colourful courtyards. Usually ending up in a cafe, doing some people watching whilst sipping a fredo.
Swimming and sunbathing on amazing beaches is undoubtedly one of the best ways to spend a day on the Greek islands. Easily spend the afternoon lazing on a sunbed and cooling off in the crystal clean waters. To save paying for an umbrella every time, consider buying your own. If you plan to go to the beach more than 3 times during your vacation, then this will be worth it.
Lots of islands have ancient ruins, temples and statues that are free to the public to access and explore. Plan a trip in the morning or late afternoon to walk amongst these sites and get a feeling of life and society all those thousands of years ago.
Getting around Greece and the Greek islands on a budget
Domestic flights
If you can take a direct flight to the island of your choosing, then that's the best option. If there is no direct flight, then you have the choice of taking a connecting flight to one of the many islands with domestic airports, connecting from Athens. There are many islands with domestic airports, particularly the more popular ones.
If your destination is one of the islands in the Cyclades or Saronic, the cheaper slower ferries are a good option. Although you will need to factor in a taxi ride to the ports of Piraeus or Rafina. If you plan to visit further afield, say Dodecanese or Crete, then there really isn't much benefit in taking a ferry, especially with low cost airlines nowadays. Like anything, you must weigh up your time and convenience against costs when visiting Greece on a budget.
Ferry
There are different types of ferries, ranging from larger vessels which are generally slower and make more stops, to faster and more comfortable catamarans. Slower ferries are of course cheaper. If your destination is one of the islands in the Cyclades or Saronic, the cheaper slower ferries are a really good option from Athens.
You'll find journeys less than an hour to be more than reasonable, in and around 10 euros and sometimes less. Ferries and boats shuttling in between small islands, such as in between, Paros and AntiParos are also in this price range.
Check google maps for rough distances. It can sometimes be cheaper and quicker to fly direct to a nearby island and take a ferry to your final destination. This is particularly true in the Dodecanese or, for example, getting to Ios from Santorini rather than Athens.
Travelling by ferry is the default option when planning to visit more than one island. Check out my guide to Greek island hopping to help you plan that type of vacation or itinerary.
Bus
Most islands offer bus services between the main ports, towns and some popular beaches. Services and frequencies differ and ranges between timetables depends on the season. Buses are an effective way to travel and will get you to the main hotspots without much trouble. Tickets are generally 1 euro single.
Coaches are the most common way of travelling on the mainland and will get you to pretty much all destinations directly or through a connection. The bus network is better connected than the rail network and is cheaper, making this the best way to go cross country in the mainland.
Taxi
Try to avoid taxis if possible. Sneaky taxi drivers exist in Greece's tourist hotspots (just like everywhere else) and will try to make a quick buck from unassuming travellers. They can be quick and offer cheap, short rides. Just make sure prices are agreed up front
Metro
Athens has the only metro network in Greece and provides a solid means of getting around. Singles are in the region of 1 euro.
Rental car or scooter
One of the best ways of exploring Greece is by renting a car. By doing so you are able to get to the furthest corners and most remote extremities. Check out these tips for renting a car in Greece. Scooters and ATV's are even cheaper if you are a travelling solo.
Cheap eats in Greece
Relative to the rest of Europe, food is very good value in Greece and the Islands. As long as you're not right in the midst of the most touristy towns, then you'll often struggle to find a bad meal. Prices are particularly low on the quieter islands and towns as opposed to the likes of Sanotorini or Mykonos, where modern trendy and expensive restaurants run the show.
When it comes to cheap eats, then Greek souvlaki and gyros is a must. This is the most popular fast food in Greece and is eaten day or night. You'll find plenty of places serving souvlaki including small takeaway shops and proper sit down family restaurants.
House wine in Greece usually means from local vineyards, and most restaurants will usually have a choice of white, red and rose. These are cheap and can be ordered by the carafe (500ml). They are a great accompaniment to a meal without ramping up your bill.