Ios is part of the Cycladic island group located in the heart of the Aegean sea. It has a reputation for being a party island. Popular with young people, with it's lively Chora, bustling beach bars and much hyped nightlife. But honestly, it is so much more than that. I'll uncover the different sides to Ios in this travel guide, including the best places to stay eat and drink.
Not as internationally recognised as party-central Mykonos and Paros or as well known as some of the other most popular Greek islands. However, not to be overlooked. It is – in keeping with the rest of the Cyclades – a simply beautiful island, both in its architecture and its glorious scenic views across the Aegean.
Whether you've been to Greece before or not. Whether you're young, grown up, a family person or not, Ios is a great choice. So use this Ios travel guide to plan your next trip to this great little island.
Best time to visit Ios Greece
Like the rest of Greece and the Greek islands, the peak season takes place over the summer months of July, August and early September. Crowds are at their largest and the weather at its hottest. It's the best time to go if you want to party in numbers.
By travelling during the shoulder seasons of June and September, the weather will still be great and likewise the sea temperatures for swimming. I would recommend going at this time if you prefer slightly fewer people and/or lower prices.
You can expect bars, clubs, restaurants and hotels/hostels to be in full swing from Late May to late September. After this, you'll find some places start to close their doors before completely shutting down over winter.
Things to do in Ios Greece
1. Explore the Chora
The main town within Ios is Chora (the same name given to the main towns on any Greek island). It is close to the harbour where the ferries sail into, perched on a hill, about a 5-min drive or bus journey. The buildings white-washed in typical Cycladic-type architecture. Blue domed roofs of the churches standing out against the white and mountainous backdrop.
As you'd expect, this is the heart of the island. Once in the Chora, it is easy to spend the evenings wandering the narrow cobblestone streets. The town is buzzing with activity every evening, with restaurants and tavernas, bars, clothes and produce shops all open till past midnight it would seem. The clubs come alive later in the evening and parties go on til the early hours of the morning.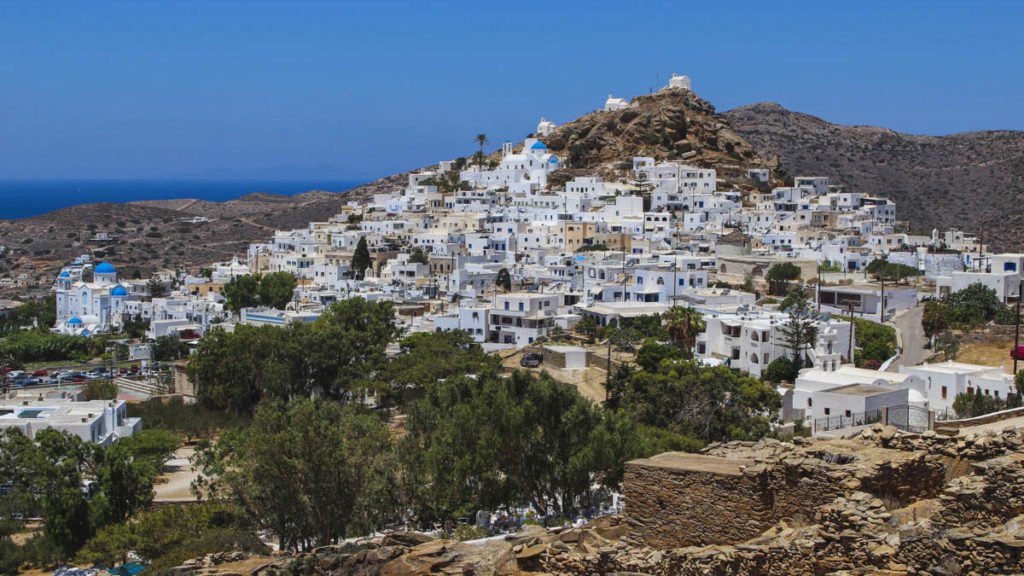 2. Mylopotas beach
The most popular beach on the island by far is Mylopotas. It is located on the West side of the island only 2km away from the Chora. Mylopotas is a beautifully organised sandy beach – popular but not overcrowded. Just shy of 1km long, it's also wide, giving beachgoers plenty of space to sunbathe. There are a number of beach cafes and bars with organised sunbeds and umbrella service. There are also unorganised spaces for those with their own gear.
The beach cafes, tavernas and bars lining the back of the beach are superb. There is something for everybody's taste, whether it be great food, fancy cocktails or laid back hang outs, with hammocks and bean bags.
Far out beach club, on the south side of Myloptas, is a renowned party destination in Ios. Hosting events with international DJ's on a regular basis as well as daily daytime pool parties. It is a gathering ground for young party-goers with its ease of access to the beach, restaurants and nearby accommodation.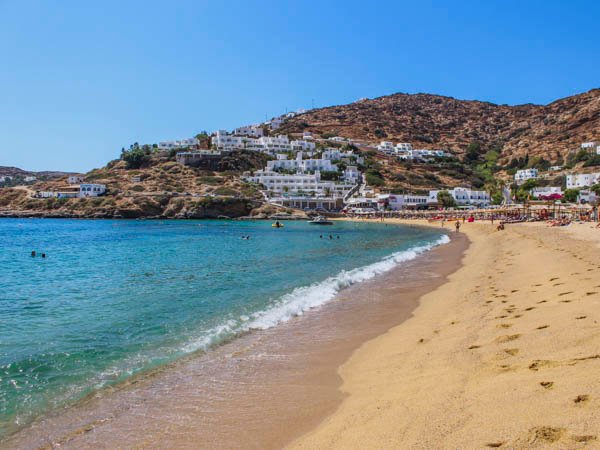 3. Spend a day at nearby Sikinos island
Sikinos island is a short boat ride from Ios. It's the island that lies straight ahead when looking out from Ios Chora or harbour. Go on one of the tours available that depart Ios in the morning, returning at 6pm.
On this charming little island (population less than 300 people) you can visit the Church of Panagia Pantanassa – the island's main cathedral. The folklore museum is housed in the old olive oil press, and you have the option of hiking up to the Temple of Episcopi.
The island is well known for its winery, with the sovinos being the native grape that gives the wine its distinct character and there are tours and tasting available within the estate of Manalis.
4. Visit Homer's tomb
This is said to be the final resting ground of Homer. The famous ancient Greek poet who wrote masterpieces such as Odyssey and Ilyiad. Ios was said to be the island where he chose to spend his dying days believed to be around 1000BC.
To get here you most certainly need a rental car or scooter. The tomb is on the Northern tip of the island. It's a short walk along a footpath from where the road ends to the tomb. As well as anything else, the panoramas from this viewpoint are superb.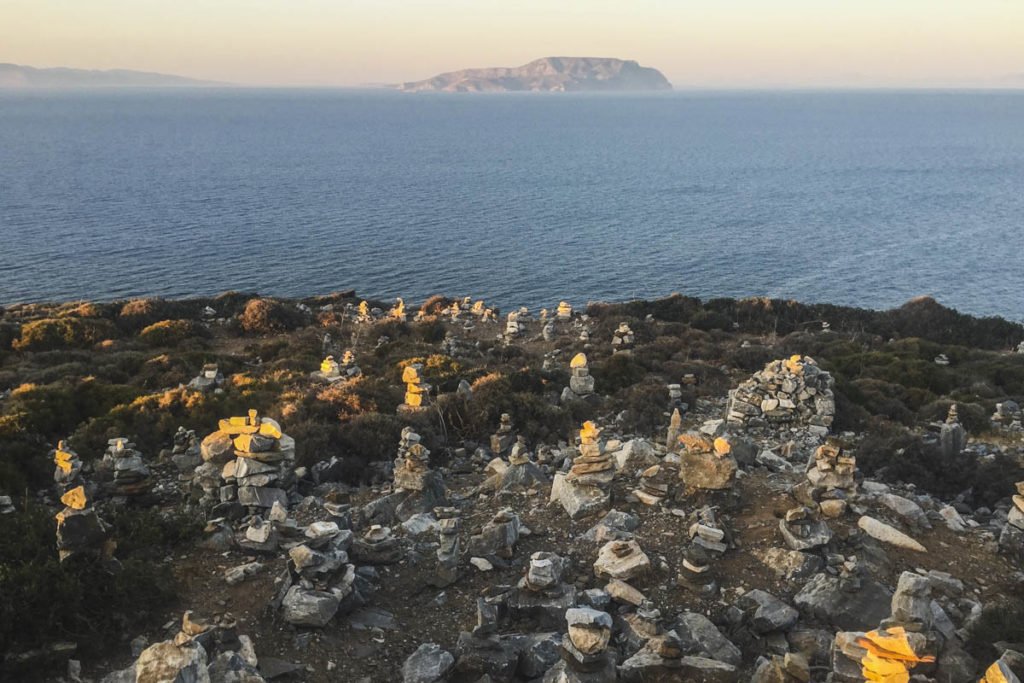 5. Take a boat tour
From the harbour or from Myloptas beach, there are boat tours such as jackson cruises or mylopotas watersports that offer tours around Ios island. You can visit the various snorkelling spots, water caves, and cliffs dotted around the coast line. Visits and stop offs at places such as Pikri Nero allow you to swim in Ios unspoiled, secluded and mega clear beaches.
6. Panagia Gremiotissa and Agios Nikolaos church
Pass through the narrow and twisty alleys of the Chora to get the church of the Virgin Mary. This iconic white-walled and blue-domed roof bell tower is one of the most photographed spots in Ios.
Climb a little further up cobble step pathway to the church of Agios Nikolaos, the highest point of the Chora. There are magnificent views of the town upon which is built on this hill. Catch the sunset or admire the evenings as the Chora and port are lit up.
7. Paralia Plakes
On the other side of the island and, as expected, much quieter. Perfect if you want to escape the Chora for a day and spend some time with reconnecting with nature. Paralia Plakes is a very private and small beach made up of small pebbles and with crystal clean clear turquoise water.
You might be joined on the beach by a few other people, some maybe visiting by boat. Some snorkelling or spear fishing in the clear waters which are calm and protected within the bay. Plakes is easy to reach by car, but you will need to bring essentials such as water, snacks and maybe an umbrella as there are no kiosks.
Close by, just as secluded and easy to reach by car, is Kalamos beach. A stretch of coarse golden sand but with the same clean and clear waters.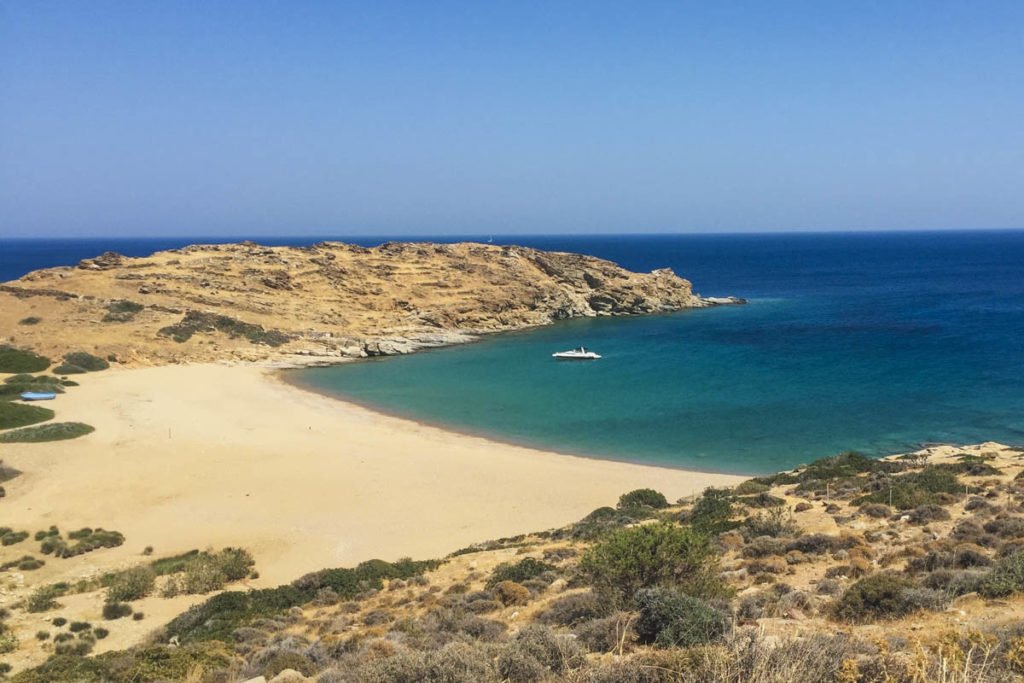 8. Visit Skarkos
Just outside the Chora, cut into a small hill, are an interconnected set of circular walls. This unassuming but highly fascinating place is actually the best preserved Cycladic settlement going back some 4 thousand years. The site is open to explore during the summer months and well worth a visit. Picture what life might have been like in prehistory, during the bronze age.
9. Archaeological museum of Ios
Within Ios Chora, alongside the town hall, you will find the Archaeological museum. It exhibits interesting Cycladic collections dug up from the Skarkos area. For a small and modest museum it tells an intriguing story about the history of the island. With a history and evidence of settlements going back thousands of years. Typical!
10. Explore the harbour
The port of any Greek island is always a nice and relaxed area. In Ios, the port is relatively small, but still has some restaurants, cafes and a couple of shops. Take a look in Votsalo – a boutique shop selling clothes, sunglasses and beach wear from independent Greek designers. Take a leisurely stroll, enjoy a frappe and a cheese pie either in the morning, or before your boat tour or ferry departure.
Ios travel guide: Where to stay
There are two main options to consider when staying in Ios; Chora and Myloptas. So it largely depends if you want to be in and amongst the main town, or on the beachfront. Both areas are relatively good value as is Ios as a whole, as one of the most fun and affordable islands in Greece. You'll find a range of lodgings, from basic to bougie.
Chora
The large majority of hotels and hostels near Chora are not in the town itself. Many are on the other side of the main road that runs through it. From these you have a 2 or 3 minute walk to get to the Chora with all its variety of food and entertainment options.
There are also hotels dotted along the main winding road that leads up from the harbour, as well as the harbour itself. Depending on where on this road you choose to stay you'll have a walkable distance, if not a short bus journey up to the town. On the other hand, you'll also be closer to the harbour where there are a number of tavernas, cafes and a few shops.
Mylopotas
The Mylopotas beach area has plenty of hotels, rooms, and resorts to choose from. Prices and luxury vary, meaning that there is accommodation suitable for all budgets. Hotels start at the top of the main road leading down to the beach. Some are set higher, hence offering views out into the Aegean. And some are set next to the beach, on the other side of the road that runs parallel to it.
There are certainly good options for food and drink here, as well as Far Out beach club of course. But you'll likely want to get to Chora in the evenings and this will be a 10-minute drive or bus journey.
Where to eat in Ios: Travel guide
When it comes to eating out, you won't be disappointed with Ios. Food is mind-blowingly good, not dissimilar to the rest of the Greek islands. You'll find tasty, authentic and traditional tavernas. But also, with the island being quite cosmopolitan, the food scene is quite trendy. Meaning there are a number of modern and smart restaurants serving delicious food. Similar to what you might find in Mykonos and Paros but much more reasonable when it comes to price.
Katogi taverna
A modern "taverna" located in the heart of the whitewashed Chora. Enter from the cobbled street and it opens up into a small, pretty courtyard, set with colourful tables and chairs. The restaurant serves up delicious small plates of Greek tapas. So good!
Sainis taverna
A casual authentic Greek taverna in the Chora. Traditional home cooked food, simple and no nonsense. Great value, not to be overlooked for some of the more trendy restaurants on the island. It is recommended in a few other Ios travel guide and not to be missed.
Salt restaurant bar
The first restaurant you pass as you reach Myloptas beach. Set on the beach front and serving fresh seafood and pasta. Easy to have lunch or spend away the evening here. Good service with nice ambiance and views out to the beach.
Agosto Ios Restaurant
A smart Italian restaurant in the Chora with outdoor seating in a raised courtyard. It does pasta and pizza well, and its grilled seafood and meats are more than presentable. Doesn't taste too bad either.
Nightlife in Ios Greece: Travel guide
Ios Club – Sunset Bar
The name says it all. A bar with amazing views out to the port, across to Sikinos island, and of course the sunset. Tables are arranged in a theatre style so everyone gets to enjoy the unforgettable view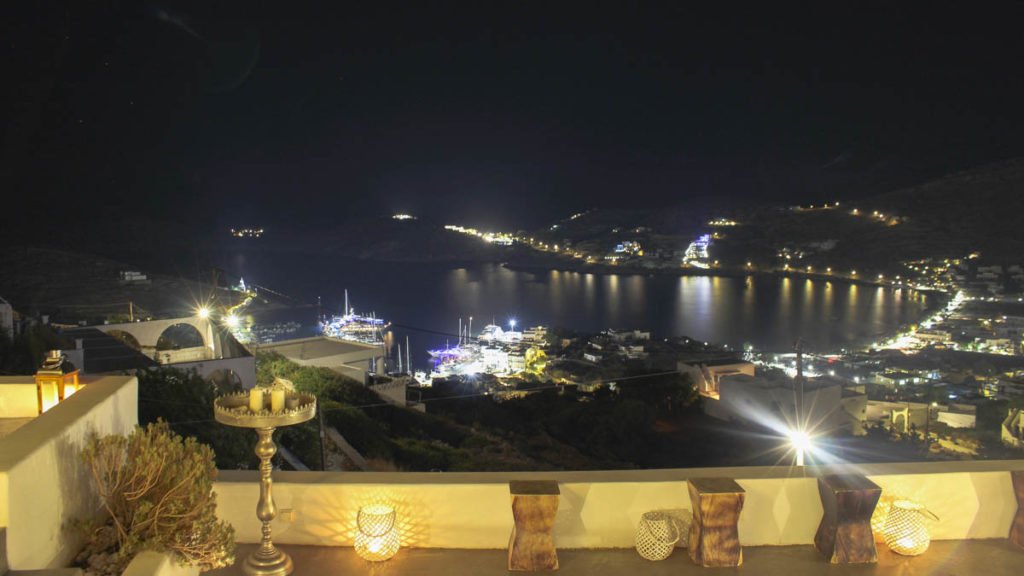 Steps bar
This fancy cocktail bar is cosy and casual and located in the Chora on the steps up to the distinctive 3 windmills of Ios. Beanbags, pillows and lanterns line the steps giving it an easy-going and laid back atmosphere.
Pathos club
Pathos club is set on the East coast of the island, in the Koumbara region, about a 10-minute drive from the port. The party goes on day and night here, with an infinity pool, DJ, fire performance and views out into the Aegean. There are lounge areas, a bar and a restaurant. It's 10 euros to enter with a free drink. Worth it for the sunset alone.
Getting To Ios Greece: Travel guide
Ios does not have an airport, so the only way to get there is by ferry. You can either fly into Athens or Santorini and take the ferry from there.
From Athens, make your way over to the port of Piraeus (about a 45-minute taxi journey from Athens airport). From there, you have a choice of slow or fast ferry. The slow ferry will take 8.5 hours in total with 4 stops and cost in the region of €35. The fast ferry will take 4.5 hours with 4 stops and cost in the region of €60. Ferries leave daily.
From Santorini, it is considerably quicker. It will take under 2 hours on the slow ferry and 30 minutes on the fast one. Expect to pay either €10 or €30 depending on which one. From Santorini airport, you'll need to take a 20-minute taxi ride to the port, costing about €10-20. Make sure you agree the price up front.
Check the schedules and book ferry tickets ahead using one of these sites.
There are also ferries to and from other surrounding islands such as Tinos, Mykonos, Paros and Sifnos, if you plan to make this an island hopping vacation.
Getting around Ios: Travel guide
Once on Ios, as it is a relatively small island, getting around is not too difficult, particularly as most places are near to each other. You can either choose to take the public buses that shuttle between the main areas, or choose to rent a car or scooter.
There is a daily bus service that departs at hourly and half-hourly intervals from the port, to the Chora on to Myloptas and vice versa. There is a more infrequent service to Koumbara and back. Check the KTEL bus timetable here for specific times. The last buses will normally be around 10pm. Hence, after that be prepared to walk or take a taxi.
Renting a car, ATV or scooter is easily done and there are many companies at the port offering services. I always book online way ahead of time to get the best price. Check out these important tips for renting a car on the Greek islands.
By renting a car, you will be able to explore the island further and more comfortably. For example, getting to the secluded beaches of Plakes, Kalamos and Magganari is only achievable by renting a vehicle. The same goes if you wanted to visit the tomb of Homer, which is in a deserted part of the island.