While some of Greece's islands are known for their honeymoon-worthy prices and high end hangouts, there are plenty that provide a budget-friendly alternative. For those seeking Greek island adventure, I've scoured the islands and handpicked destinations where your Euro goes furthest. All without compromising on the natural beauty and cultural riches that make the Greek islands so captivating. Get ready to discover the most affordable Greek islands where you can savor the charm of Greece without straining your wallet.
From the largest of the Greek islands, Crete, to the lesser-explored Naxos. Each destination on the list brings a unique blend of affordability and splendor. Here, you'll find a perfect balance between cost-effectiveness and charm and beauty. Immerse yourself in the rich history, breathtaking beaches and landscapes, and warm hospitality that Greece is renowned for.
Crete – The most affordable resort island
Crete, the largest of the Greek islands, not only boasts stunning beaches, ancient history, and vibrant culture but is also the most budget-friendly of the Greek islands. From cozy guesthouses and family-run hotels to apartments and even affordable 5 star resorts. There are plenty of choices for different budgets.
Crete's culinary scene offers a delightful mix of traditional Greek dishes and unique Cretan specialties. Many local tavernas and restaurants are super affordable and cook up some of the best food the islands have to offer. Sample mouthwatering dishes like dakos, cretan cheese pies, and freshly caught seafood at reasonable prices.
Local buses and shared taxis offer inexpensive options for getting around, allowing you to explore the island without breaking the bank.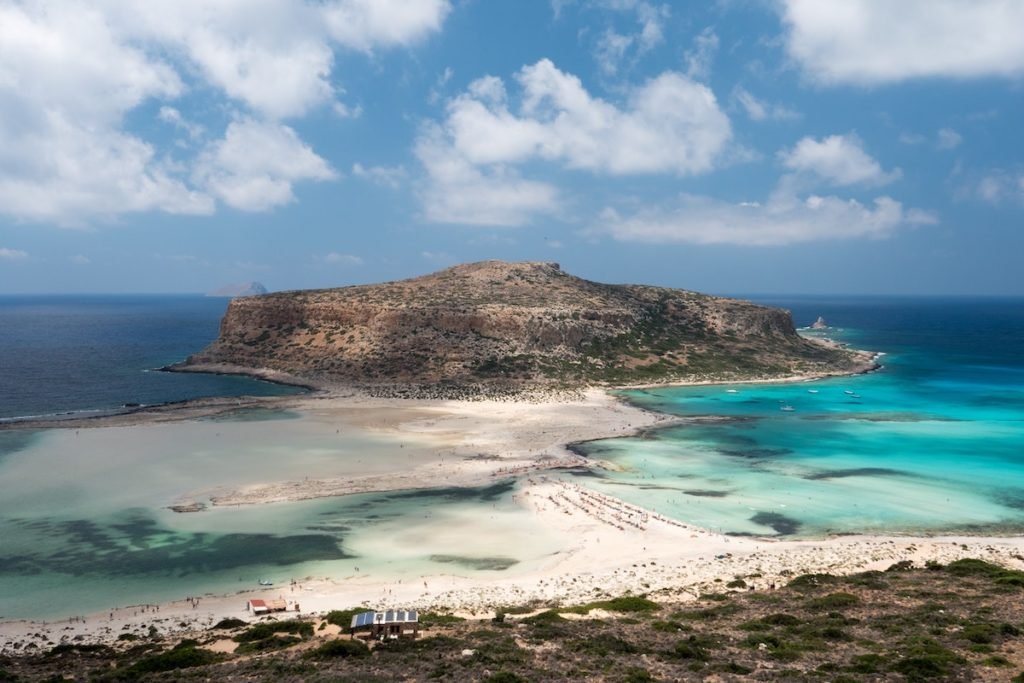 Crete's historical sites and wonderful seasides are accessible and affordable to explore. Discover ancient ruins such as the Palace of Knossos or hike through the Samaria Gorge. Relax and explore some of the best beaches in the world, visit charming villages, and take in the island's breathtaking landscapes.
Crete's traditional festivals and events allow visitors to experience a side Greek authenticity in all its glory. So, embrace the warm hospitality and take part in the local customs, whether that be lively music or traditional dance.
Naxos – The most affordable Greek Cyclades island
Nestled in the heart of the Cyclades, Naxos offers a refreshing escape from its glitzy neighbour islands. With its low-key nature and atmosphere and more importantly, its budget-friendly options. If you're seeking an authentic Greek island experience without the hefty price tag, Naxos is the perfect alternative.
Naxos is also a haven for outdoor enthusiasts with hiking trails, scenic landscapes, and opportunities for activities like windsurfing and kiteboarding, all of which are either free or very affordable.
Visit the ancient Portara, a towering marble gate that marks the entrance to an unfinished temple dedicated to Apollo. Wander through the labyrinth-like streets of Naxos Town where you'll find charming shops, traditional tavernas, and historic Venetian architecture. The island is also home to several museums and archaeological sites that provide insights into its fascinating past. Check out the top things to do in Naxos if you need further persuasion!
Naxos offers an enchanting blend of affordability, natural beauty, and authentic Greek island experiences. Embrace the island's laid-back vibe, enjoy the warm hospitality of the locals, and indulge in the island's treasures without breaking the bank. Whether you're seeking a tranquil beach getaway or a cultural exploration off the beaten path, Naxos invites you to discover its hidden treasures and create unforgettable memories without compromising on your budget.
Naxos embodies the essence of traditional Greek island life. With its picturesque villages, whitewashed houses adorned with colourful bougainvillaea, and narrow winding streets.
Naxos has a huge offering of hotels and airbnb's for solo travellers, couples and families alike. Some of the best hotels are outside of the chora and along the glorious west coast of golden sand. On that note, Naxos is blessed with beautiful beaches that rival those of its more popular counterparts. The island's long stretches of sandy shores, crystal-clear waters, and tranquil coves offer a serene beach experience.
Ios – The most affordable party island
Located in the Cyclades archipelago, Ios is an island that seamlessly blends affordability, vibrancy, and natural beauty. Often overshadowed by its more upscale neighbours in Mykonos and Paros, yet offering the same, if not better, landscapes and sunsets at a fraction of the price. Here is why Ios is the ideal choice and deserves a spot on your bucket list.
The island's affordability allows you to find comfortable and wallet-friendly accommodations, leaving you with more resources to explore and experience the island.
Ios is conveniently located within the Cyclades archipelago, making it an ideal base for exploring other nearby islands. Take advantage of the affordable ferry connections and embark on day trips or multi-day island-hopping adventures to neighbouring gems. This allows you to expand your Greek island experience while enjoying the affordability and vibrancy of Ios.
Ios boasts a collection of spectacular beaches that showcase the island's natural beauty. From the renowned Mylopotas Beach, with its long stretch of golden sand and crystal-clear waters, to secluded coves like Valmas Beach and Kolitsani Beach, there is a beach for every preference. Spend your days sunbathing, swimming, and snorkeling in the inviting Aegean Sea, and marvel at the postcard-worthy coastal scenery that Ios has to offer.
Ios is renowned for its vibrant nightlife scene, attracting party enthusiasts from around the world. The island comes alive as the sun sets, with a plethora of bars, clubs, and beach parties that create an energetic atmosphere. From the iconic bars in Chora to beachfront venues along Mylopotas Beach, Ios offers a diverse range of nightlife options to suit different tastes. Even if you're not a night owl, the lively ambiance adds an extra spark to the island's atmosphere. Check out my handy travel guide to Ios for if you choose to explore this wonderful island.
The island's main town, Chora, exudes a captivating charm with its traditional Cycladic architecture, winding alleys, and picturesque whitewashed houses adorned with colorful bougainvillea. Stroll through the charming streets, discover hidden squares, and explore the local shops, cafes, and tavernas. Chora's enchanting atmosphere provides a delightful backdrop for leisurely walks and authentic cultural experiences.
Lefkada – The most affordable island off the beaten path
Nestled in the Ionian Sea, Lefkada stands as an off-the-beaten-path gem that combines affordability with unspoiled natural beauty. Often overlooked by mainstream tourism, this enchanting island offers a serene and budget-friendly escape for travellers seeking an authentic Greek experience. If you're yearning for an offbeat adventure that won't break the bank, Lefkada is the perfect island for you. Here's why it deserves a spot on your travel itinerary:
Lefkada boasts some of the most breathtaking landscapes in the Ionian Islands. From its azure-blue waters to its verdant hills and rugged cliffs, the island's natural beauty remains largely untouched. Explore hidden beaches like Porto Katsiki and Egremni, where pristine shores meet turquoise waters. Marvel at the mesmerizing waterfalls of Nydri and the enchanting scenery of the Dimosari Gorge
Lefkada has managed to retain its authentic Greek character, preserving a sense of tranquility and cultural heritage. With its charming villages, traditional tavernas, and warm-hearted locals, the island invites you to immerse yourself in genuine Greek hospitality. Discover the quaint streets of Lefkada Town with it's pastel coloured houses. Indulge in the local cuisine, sip on a traditional Greek coffee, and feel the rhythm of the island's laid-back lifestyle.
Lefkada's affordability, untouched beauty, and authentic charm make it an ideal choice for off-the-beaten-path explorers. Embrace the island's tranquillity, discover hidden beaches and natural wonders that will leave you in awe. Experience a side of Greece that is mainly seen by Greeks and not overseas tourists.