Mykonos is one of the most popular islands in Greece, if not the most popular. As well as it's renowned nightlife and luxurious settings, it is naturally blessed with a gorgeous coastline. For a small island, it's densely packed with impeccable beaches. Many of its most popular are dotted on the south coast, protected from the strong Cycladic winds. Commonly featuring crystal clear turquoise waters and fine soft golden sand. From party atmospheres to laid back vibes, there's a different beach for each day of the week in Mykonos (and then some!). Here's my rundown of the best beaches in Mykonos.
Best beach in Mykonos for luxury – Psarou
Psarou beach is a favourite amongst celebrities and VIPs. An abundance of luxury yachts are ever-present, floating in the turquoise waters of the bay. The famous beach club here is Nammos – one of the most well known in Mykonos. Its sunbeds are made of mahogany and topped with designer mattresses. This might go some way to justifying their 150 euro price tag. Just as eye watering is Kensho next door – charging the same for a pair of sunbeds on the front row. The waters are extremely calm, even on the windiest of days. The beach has beautifully clean and clear waters and fine soft golden sand.
The following are the prices for a set of 2 sunbeds and an umbrella at Psarou;
Nammos; 150 euros
Kensho; From 100 euros, 150 euros (front row) – (Closed down: Updated June 2022)
Cavo Psarou Cafe; 30 euros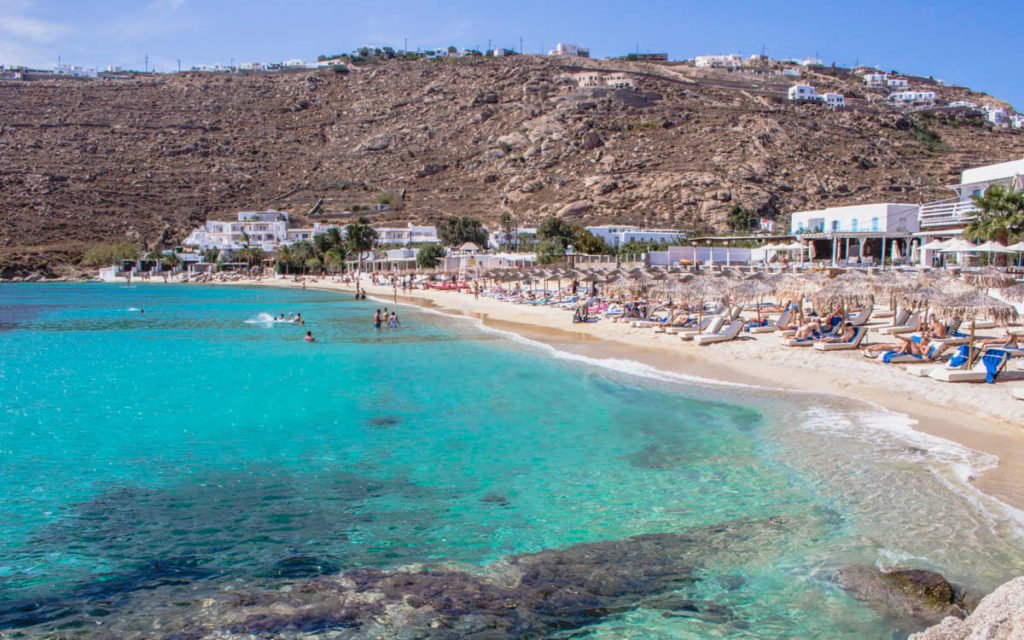 Best beaches in Mykonos for partying – Super Paradise
This beach is home to Super Paradise beach club and JackieO'. Both of which are mainstays on Mykonos, well known for their parties and events. The vibe is relaxed during the day with people occupying the sunbeds and umbrellas. The music in Super Paradise beach club gradually cranks up in volume and the party comes alive in the late afternoon and evening. Food and entertainment is certainly on the higher end at JackieO' but there is also a self service in between the two clubs. The atmosphere is fun, the beach is sandy and pebbly with clear turquoise waters and options for watersports.
Prices for a set of 2 sunbeds and an umbrella at Psarou;
Super Paradise beach club; 30 euros, 40 euros, 50 euros (front)
JackieO'; 100 euros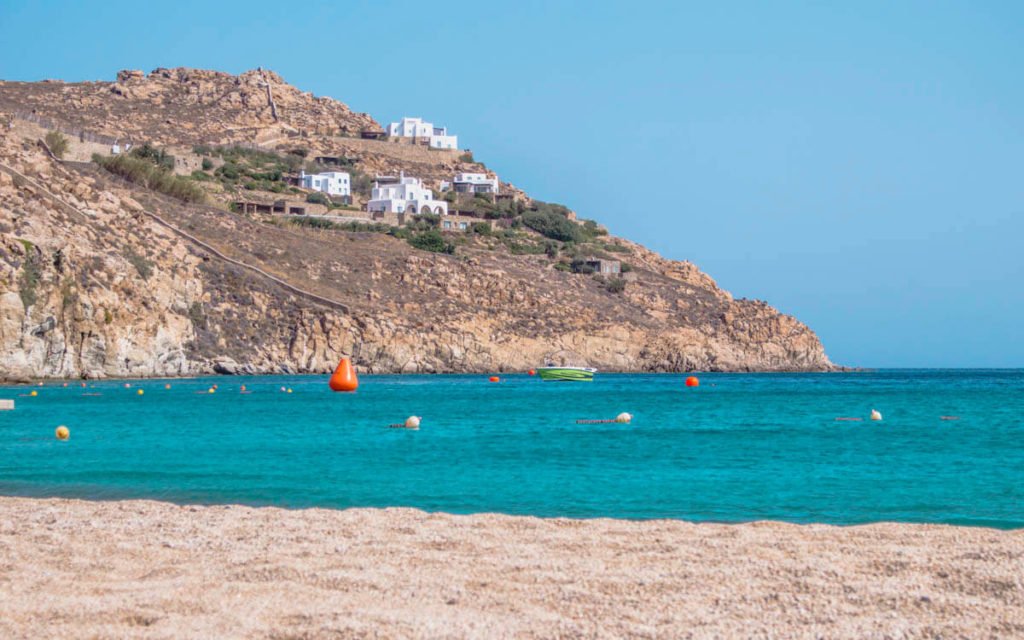 Best beaches in Mykonos for all day lounging – Platis Gialos
The sea front of Platis Gialos is lined back to back with beach bars, restaurants and hotels. Sunbeds and umbrellas jostle for space on this bustling beach. Easily spend the day on the loungers and enjoy a drink to a backdrop of thudding music and activity. Grab a bite to eat at Avli or Yialo Yialo for some seafood and traditional Greek plates. Top up on supplies from the kiosks and cafes up the road. The beach itself has a satisfying mix of powdery soft sand to coarse sand and fine pebbles. The water is mainly shallow, very slowly dropping off the further in you go.
The following are the prices for a set of 2 sunbeds and an umbrella at Platis Gialos beach;
Yialo Yialo; 30 euros
Branco; From 60 euros (back), 80 euros, 100 euros, 120 euros (front)
Anios; 30 euros
DK Oyster; AVOID (check the tripadvisor and google reviews and you'll see why)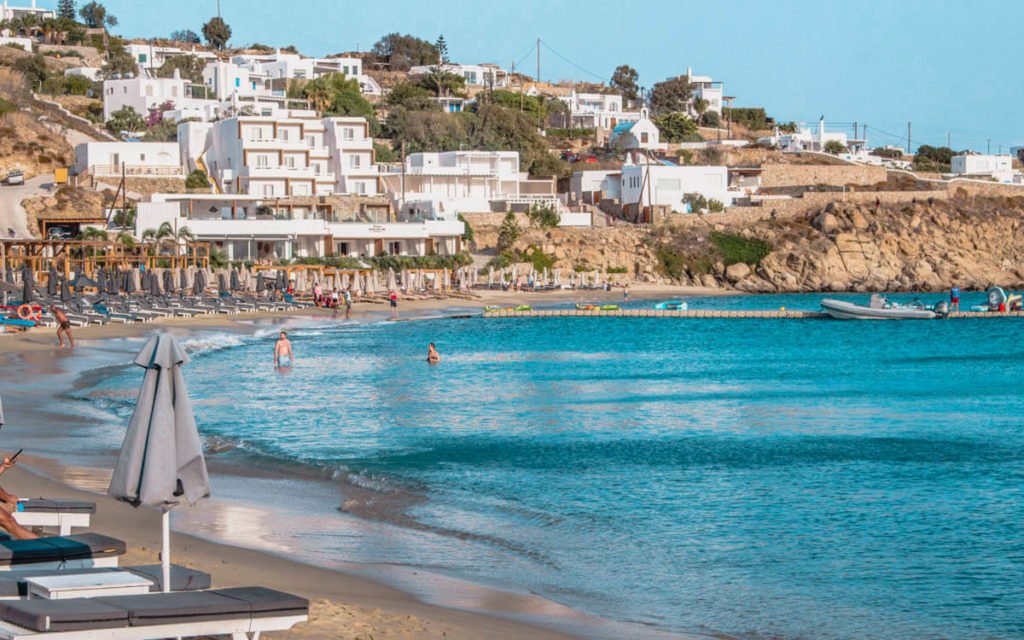 Tip: Some beach bars offer free sunbeds as long as you purchase a drink. Watch out as the prices can be extortionate and include a 20% service charge on top. One such example is DK Oyster, which should be avoided. Due to the number of tourists flocking to Mykonos there will inevitably be some establishments looking to deceive and profit. Above all, use your wits and good sense to avoid these places and check reviews beforehand.
Best beach in Mykonos to escape the crowds – Agia Anna
If you'd prefer not to be elbow to elbow with fellow beachgoers, Agia Anna is one of the best beaches in Mykonos for a bit of relaxation. Not undiscovered by any means, and still offering sunbeds, umbrellas and amenities on the Anatasia resort side. It is however much quieter than the rampant beaches clustered on the Southwest of the island. The bay is flanked by a rising peninsula to the East, splitting Agia Anna with Kalafati – a beach popular for water sports and wind surfing. The view out into the horizon is one of the best on the island. Additionally, the clear and inviting waters offer the chance to do some snorkelling. You'll find the atmosphere at Agia Anna pleasantly relaxed and tranquil.
Agia Anna beach bar/restaurant; 50 euros, 70 euros (front row)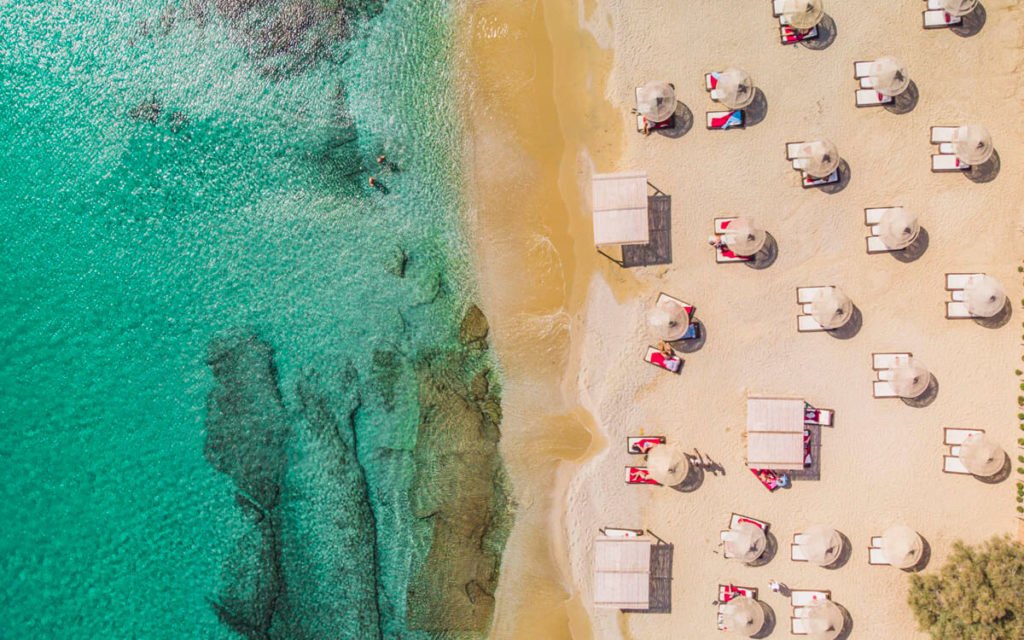 Best beach in Mykonos for watersports – Kalo Livadi
A long sandy beach that stretches over 500m with sunbed sections and large swathes of open sections. Kalo Livadi is a cosmopolitan beach which attracts people of all types, from party-goers to families and nudists. The shallow waters make getting in and out a breeze, whilst the calm waters allow for a relaxing swim. Further out and there are options for kayaking, stand up paddleboards and jet-skis. This long sandy beach has will see some huge developments in the coming years, with the likes of Four Seasons, Ritz Carlton and Six Senses submitting planning proposals. So get there whilst you still can!
Lohan; 30 euros
Solymar; 40 euros, 60 euros (front)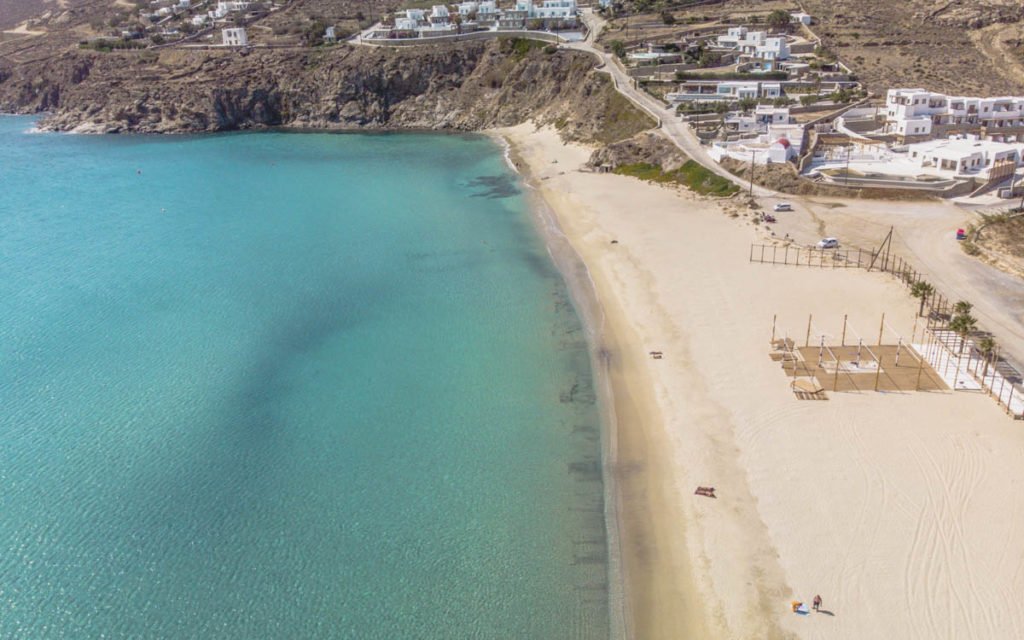 Best beaches in Mykonos for families – Ornos
Ornos beach is only a 10 minute drive from Mykonos town. It's location, as well as its supremely calm seas and clear waters, make it one of the island's most popular. A wonder, considering the beach at the rear gets battered by wind making it popular for kite surfers. Ornos itself gets crowded in the summer even for Mykonos's standards. Try visiting Mykonos in May and June for lesser crowds especially at this well liked beach. The area is a popular stop off for the restaurants and bars around this well developed area, not to mention its outstanding hotels. As a result superyachts line the horizon of the bay. All being said, the beach does benefit from fair prices, comfy loungers and good restaurants. I'd recommend trying Appagio for its seafood particularly the calamari and seafood linguine.
The following are the prices for a set of 2 sunbeds and an umbrella at Ornos;
Kuzina; 30 euros
Pasaji; 50 euros
Aperanto Galazio; 20 euros, 30 euro (front)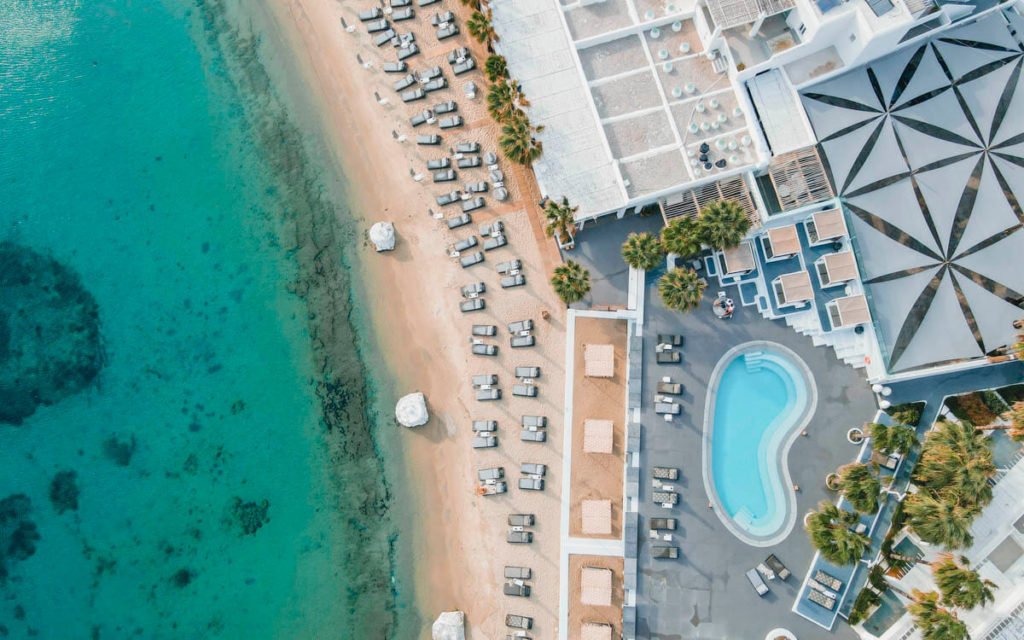 Best beach in Mykonos that's up and coming – Panormos
Panormos is on the North side of the island so choose a day without the ferocious wind to visit. On a calm day, nothing beats this beach, especially of those in the North. You'll find umbrellas to one side and plenty of free unorganised space on the other. Although you may be in the company of some nudists – a favourite spot in years gone by before the developments. Opened in 2016, the smart and stylish Prinicipote beach club offers a luxurious alternative to the established core of Nammos and Scorpios. Be prepared to part ways with some serious cash for sunbeds and refreshments. However, I do hear it is worth it.
Best beaches in Mykonos for LGBT – Elia
Not solely for the LGBT crowd, but Elia did build up it's reputation in the early days as being a popular gay beach. It is one of the longer and more spacious beaches, gloriously sandy and lined full of umbrellas. The water drops off as you step in, making swimming in these clear turquoise waters satisfyingly cooling in the sun drenched summer days. There is a well known nudist section, perhaps now a little more confined that days gone by.
Elia beach club; 40 euros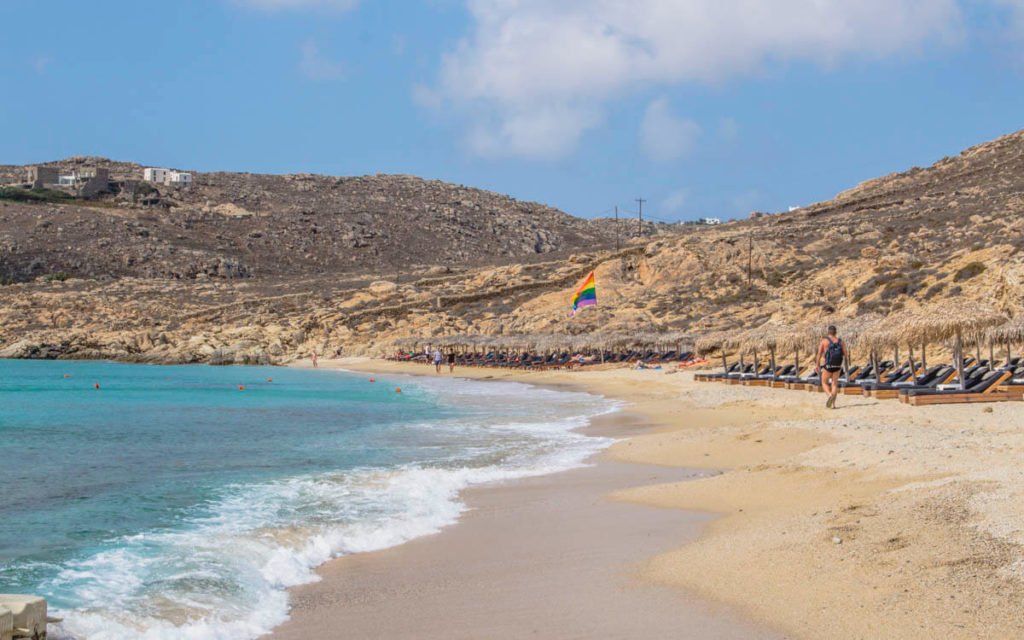 There you have it. There is a reason why Mykonos is so popular. Not just because of its larger than life character, but also because of its natural beauty. Hence why it attracted visitors in the first place. And further as it grew and consolidated its position as the second most travelled-to island in Greece. The beaches may be a little overcrowded. However, they are truly stunning and, in my opinion, on a par with the best beaches in Crete and Rhodes.
Map of the best beaches in Mykonos