On my most recent trip to Rhodes, it was positively scorching. Daily 40 degree heat meant that, even if I wanted to (and I certainly did not!), I could not stay away from the sea. The good thing about Rhodes is that it has a healthy selection of beaches. Travelling around, the island I found these to be the best sandy beaches in Rhodes:
Agios Pavlos (St. Paul's Bay)
Lindos beach
Tsambika beach
Agathi beach
Pefki
Prassonissi
Glystra
Lardos
Stegna
Haraki
Kolymbia
Agios Pavlos beach
Agios Pavlos, or St. Paul's, is next to the village of Lindos – Rhodes' second largest town. This golden sandy beach backs onto an enclosed bay, where the water is supremely clear and still. The water is also shallow making it suitable for kids and families. Those wanting to dive deeper can easily do so by swimming out a bit further. Those looking for a bit more intrigue can do so by snorkelling around the rocks that enclose the bay or climbing them.
The beach is arranged in an amphitheatre-type setting, with cascading rows of umbrellas rising in height the further back from the water you go. As such everyone has a view of the bay and the Lindos acropolis perched on top of the hill. It's easily one of the best sandy beaches in Rhodes.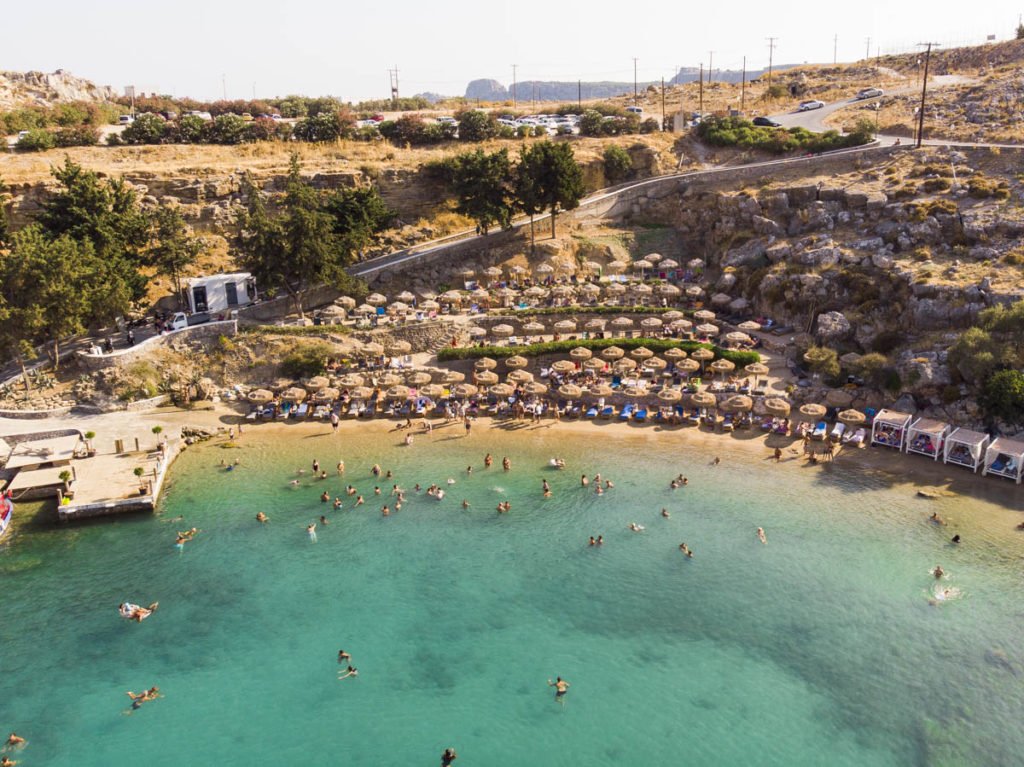 Lindos beach
On the opposite side of Agios Pavlos, past the Acropolis, lies Lindos beach, where many of those staying in Lindos will generally go. It is popular, but not to the extent of Faliraki.
Lindos beach is made up of two beaches separated off-centre by a mass of large boulders. The sand is golden and the beach well organised with plenty of tavernas and offering water sports.
Rhodes is one of those islands where summer feels like it last 9 months of the year! Lindos beach is still perfect for swimming into the shoulder seasons, so even a late vacation to Rhodes in October is still feasible.
Tsambika beach
A very long stretch of sandy beach on the East coast of Rhodes which has water sports, umbrellas and tavernas. It is a popular stop for some of the party boats and you can see why as there is a fair bit going on with water sports and inflatables. Pick a spot on any of the umbrellas along this long stretch and it does not feel overcrowded such is the vastness of the beach. The beach is perfect for families and young kids as it is shallow. Difficult to get a proper dive, as you need to swim quite far out to do so, but still one of the best sandy beaches in Rhodes.
Agathi beach
Agathi beach is a slightly smaller beach than Tsambika but still has fine sands. Also, it has some more basic and necessary amenities to make for a comfortable stay. It is just down from Feraklos castle, which is also worth a visit if you can summon the energy to hike up its steep hill. If you do, it is best doing this in the morning or late afternoon. The beach is well protected by the rocks on either side meaning the waters stay calm even during windy days.
Pefki beach
Not far from Lardos or Lindos, Pefki beach is a long sandy stretch of golden beach, at times narrow as it backs onto a steep rock face that spans the majority of the length of the beach. As such it can seem a little crowded as the umbrellas are quite close to each other. The beach is perfectly golden and sandy, with shallow waters for families with children and interesting caves and coves to explore on the beachfront.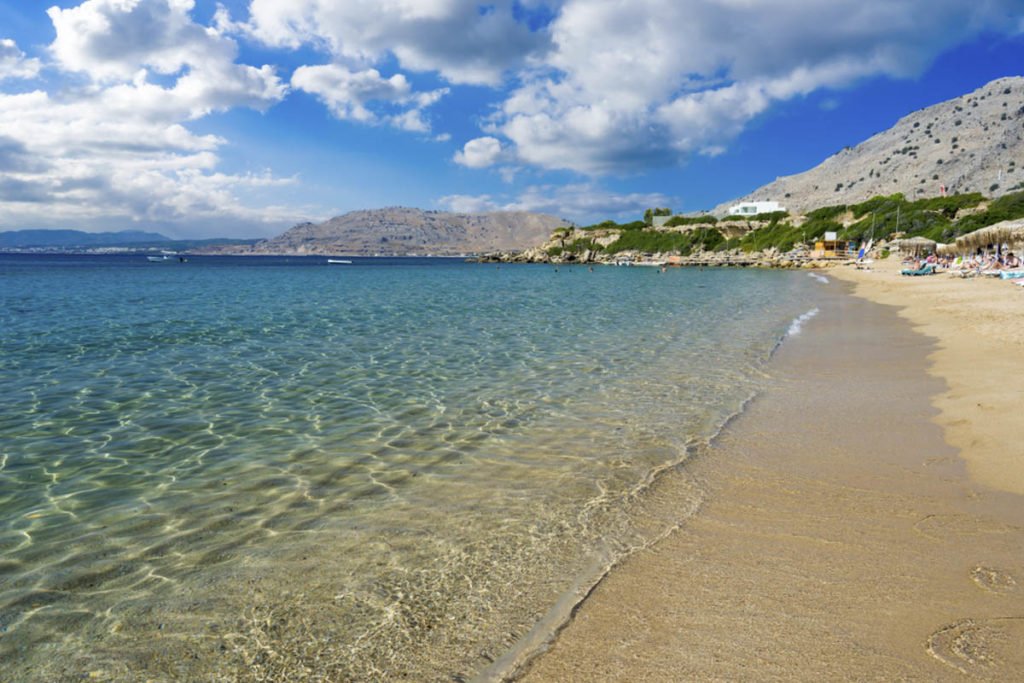 Prassonissi beach
This beach is all the way on the opposite side of the island from Rhodes town. Tucked away on the south coast of the island, open to high wind, it is considered a surfers paradise consistently wavy and windy. The sandy beach only exists during the tourist season as, during the winter months, the sand stretch is actually covered by the sea and Prasonissi becomes an island of its own, no longer physically connected to the mainland. This beach really reminds me of Balos lagoon in Crete, with a similar peninsula connected by a sand stretch. Prassonisi is unorganised so it's best to bring your own essentials including food and umbrellas.
Glystra beach
This sandy beach is certainly suited more for those looking for a bit more peace and quiet as it's not overrun with visitors. Its waters are shallow and its sand is fine, great for younger children. The greenery of the sand dunes surrounding the beach and its idyllic ambiance also makes it ideal for those seeking seclusion and recuperation.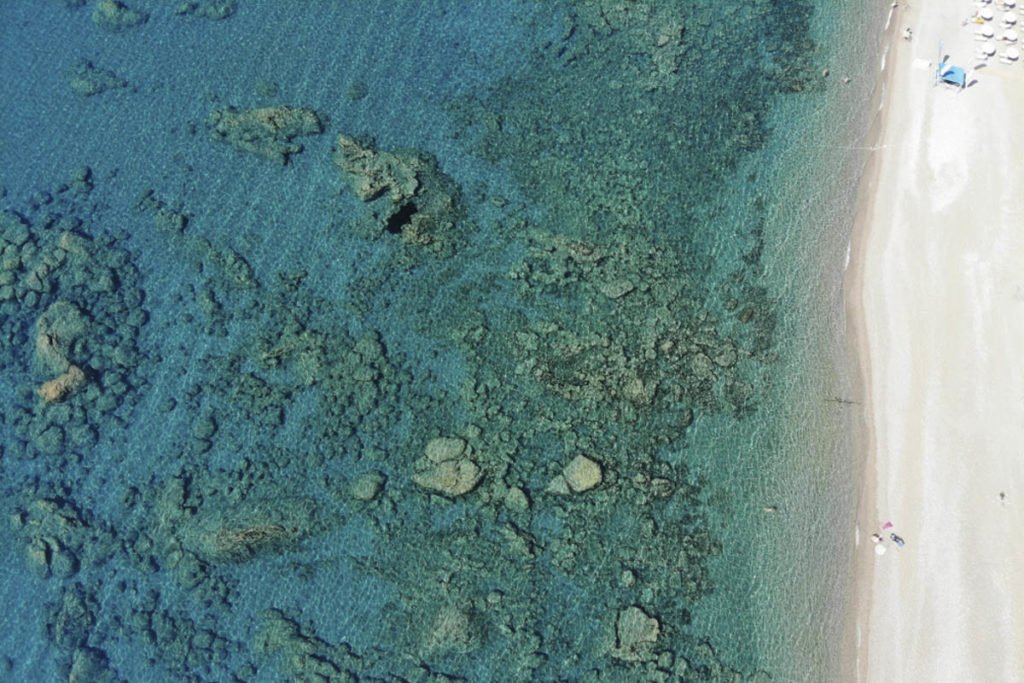 Lardos beach
A little further south of Lindos village, you'll find the village of Lardos and it's seaside resorts, popular with tourists keeping away from the crowds of Faliraki. Lardos beach is tucked away on one side, whilst the resorts occupy the other. The sand is fine, at times scattered with some pebbles, it is a very popular beach for families as the water is shallow. There are also plenty of tavernas dotted along the beach leaving you plenty of reasons to stay and soak in the atmosphere, where you'll find water sports and pedalos straddling the sea.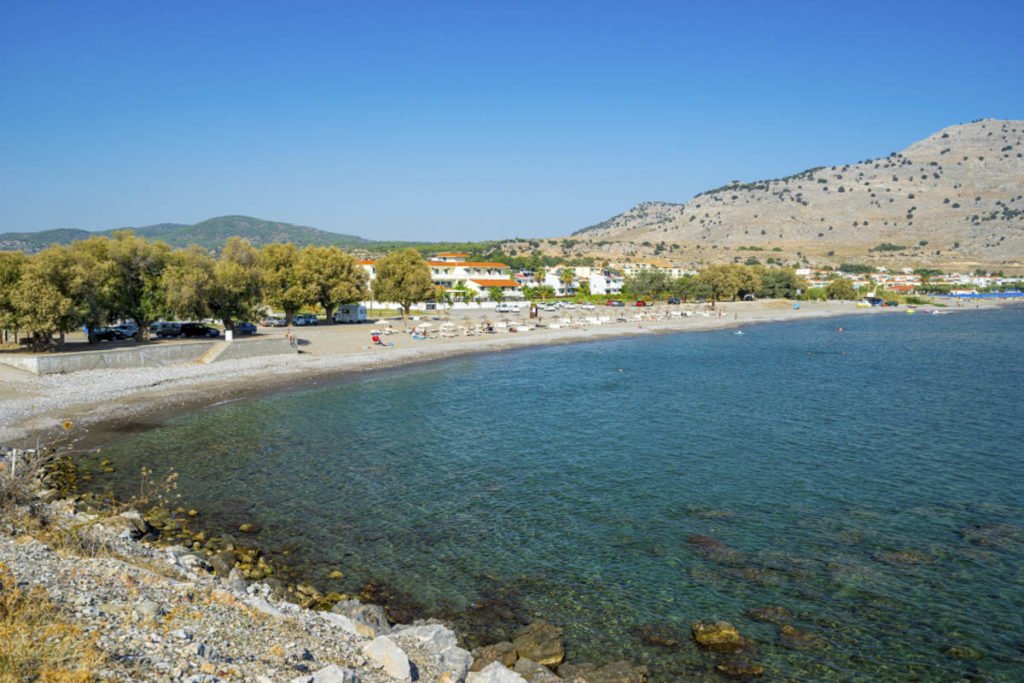 Stegna beach
Stegna beach is split in two by a small harbour consisting of local fishing boats. On one side you have a slightly busier beach, golden and sandy, backed onto a number of resorts and tavernas, and on the other side a slightly more secluded one, which more pebbly by nature and that stretches out into rocky formations, providing an interesting climb and a snorkelling spot. One of the highlights for me here, apart from the beach which I found very relaxing, was Kozas taverna which served some extremely tasty and fresh seafood dishes.
The last two beaches mentioned here don't quite rank in terms of fine golden sand – though sandy, they are more of the coarse type with fine pebbles, so I thought they were still worth a mention…
Haraki beach
On the other side of the Feraklos castle and Agathi beach, you'll find Haraki beach – an enclosed elliptical bay with calm waters. The sand here is slightly more coarse and with small pebbles making it distinctly different from the ones listed already but nevertheless it is well worth a visit if you are close by. This holiday town is made up of mainly apartments and there are a good choice of restaurants and snack bars.
Kolymbia beach
This resort town and beach is south of Faliraki and has coarse sand and small pebbles. Not the fine white or golden sands as the other beaches but still worth a mention as it is popular with those staying close by, which is mostly families and those wanting to avoid the party scene of Falaraki. There is a nice fish restaurant right on the edge of the cape with nice views across the bay.
Rhodes really does have a fantastic selection of beaches, and not just the sandy types. It's rocky beaches are even more famous and, if you can get past the inconvenience of getting in and out of the water, then they are definitely worth visiting. Because of it's history and beaches, Rhodes is often considered one of the best Greek islands to visit.