Before I headed out on my summer vacation last year to Milos in the Cyclades, I asked an all important question; where are the best areas and where to stay in Milos?
I already knew Milos was an island with some really noteworthy towns and beaches and after doing some research, I found that there are three main towns; 1) Adamantas – which is the port town and where all the ferries and sailing boats dock, 2) Plaka – which is the Chora (the main town), effectively the "capital", and 3) Pollonia – a small seaside village located on the Northeastern tip of the island. I decided to stay in Adamantas, but made sure to visit the others. There's certainly a few things to consider about all three of these towns.
Milos has always been popular with couples, but is now quickly rising in popularity with families and young people at home and abroad. Milos coastline is one of the most dramatic and it's beaches some of the most unique. Thought still relatively unknown compared the most popular, it easily comes in my top 10 Greek islands to visit.
Staying in Adamantas town in Milos
Staying in Adamantas is certainly a very good option and we had no regrets with choosing this town for our 5-day stay. It is the main port town of the island and where all of the main ferry routes take you to. As you step off the ferry, whether sailing in from Athens or the neighbouring islands you are greeted with a small but not insignificant town with a good choice of restaurants, shops, cafes and bars.
Adamantas is an excellent place to stay for couples and families alike. The majority of the hotels and apartments are located away from the main seafront strip though most are within walking distance. We stayed in a nice and well kept hotel called Aeolis which was a 10-minute walk or a 2 minute drive when we were lazy (which was most nights tbh!)
It is certainly one of the most convenient places to stay especially if you do not plan on renting a car or scooter – you step off the ferry and you are there. With it being the main Port there are many sailing boats offering day trips around the island to explore Milos' volcanic landscapes and beaches. These tend to start early in the morning and finish late afternoon, again making Adamantas quite handy to base yourself.
How to get there and get around
Adamantas is well connected and has a bus service to a few other towns and a more infrequent service to certain beaches. In order to get to the main attractions such as Plaka, Sarakiniko beach and Paliochori beach, it is definitely easiest to rent a vehicle. We did so from Milos cars. If you haven't rented a car on the Greek islands before, be sure to check out my tips and advice here.
What to eat in Adamantas
There is a good selection of restaurants offering tasty authentic cuisine from great seafood to quick and simple souvlaki and gyros. For ice cream coffee and desserts make sure you head to Aggeliki – one of the best ice cream places in Greece, hands down (and i've been to a few!).
Keep walking east along the seafront and you will come across a handful of seafood tavernas. Restaurant Navagio was amazing and a great place for an afternoon bite or dinner.
Who should stay in Adamantas town in Milos
Adamantas is great for families and couples. If you are looking for convenience and a nice selection of restaurants and cafes on the seafront, then this it the place to stay
Staying in Plaka
With Plaka being the main Chora ( the capital of the island), there are a bunch of entertainment choices around, with a really good choice of museums, churches, historical sites all within the town itself or within a short distance. Added to this is a really good selection of restaurants, shops, bars and cafes as you would expect in any main town of even the bigger Islands.
Plaka has numerous pretty narrow alleyways and boutique shops, typical of the cyclades. With it being perched atop a hill you can also catch some amazing sunsets. Panagia church provides an excellent public spot to marvel at the colours across the horizon, so too do some well positioned bars and restaurants, such as Utopia Cafe.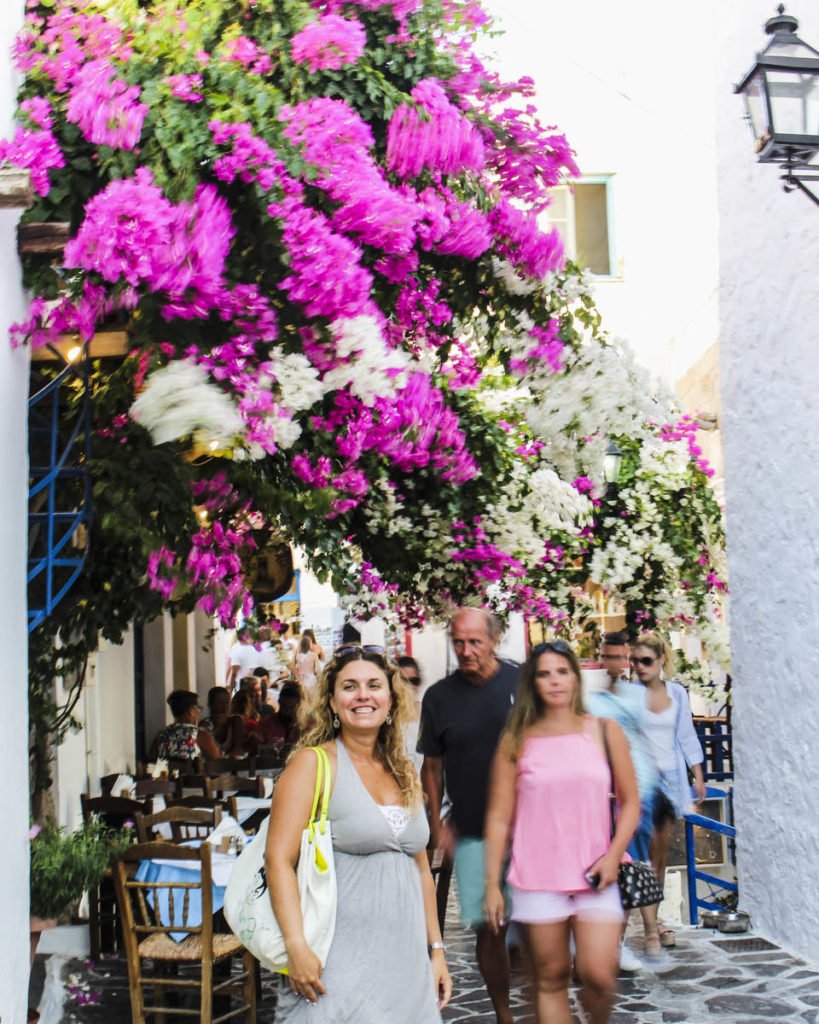 How to get there and get around
If you plan to drive to Plaka be warned that parking is difficult to come by and the local enforcement will direct you to a public car park just below the main town. If you are visiting on the occasional day or night then this isn't really a problem but if you are planning on staying within the town then you may want to check if they have parking.
Plaka has a bus route similar to Adamantas to the popular towns and beaches. If you stay within the town all the amenities and entertainment are within walking distance however beaches and the historical sites such as the amphitheatre will require either rental car or bus.
What to Eat and Drink in Plaka
There are many fantastic restaurants and Greek tavernas that line the cobbled alleyways – we particularly enjoyed Diporto for its authentic cuisine. Utopia cafe is a very popular spot to enjoy a sunset cocktail if you manage to find a seat. Judging by how busy it was when we got there just before sunset, I would assume that you would have to be there from lunchtime in order to even get a seat :).
Lastly, check out Kri Kri, a bar with nice ambience, good cocktails and a live band.
Who should stay in Plaka in Milos
Plaka is the cosmopolitan hub of the island and is great for couples, solo travellers and many more. If you are looking to be close to the action and enjoy some cocktails in the evenings, then this is the place for you. Also very close to the historical sites for early morning and hikes if you are into it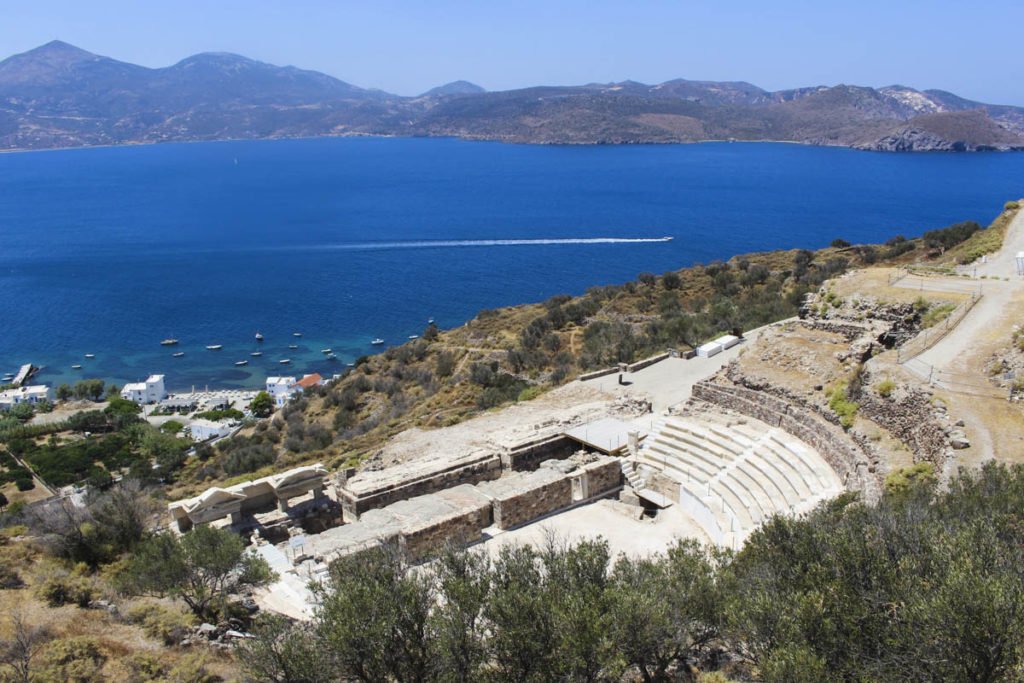 Staying in Pollonia
Pollonia is a very charming and pretty seaside village on the Northeastern tip of the horseshoe shaped Milos Island. It is a small town compared to Plaka and the main port town of Adamantas and also a very popular place to stay for families, offering a large choice of villas, apartments and hotels many of which are located by the sea just behind Pollonia beach.
Generally, it's more of a secluded town and likely to attract families who would prefer to be away from larger gatherings of tourists and people but who also value the commodities and choice of food and drink that the village offers.
Pollonia beach is clear and sandy and is great for kids with a playground nearby in the town. With that being said the smaller crowds means that there is a quieter atmosphere and laid-back vibe, particularly suited to those looking to switch off and relax.
How to get there and get around
Pollonia is about 10 km away from the main Port town of Adamantas. The most convenient way of getting there would be by a hire car however there are also bus routes from the neighbouring towns to the seaside village.
Pollonia itself can certainly be explored by foot but to get to the well known beaches and historical sites you would certainly need a hire car or be able to withstand a more infrequent bus service compared with the other two main towns.
Unsurprisingly, Pollonia is a popular stop for boat trips going round the island and is also the place to stay if you intend on visiting the neighbouring island of Kimolos which can be easily reached with sailing boats and small ferries departing its port.
What to eat and drink in Pollonia
Pollonia has a very good selection of authentic seafood tavernas ranging from cheap and cheerful to more high-end spots catering to families as well as couples looking for a romantic dinner. We splashed out on a lobster pasta dish at Armenavi on our last night which was really fantastic, and they paired it with a very nice white wine. Highly recommended.
Who should stay in Pollonia in Milos
The best location for families and those looking for a bit more peace and seclusion. Great seaside apartments and rooms with views across the sea.
The best place to stay in Milos overall
In summary, these three towns in Milos are easily the best places to stay on the island and have their own characteristics which will cater for different types of travellers. All of them would be good options for a 5-day vacation and my personal opinion is that if I was staying any longer on the island I would look to stay in Plaka due to the larger choice of hospitality and entertainment. Added to the fact that we tend to hire a car it always makes the stay more convenient and we know we could get to visit other places without too much trouble.
The fact that these three towns are all within 10 km of each other, all located on the same side of the island, makes Milos rather special. You can easily and practically visit all three which is exactly what we did.