Santorini is the most iconic island in Greece – widely recognised and visited by people from all over the world. It is one of the smallest islands in the Cyclades in Greece and one of the most visited small islands in Europe. Only 35 square miles in size, yet a monster tourist draw. What it lacks in size, it makes up for in beauty and popularity. A car journey from the most northern town of Oia to its most southern town, Akrotiri, takes only 40 minutes.
Its unique semicircular shape owes to a history of volcanic eruptions. As such, the entire centre of the island is now sunken beneath the deep blue of the Aegean. Any journey along Santorini's coast follows in an arc, with the inner coast affording magnificent views across the caldera. Several towns including Fira, Oia and Imerovogli are dotted along this 20km coastline.
It is these towns along the steep caldera face that make up the majority of Santorini's most popular towns. At least two thirds of the hotels and apartments are focused on this side of the island. One main road connects them all. From the main chora, Fira, which is the capital of Santorini, it takes 20 minutes to drive north to the second most popular town, Oia, and similarly 20 minutes south to Akrotiri.
The other side of the island, away from the caldera views are quickly reached by road also. Typically, 20 minutes is all it takes from Fira to the notable seaside towns of Perissa and Kamari. And even less to the hilltop inland towns of Emporio and Pyrgos Kallistis which are under 10 minutes away.
How to get around Santorini
Renting a car in Santorini
The roads in Santorini are typical for a small Greek island. A single lane in either direction, narrow in places and often windy and hilly. That being said travelling by car is still the best way to get around and explore Santorini. From the airport, there are multiple car rental options. The same can be said at the main ferry port where a constant stream of tourists disembark.
If you are planning on renting a car for the entirety of your stay then do so as you arrive. Otherwise, if you are planning to explore for only a handful of days, then renting a vehicle near to where you are staying is the best option. You will find car rental stores all over the island, with the biggest choices at the travel hubs and main towns.
There are certain things and some solid advice when renting a car in the Greek islands that you should always try to follow. Avoid the pitfalls of late bookings and pushy sales tactics.
Scooters and ATVs
You will also notice that ATVs and scooters are a popular way to get around Santorini. And though I always prefer to rent a car, there are certain islands where 2-wheelers and quads make sense – and Santorini is one of them. The island is small and the roads are relatively well maintained. There are few occasions when you would be on the road for long stretches.
If you are based centrally, or if you are one or two persons or a group of adventurous friends, then scooters and ATVs are a fun and convenient way of exploring the different areas of Santorini.
Taxis in Santorini
Taxis are generally fine on the island and are common, particularly at the major transport hubs. However, always agree on the price up front if you don't like being ripped off. This is good advice when visiting anywhere and Santorini is no different. Expect taxi fares of about €20 for a 15-20 minute ride.
Taking the bus in Santorini
KTEL is the bus operator in Santorini with routes across the island and schedules throughout the year. Fares are cheap and services are fairly frequent in the busy months. Expect the popular routes to run every half an hour during the peak hours of the day. To get to some of the more obscure locations, you will have to travel via Fira, where the central bus station is located. Buses to and from the airport and ferry port are much fewer and further between so worth planning in advance if needed.
How you decide to get around Santorini depends on your personal needs and preference. Go with what is right for you and what fits around your idea of leisure/travel. Just be prepared for the best and the worst that each has to offer.
How to get to Thirassia and the volcano
One of the best things to do whilst in Santorini is visiting the volcanic island of Nea Kameni in the centre of the caldera. So if you're keen to get out on the water, booking a boat tour is a must.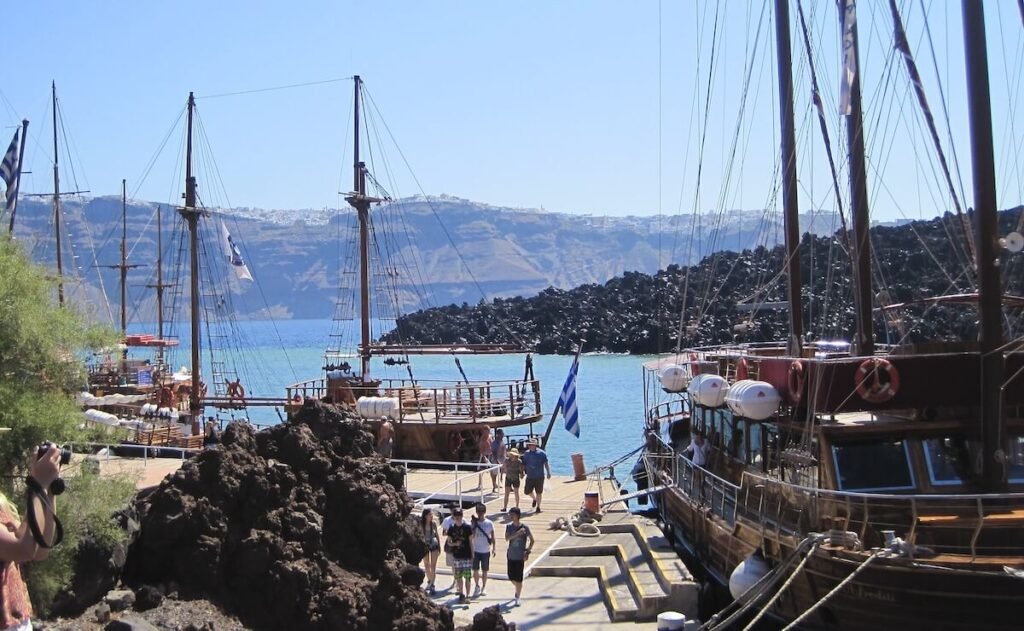 All day, every day, you will see a variety of vessels taking people and groups to the volcano and the small island of Thirassia. Some tours also include the thermal springs off Nea Kameni and the beaches along the south coast of the island. Itineraries are usually varied, with some offering day tours, and some staying out late and offering sunset views from the best spots off the coast.
Generally boats will depart from the old port near Fira, as well as Oia and Vlychada. Anywhere else, and you will have to factor in either getting to the departing port yourself or arranging pick up and drop off with the tour company.
Expect tours to range from €40 and upwards. The wooden sailing boats make for cheap and cheerful tours with large groups. Whilst the higher end catamarans and yachts offer private and small group tours albeit at a higher price.
Where to stay
When deciding on where to stay in Santorini, there are a good few options to choose from. If caldera views are what you are after then stick to Fira, Oia and Imerovogli. Furthermore, if you plan on exploring the island, then Fira is central and easily the best base. However, if you are not too precious about the caldera view and want to save some cash, then basing yourself on the other side of the island is a good option. Make sure to read my post on where best to stay in Santorini for a more in depth guide.
At least you now know how big (or small) Santorini is, and how getting around the island is a piece of cake!